Get paid up to 3x faster when you offer your clients an online payment option, and securely save cards on file for future payments with Jobber Payments. Rates as low as 2.7% + 30¢. Learn more.
To set up your account, go to the Gear Icon > App Marketplace > Jobber Payments. Click Get Started to begin setting up your account.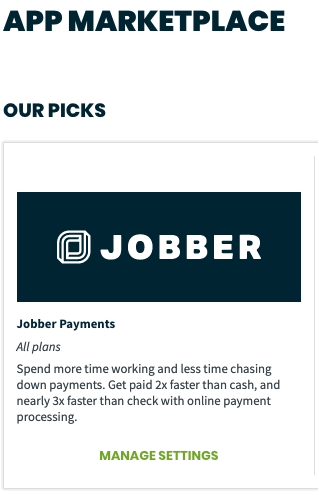 The account owner will need to be the one to fill out the form that appears - most of these fields will be auto-populated from account information you have previously recorded in Jobber.
Under 'Personal info', you will need to manually fill out a legal representative for your Jobber Payments account. Enter in your Name, Date of Birth, and SSN Number, as well as your Bank Account information (this is where the funds from your Jobber Payments will be deposited to).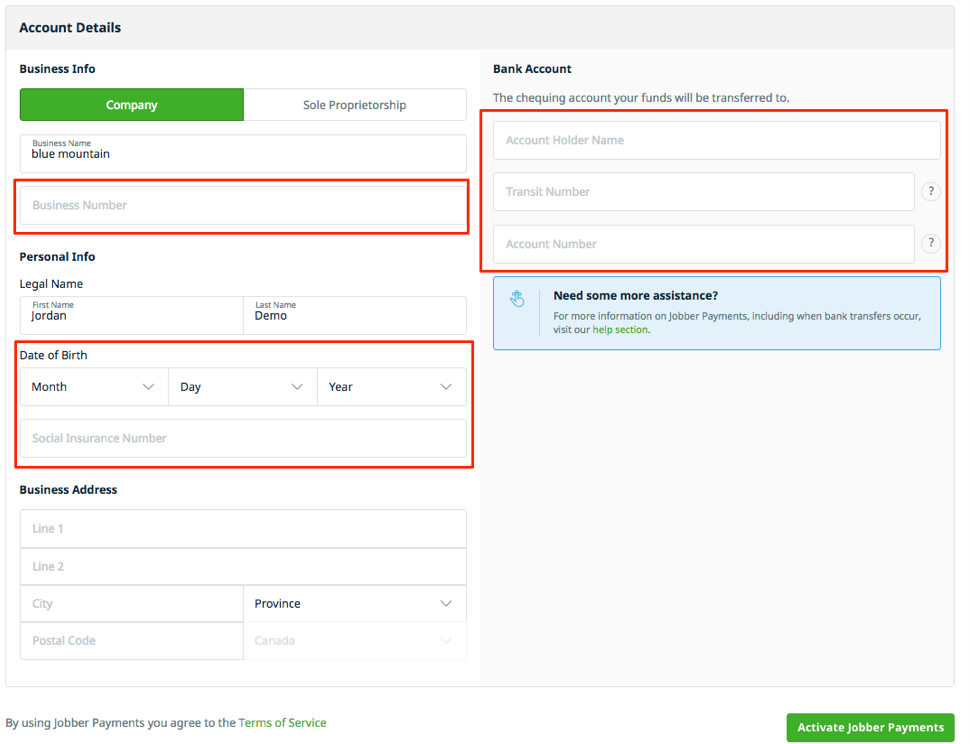 Important! Be sure to select the correct Business Type for your business — the options are either Company or Sole Proprietor.
After the form has been filled out, click Activate Jobber Payments at the bottom right. You will get a confirmation message at the top of the screen and a summary of the details you have entered.

You are now ready to start collecting payments with Jobber Payments!
You will receive your first Jobber Payments transfer to your bank account on a rolling five business day window after you have processed your first payment through Jobber Payments. This payment goes through an initial authorization period which you can learn about on our Jobber Payments Transfers page! Once this payment has been successfully deposited into your account, the transfer window will shorten to a rolling two business day window.
Sometimes we require an extra step to verify your legal representative information in order to complete transfers to your bank. We will notify you with a banner message on your account. Learn what steps to take on our Jobber Payments Verification page!
Jobber Payments reporting
When a Jobber Payments transaction is successful, you will be able to see it in the Jobber Payments reports. There are two reports that deal with Jobber Payments:
Transactions report: This report shows all the transactions (payments, deposits, and refunds) you've processed using Jobber Payments as well as details like the fees associated with that transaction, last 4 card digits, card type, and total.
Transfers report: This report breaks down each transfer into your bank account. You can also see if funds are in transit using this report. Clicking into each transfer shows the net amount, the collected amount, as well as fees.
Jobber Payments is included with your subscription and features competitive payment processing rates. Contact our Success team at support@getjobber.com or 1 888 721 1115 (option 2) for information on payment processing rates.