Overview
Build custom forms and checklists so your team delivers consistent service, and share them with your customers to show off what was done.
Job forms are available on select plans.
Job forms are customizable checklists that can be attached to each job to have your team fill out on their visits. Job forms can be set up with checkboxes, drop downs, as well as short and long answer fields. Once a job form is filled out, it can be emailed to the client or downloaded.
How to turn on job forms
Go to the Gear icon > Settings > Job Forms and click on the Turn On Job Forms button to get started.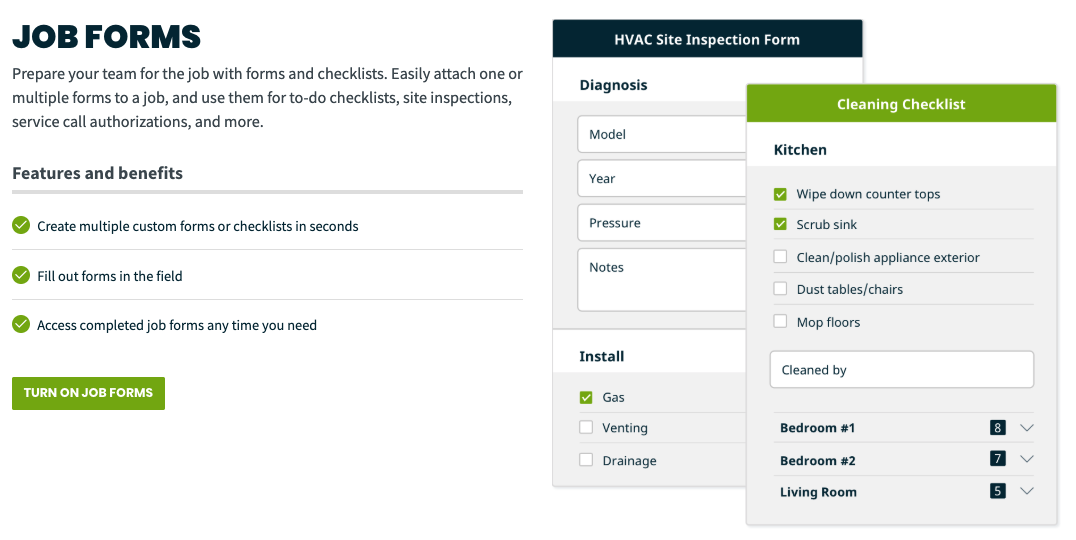 How to build a job form
To create a form, click on the New Job Form button.

Enter a Job form name into the provided text field, then click the + Add Section text to begin building the form.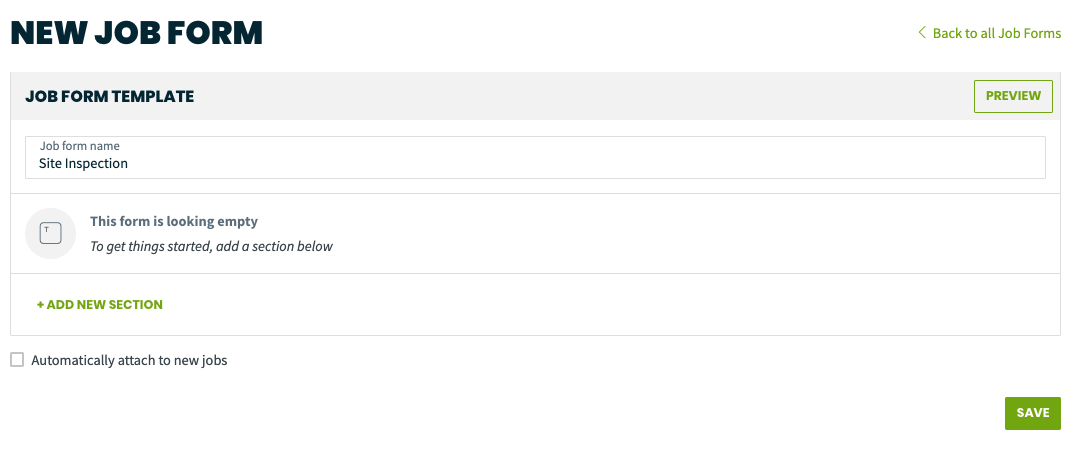 Each section begins with a title, then you can choose how you want your team to fill out these sections. You can add checkboxes, short answer, long answer, and dropdown options. Once built, you will be able to rearrange the different fields by first clicking onto the field you'd like to move and then dragging and dropping it using the field icon to the right (above the trash bin).

Please note: we don't have an exact character cut off for name fields but if there is a lot of text in those fields it will cut off while being viewed online and in the Jobber App.
You can also choose to set the Job Form to be automatically added to all new jobs created in the system. This is done with the Automatically attach to new jobs checkbox at the bottom of the form.
After building the form, make sure you click 'Save' at the bottom right of the page so you don't lose that work!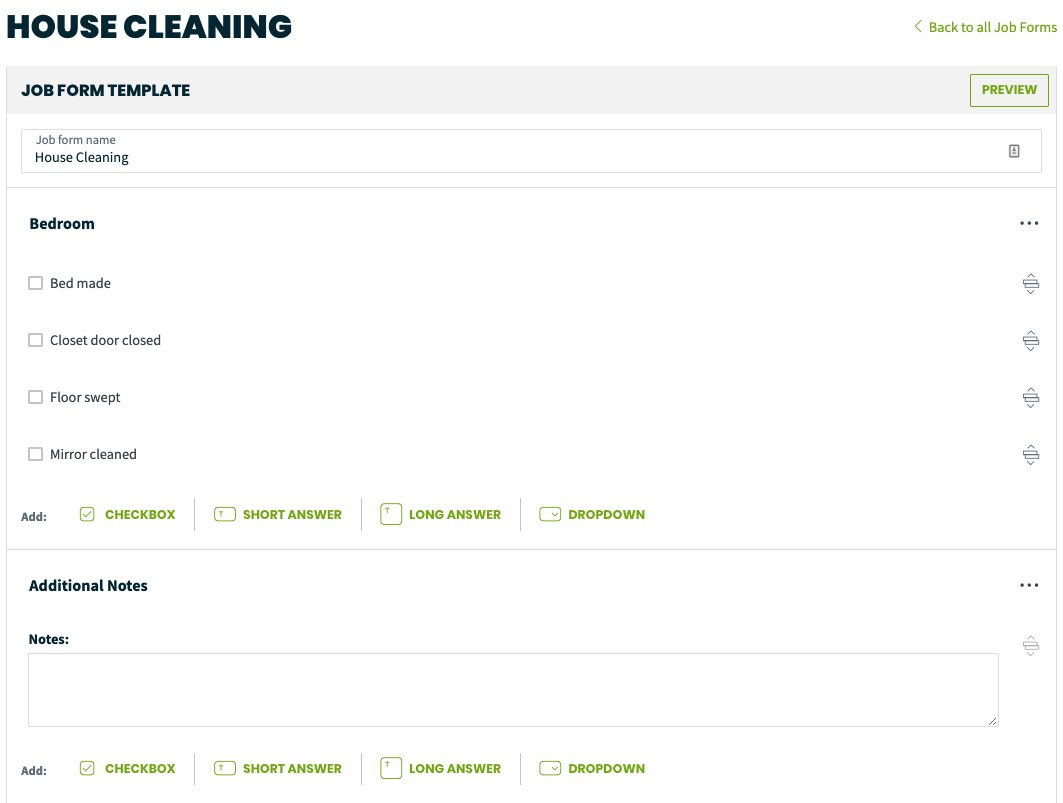 How do I add job forms to specific jobs?
If you want forms to only show up on some of the jobs you create, you will have the option to add them when you create a new job, or edit an existing job to include a job form. You can do this by going to a job and clicking Edit in the top right corner. There will be a section on the edit screen to select which job forms you'd like to include. If you do remove a specific form from a job, your old filled-out forms will still remain on the completed visits.

How does my team fill out a job form?
Your team in the field will be able to fill out a job form by going into the visits from their schedule that is associated with the job you've added the forms to.
All they need to do is click on the job form section: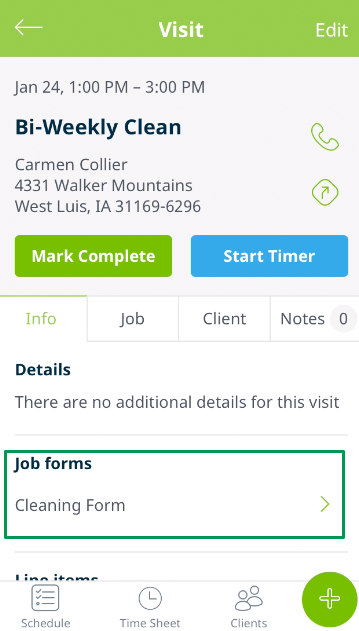 This will open up the relevant job form, and your team will need to click 'Edit' from the upper right corner to fill out the form. Once they're done, they will need to click 'Save' at the top right and then select the back arrow at the top left to go back to their visit.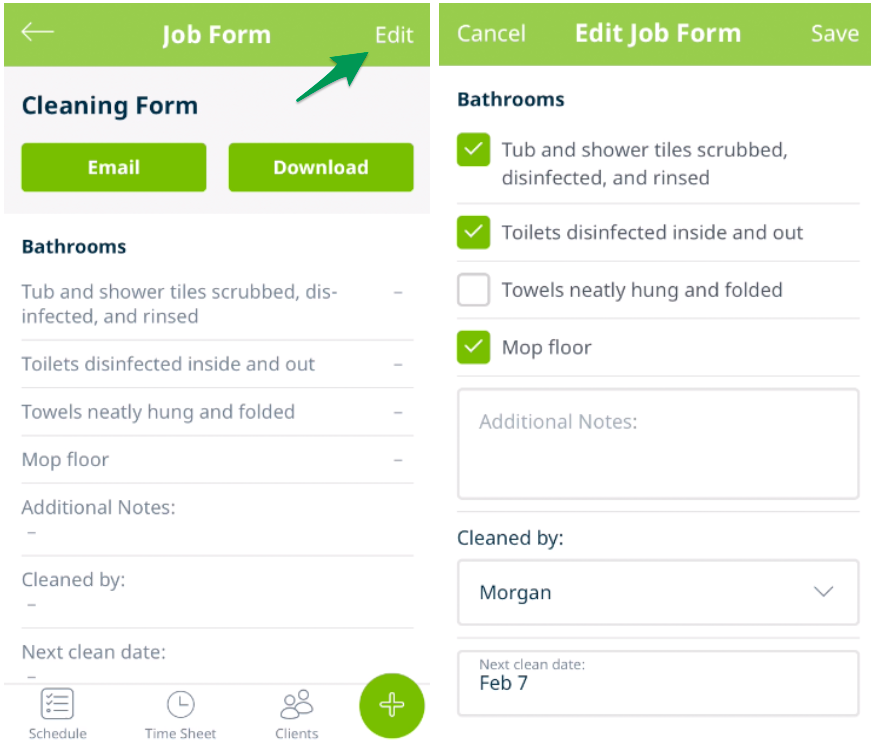 How do I see a completed job form?
You can see a completed job form by navigating to the visit. Visits are accessible from either the calendar or from the job. You will want to click the date of this visit and a pop-up will appear with a tab for "job forms". That is where you can see the job form that was completed during the visit.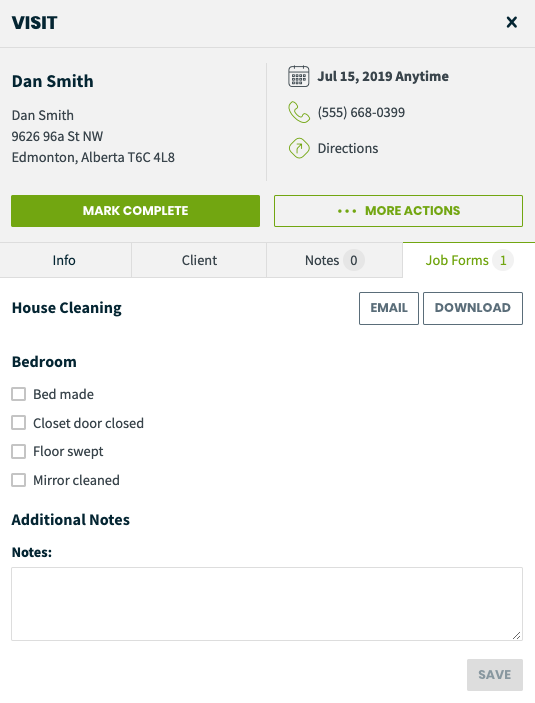 How can I share a job form with my clients?
Open the visit online or in the Jobber app and click onto the job form. There will be two action buttons, Email or Download.

When you click to email the job form, an email template will appear which can be customized through your Settings > Email Templates page.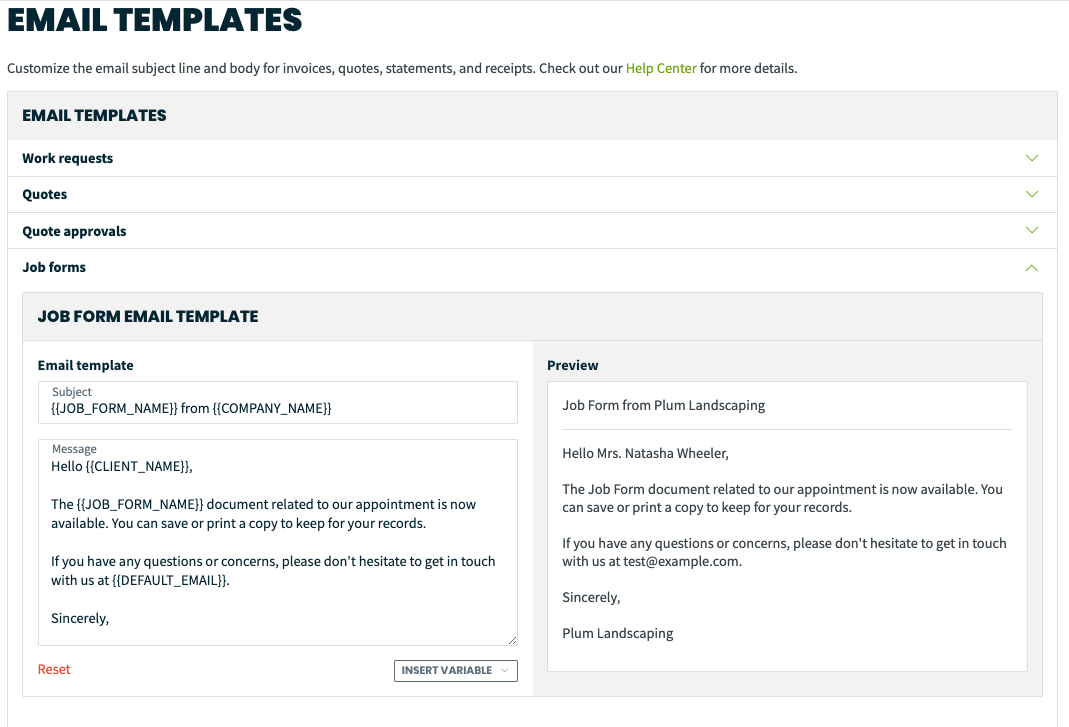 The email will include a PDF copy of the form, and you can add any other attachments that you would like to send to your client as well. The sent form will always be the last saved version of your form so we recommend that you double check for accuracy before you send. All sent emails will be able to be viewed on your client communications report.
The style of this PDF image comes from the same settings that you have for your job PDFs. This is located from the Gear Icon > Settings > Branding > Open PDF Configuration for you to update. Forms can only be downloaded one at a time by clicking onto the Download button on the visit. The downloaded PDF will show the last saved version of the form.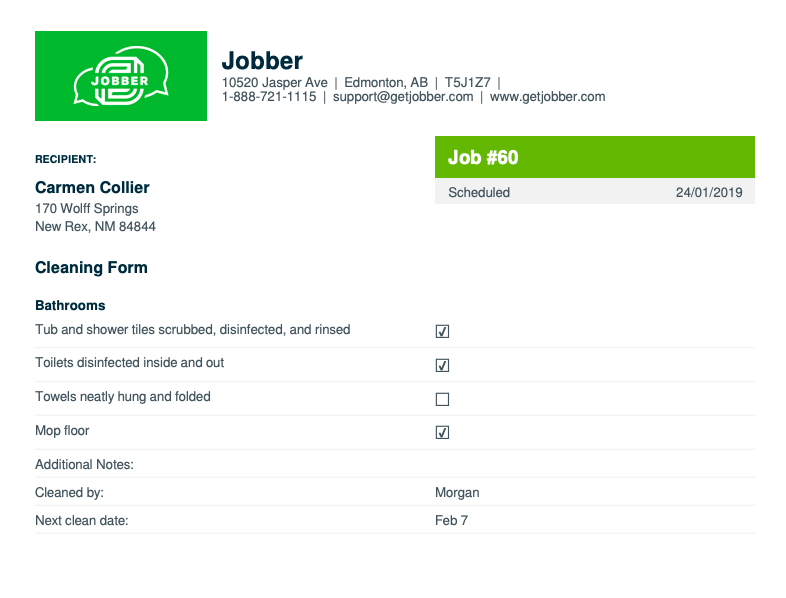 What happens if I turn off job forms?
If you turn off job forms you and your team will no longer see the forms anywhere in the program. We will preserve your previous job forms, so if you turn the feature back on you will see all of the forms that had already been created, attached, and filled out.