Overview
Sometimes circumstances change and jobs get canceled. It happens! Here's how you can end a job in Jobber if the job was canceled, ended early, or if you won't be moving ahead with the project for another reason. These steps allow you to take the job off your upcoming schedule and then invoice if needed. Since we won't be deleing the job during this process, any notes or other saved information with be retained as the job moves into archived status.
Step 1: Job follow-ups
If you are using job follow-ups, before you close the job you will want to turn off job follow-ups for the client so that they don't receive an email when the job is closed. To do this, go to the client's profile and click Edit. In the section for automated notifications, toggle the job follow-up switch to OFF.

If you are not using job follow-ups, you can skip this step and move to step 2.
Step 2: Close the job
You will need to close the job so it no longer shows as active work. Go to the job page and click More Actions > Close Job. If there are any incomplete visits, you will be prompted on what you would like to do with those.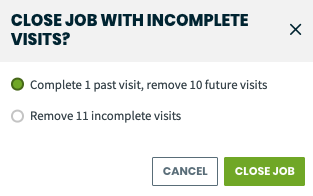 There will typically be two options that you will see:
Complete past visits, remove future visits: This option will complete visits in the past. If you've done some work already for this job but maybe forgotten to complete these visits this is a good option. Completing the visits will keep a record of them so if you need to reference when you went to a property this is a good option. Future visits will be removed, so they no longer appear on your schedule.
Remove incomplete visits: This option removes all incomplete visits. This is a good option for if you've never done any work for this job. It will take all the visits off the calendar.
If the job has been set up to remind you to invoice, it will move into "requires invoicing" status. If not, once the job is closed and the visits are removed or completed, the job will move into "archived" status. Learn more about Job Statuses.
Step 3: Decide if you are going to invoice
Once the job is closed, we will want to scroll down and take a look at the billing section of the job to see if there are any invoice reminders. Invoice reminders are what prompts you to invoice for your jobs. When there are active invoice reminders they trigger the "requires invoicing" job status.

If you are not going to invoice
If you are not going to be invoicing for this job, you will need to delete any outstanding invoice reminders. Click the invoice reminder from the billing section and from the pop-up click More Actions > Delete.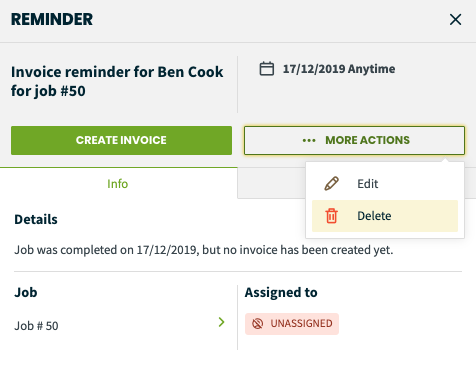 Once the invoice reminder has been deleted, this job will be put into "archived" status and you won't be prompted to invoice for this job in the future.
If you are going to invoice
Maybe you have a cancellation policy that means you are still going to invoice for a job when a client cancels on short notice. Or maybe you have already completed some work that needs to be invoiced still. Whatever the reason, if you are still planning on invoicing you will want to keep the invoice reminder. If you want to make the invoice now, click the invoice reminder. On the pop-up, click the green button for Create Invoice.
If you are going to invoice later (at the end of the month for example), make sure that the invoice reminder date is still the date you want to create the invoice. When that day comes, the job will switch to requires invoicing status and you will be prompted to invoice. After you generate the invoice for this job, the job will go into Archived status.