Overview
Wallet in client hub is a self-service option for your clients where they can add new cards and manage existing cards. To collect their card information up front, why not send them an email to request that their card be saved in wallet so it's ready to go for future work and enables you to set up automatic payments. Read on to learn how to ask your client to save their card.
Note: You must be using Jobber Payments to save cards.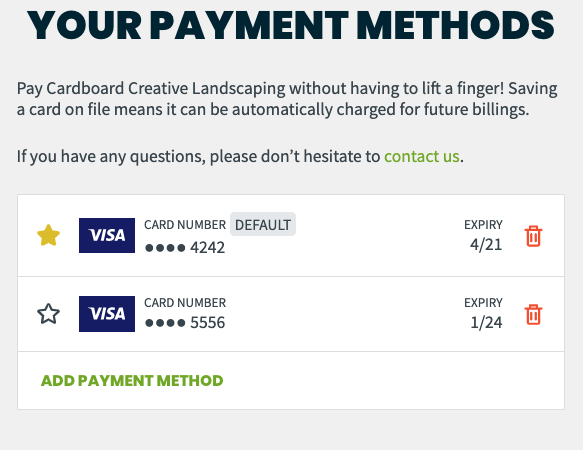 Payment methods box
On a client's profile, there is a box for saved Payment methods located underneath the billing history box. Clicking the button for Request a card on file sends the client an email to let them know they can save a card and that card can be billed for future work.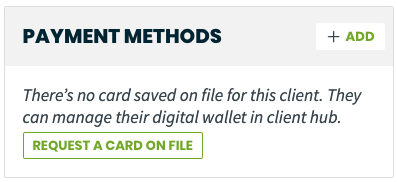 The verbiage in the email is based on a template that can be edited by going to your template settings. However after clicking Request a Card on File, you will be able to preview and edit the email being sent to this particular client. If you have any details to share that are unique to this client, this is a good place to add them.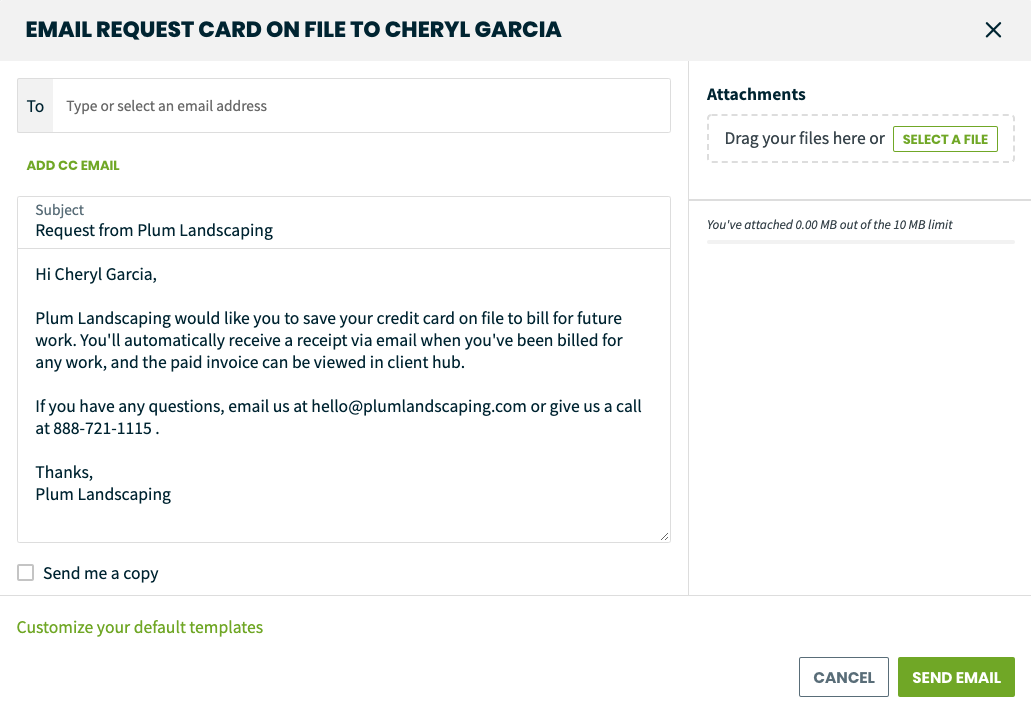 Email template
To edit the overall template for requesting a card on file, go to the Gear Icon > Settings > Templates. The template to request a card from your client is in the Getting Paid section.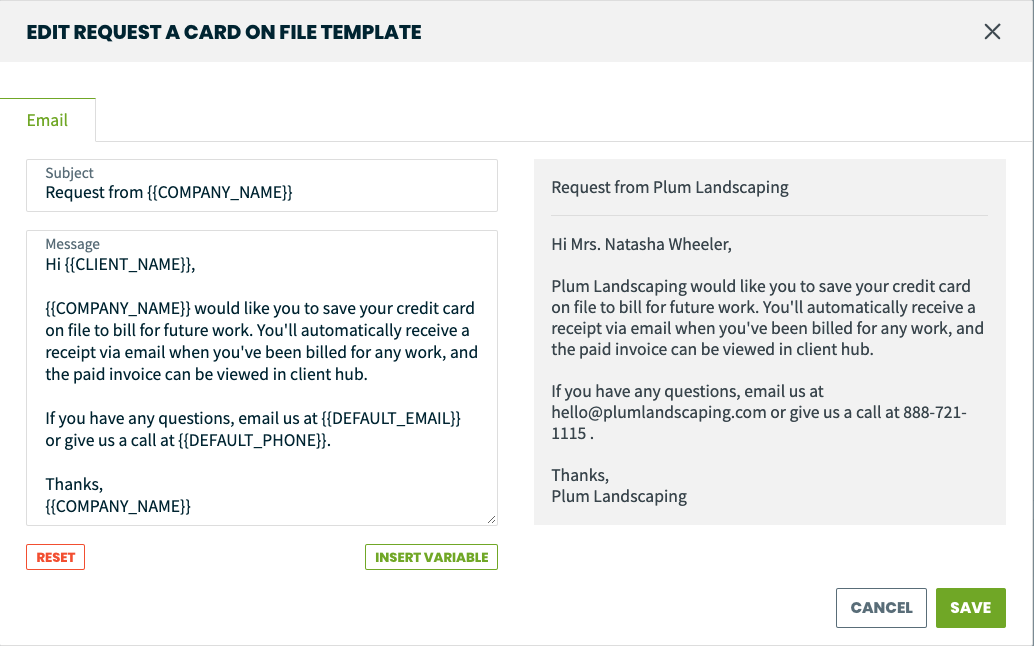 Wallet
When your client receives the email, there is a button to View Your Wallet which directs them to the wallet section of client hub. For your client to add a payment method, they'll need to click + Add Payment Method. If they already have saved cards, this is also where they can manage them.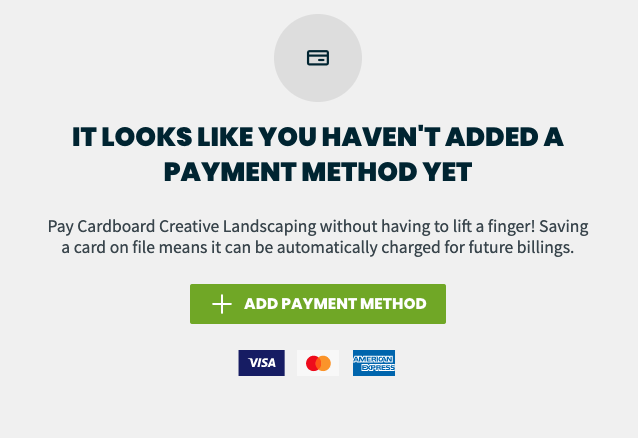 This will prompt them to fill out their credit card details like the name on card, card number, expiry, CVC, and billing address. If they are adding more than one card, they can also check a box to indicate which card is the default payment method.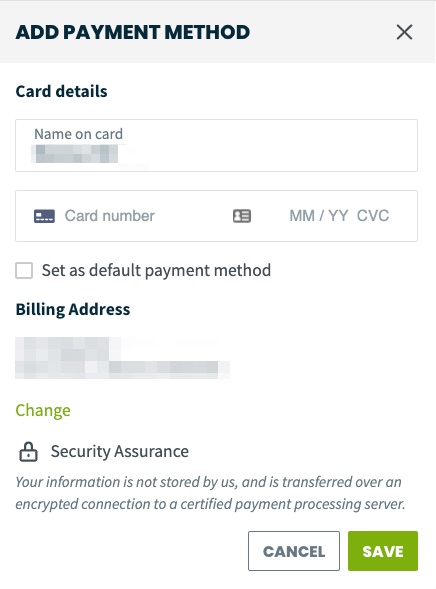 All cards added for this client will appear in the wallet section, including those that you added manually and those that were added by the client. If there are multiple cards, one of them will be designated as the default payment method. This is the card that will appear by default when charging this client. The default card is indicated by a 'default' label as well as a star.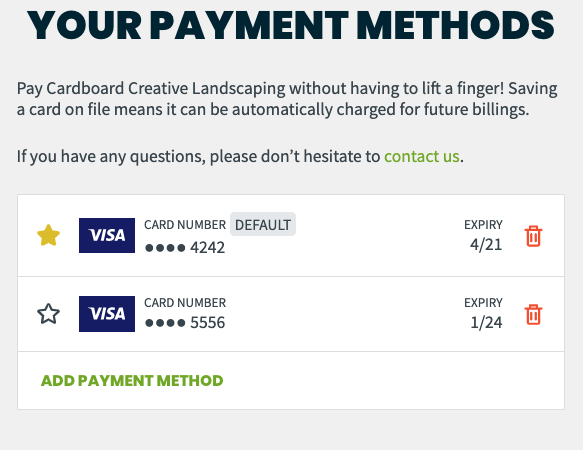 To remove a card, your client can click the red garbage can icon beside the expiry for that card and it will be removed as a stored payment method.
Note: If your client only has one card on file and it's being used for a job that is set up with automatic payments, the card cannot be deleted by the client. In this situation your client will see a prompt to reach out to you since the job with automatic payments will need to be updated.