Overview
Get paid up to 4x faster when you offer your clients an online payment option, and securely save cards on file for future payments with Jobber Payments. Rates as low as 2.5% + 30¢. Learn more.
If you are at your client's property and they are ready to pay their quote deposit or invoice; you can charge their card right in the field through Jobber Payments. To process their payment, you can:
Collect payment by entering the card details manually
Use the Jobber card reader to tap, swipe, or insert their card
Note
The updated app shown in this article will be rolling out to all users in October. If your apps are set to automatically update, you will get it once the updates are available to your account and your app has been updated to the latest version available at that time.
This article covers functionality that's available with the updated Jobber App. If you are not using the updated app yet, check out Jobber Payments in the Jobber App to learn more.
If you are interested in moving you and your team onto the updated app, start a chat and let our support team know!
To learn how to collect other payment methods like cash or check, check out our articles on Quotes in the Jobber App or Invoices in the Jobber App.
Jobber Payments can process all major debit and credit cards.That means as long as the card has a Visa, Mastercard, Amex, or Discover logo on it you can accept the card. When paying through client hub, clients can also choose to pay with Apple Pay or Google Pay. With Jobber Payments you can process a minimum payment of $0.50 up to a maximum payment of $999,999.99 in a single transaction.
Jobber Payments is available in the UK, US, and Canada.
How to process a payment
To process a Jobber Payment from the App, navigate to the quote or invoice that you're accepting a payment for.
On quotes with a required deposit, tap Approve.
For invoices, tap Collect Payment.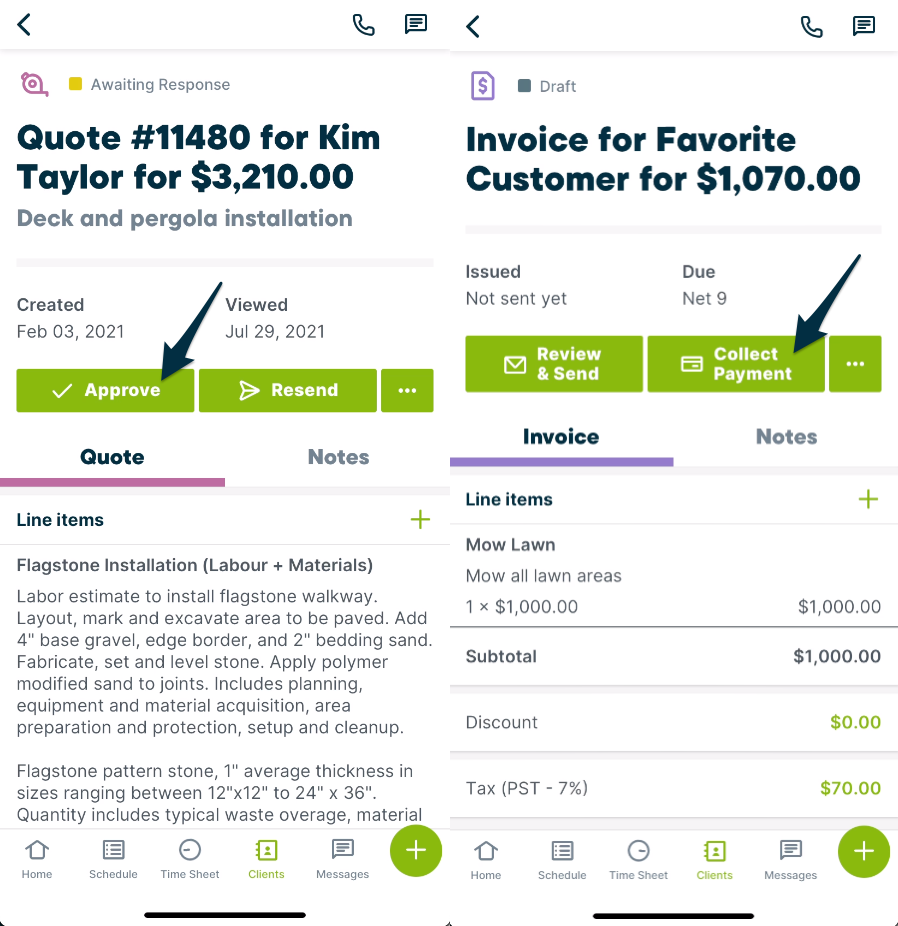 On quotes, there is the step of approving the quote before the payment is made. After tapping Approve, you'll be prompted to collect a signature first as part of the quote approval process. This will bring up a signature screen where the client can draw to sign to approve the quote. Then tap Confirm. The collected signature will appear on the quote PDF and be saved as a note.
If you don't require a signature, tap Skip at the bottom of the screen.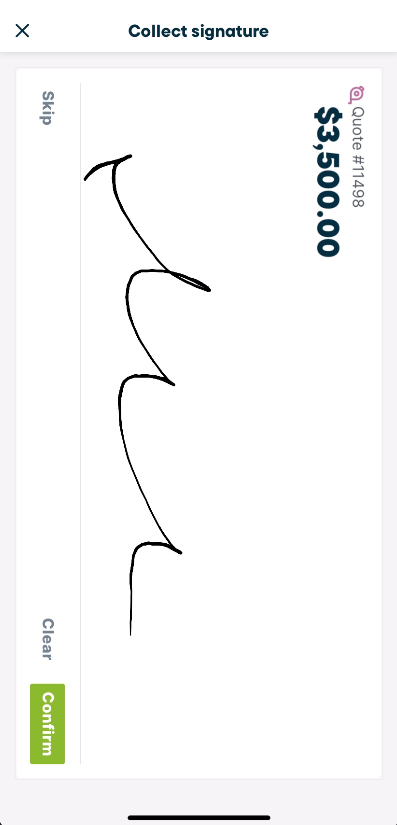 Manually
Next, for quotes you'll see the Collect deposit screen. To charge the client's card, fill out their payment details then tap Charge.
If the client has any saved cards on file, those will be payment methods that you could select from rather than entering the card details manually.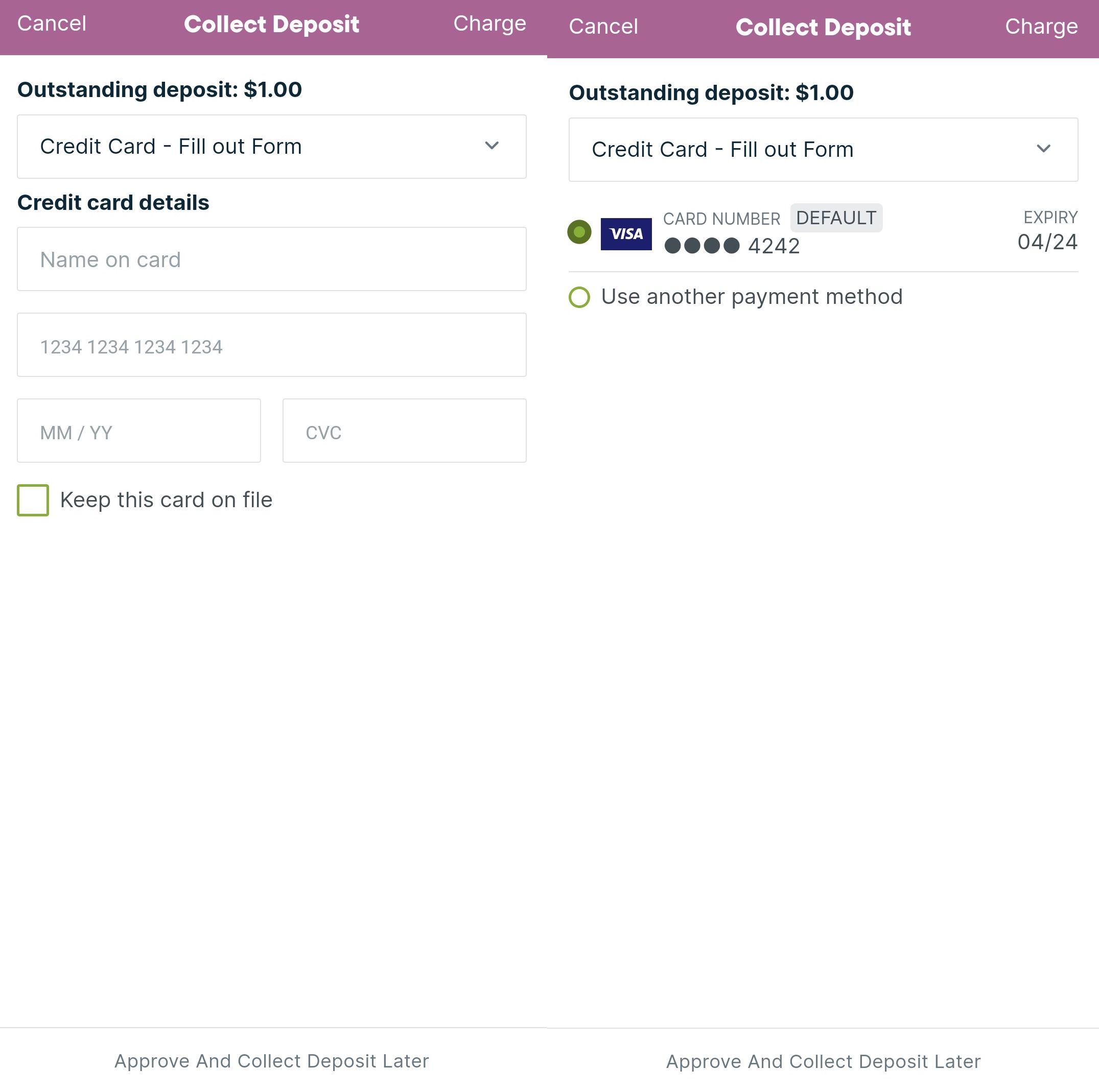 On invoices, from the Collect Payment screen, select Credit Card - Fill out Form from the payment method dropdown. Double-check that the amount you're charging is correct. By default, the full invoice or quote deposit balance will be in the Amount field, but you may edit it if you wish to collect a partial payment.
If the client has a saved credit card, you will see that card as an option to charge in the app. To charge the card, select the button next to the card details and tap Charge.

If you are entering a client's card information for the first time and need to type it in, select the option for Use another payment method. This will open up the credit card details fields so that you can enter their name on the card, card number, expiry, and CVC. To save this card for future use, check the box for Keep this card on file.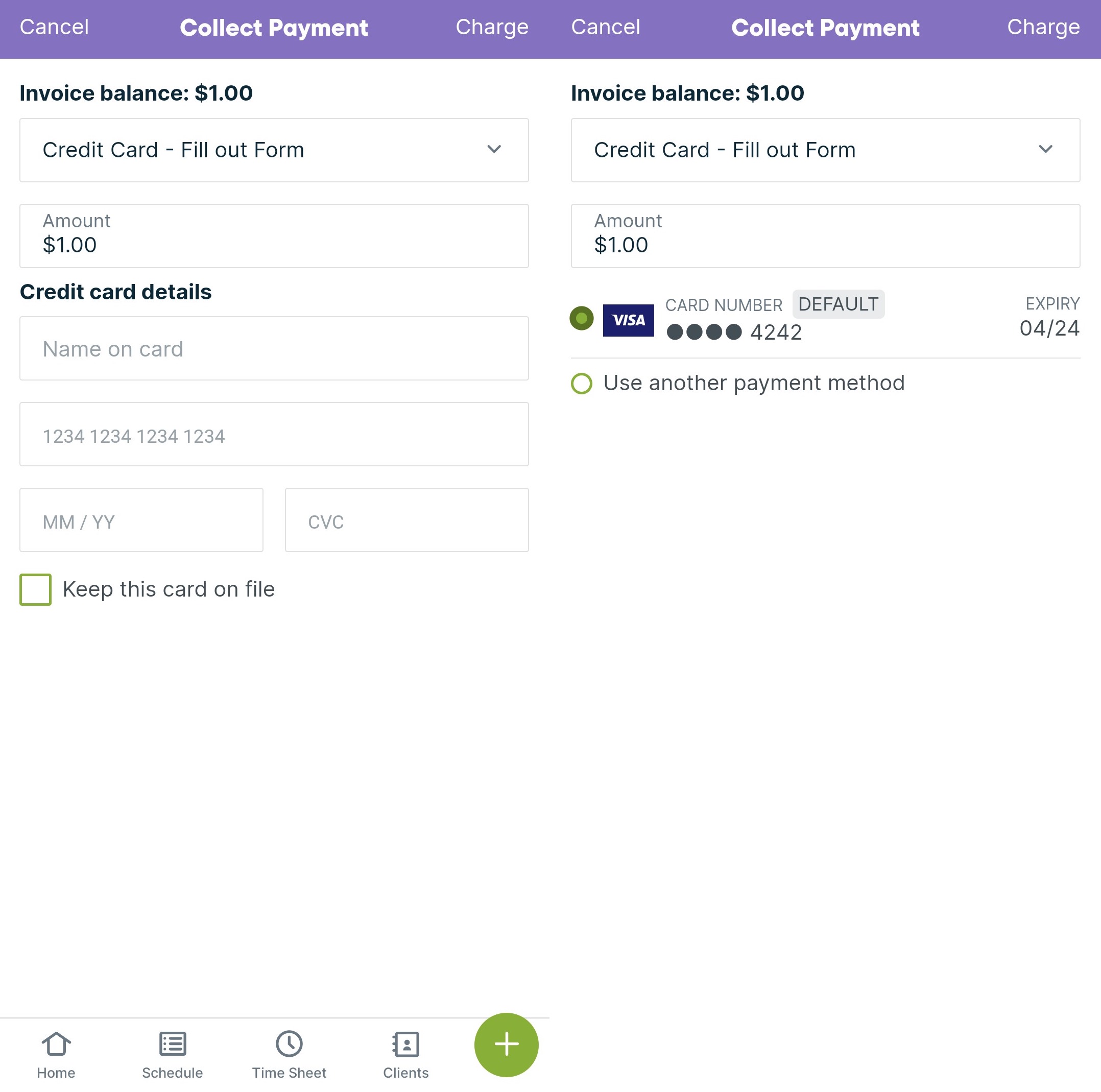 The transaction will be processed and you will be given a confirmation message if the transaction is successful. If there are any errors and the transaction cannot be processed, you will also see a banner message letting you know that it didn't go through.
Card reader
We also offer a Card Reader which allows your clients to pay via Apple or Google Pay as well as by credit card. With the card reader we are also able to offer at 0.2% discount on your credit card fees for transactions processed through the card reader.
If you have a connected card reader, you will see the method as Credit Card - Pay with Reader, along with a prompt to swipe, tap, or insert the client's card.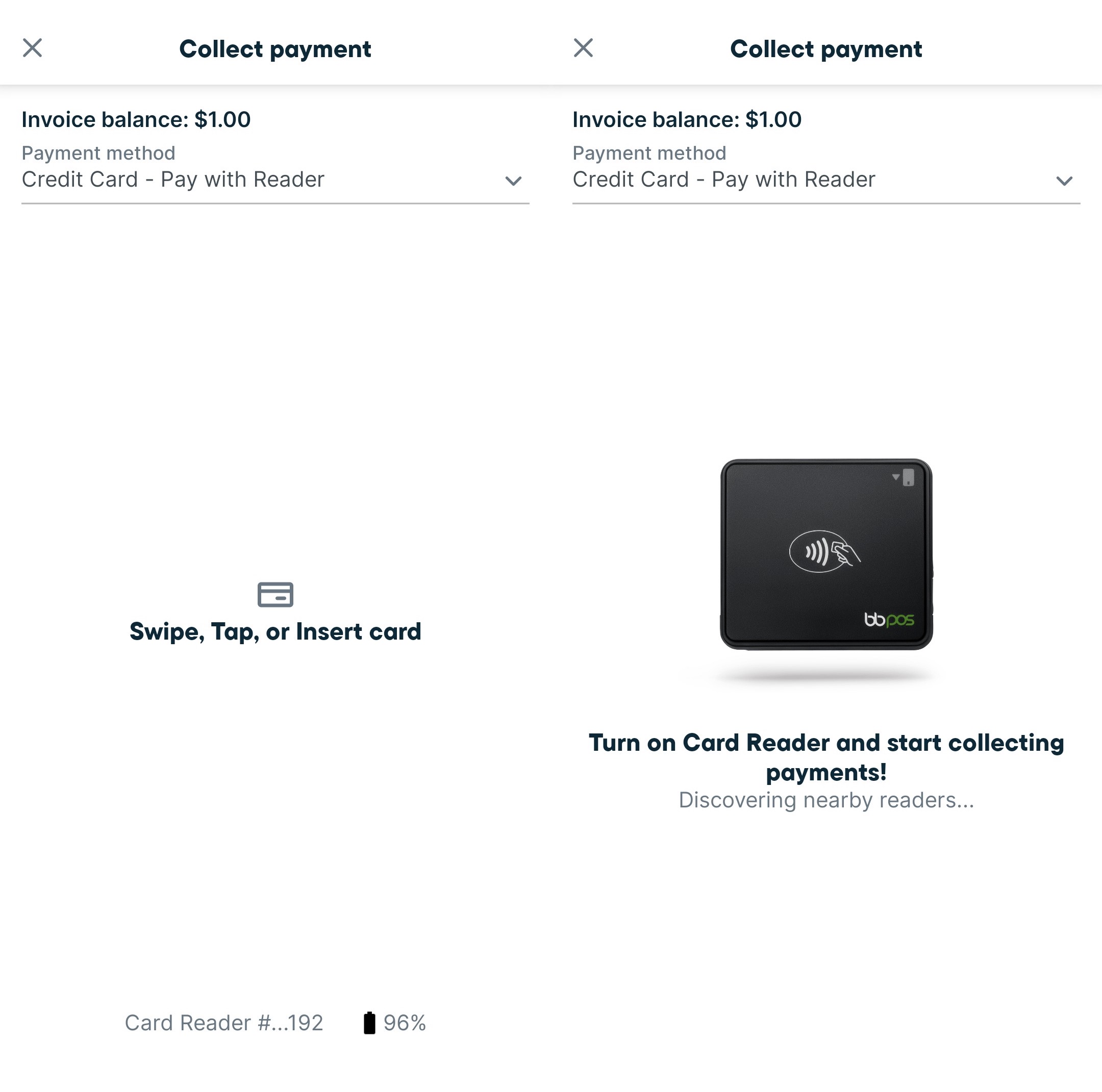 Where can I see collected payments?
From the app, navigate to a quote or invoice.
For quotes, if the client has paid the required deposit, that will be reflected under the total and required deposit.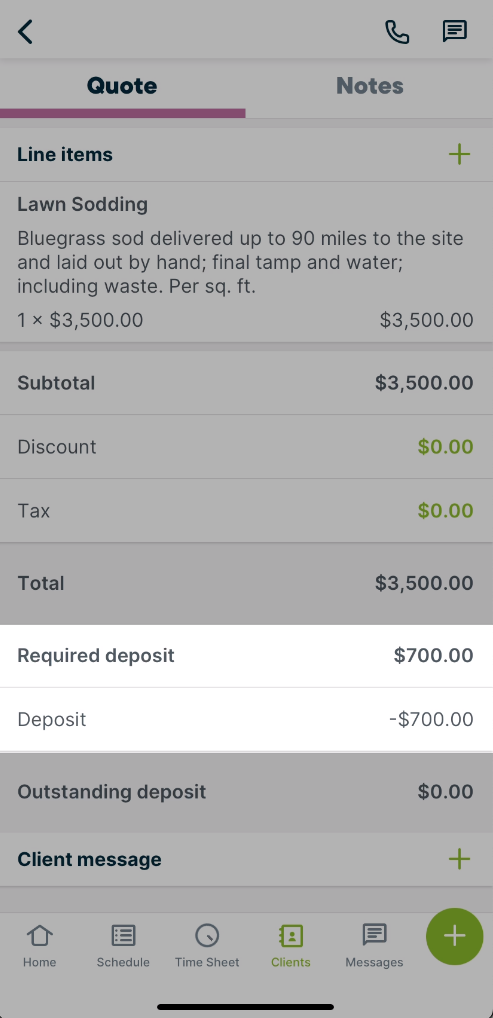 For invoices, in the Payments section you'll see payments entered towards that invoice's balance including both deposits and payments.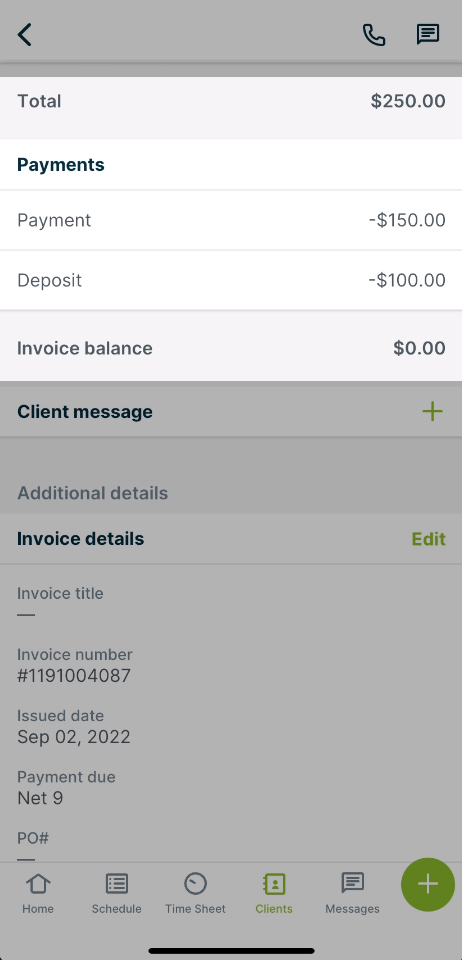 On both quotes and invoices, tapping the deposit or payment will open the details from that transaction. To send a receipt to your client, tap Resend Receipt.
Note: In Jobber online, from the Gear Icon > Settings > Jobber Payments, there is a setting for Email my client a receipt after every successful payment or refund. When this is turned on, your clients will automatically receive a receipt so you don't need to worry about manually sending them one. The button reads Resend Receipt when you've already sent a receipt to this client, with the receipt sent date listed down below.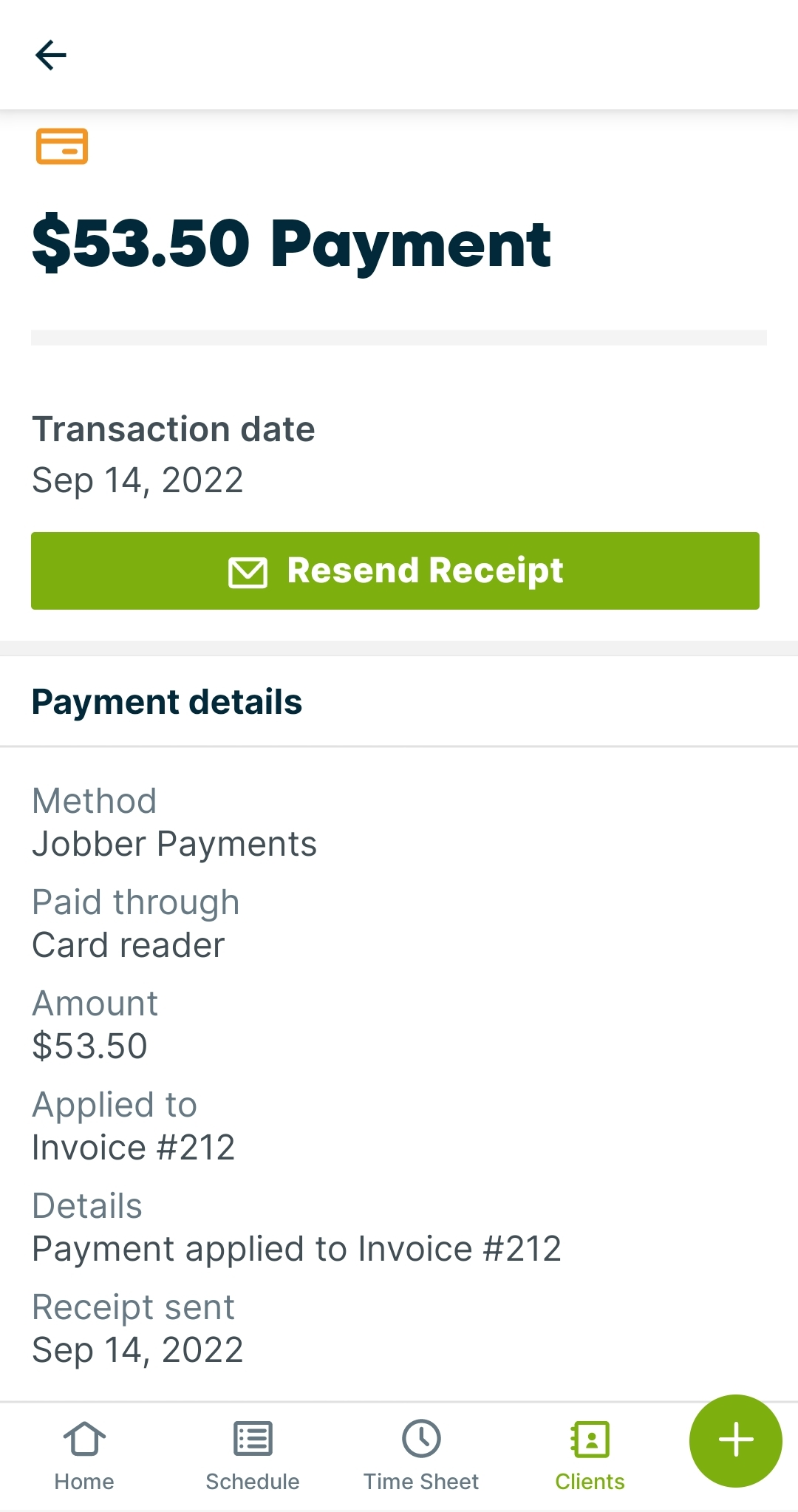 With the online version of Jobber, you will see the payment linked to this invoice and recorded in the client's billing history. If the client paid the full balance of the invoice it will now be marked as "Paid". If a new credit card was entered manually, it will now be securely stored under their billing history. Payments taken via the card reader will not appear as a stored payment method.