Overview
Your team can clock in and out of jobs and track expenses from anywhere, so you can prep payroll faster.
Entering expenses into Jobber allows you to keep track of your costs. From the Jobber app, you can upload copies of the receipt select if it's reimbursable to your team, and record the expense against a job.
Note
The updated app shown in this article will be rolling out to all users in October. If your apps are set to automatically update, you will get it once the updates are available to your account and your app has been updated to the latest version available at that time.
This article covers functionality that's available with the updated Jobber App. If you are not using the updated app yet, check out Expenses in the Jobber App.
If you are interested in moving you and your team onto the updated app, start a chat and let our support team know!
Expense tracking is available on select plans. Learn more.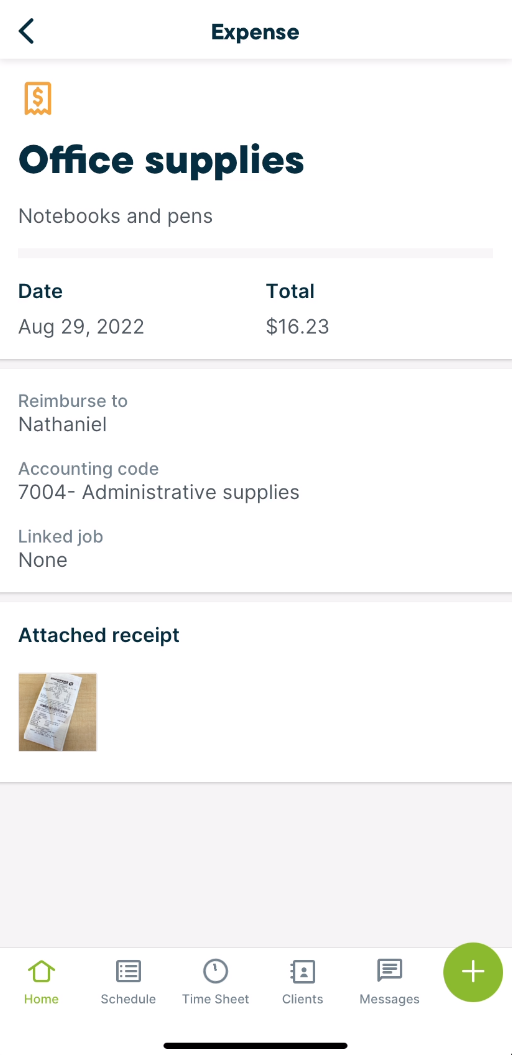 Creating an expense
Expenses can be quickly added from the Jobber App using the quick create menu, in the bottom right.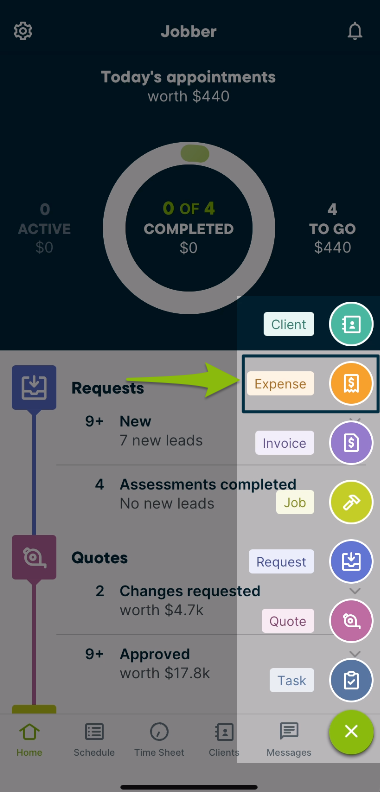 Note
Before using expenses in the Jobber App, expense tracking needs to be enabled from Jobber online. To turn on expense tracking, navigate to the Gear Icon > Settings > Expense Tracking, then click Turn On Expense Tracking.
After selecting Expense from the quick create menu, add in details like:
Expense title: This is the name of the expense.
Description: A description of the expense. This field will expand as you write.
Date
Total
Reimburse to: This is where you can select if the expense is reimbursable and which team member to reimburse If it is not reimbursable, leave the drop down on Not reimbursable. If
Accounting Code: Accounting codes can be set up to help categorize and track your expenses. Accounting codes are set up in Jobber online from Settings > Expense Tracking.
Linked job: If the expense corresponds to a job, the job can be linked to track the expense in the Costs section of a job in Jobber online. The recent jobs that appear in the list to select from are jobs with visits that you are assigned to where there are visits that fall during the week prior to today's date.
Attach receipt: If you have an image or documentation about this expense, it can be uploaded along with the rest of the expense details. Receipts are viewable from Jobber online. Files can be uploaded from your device or taken with your device's camera. Supported file types include:

.csv
.doc and .docx
.pdf
.txt
.ppt and pptx
.mp4
audio files including: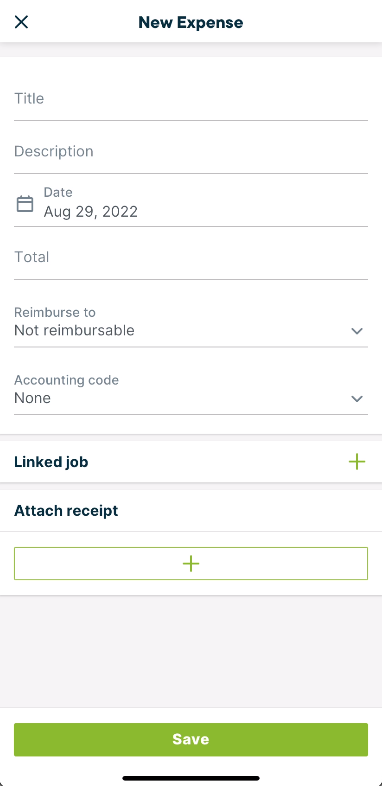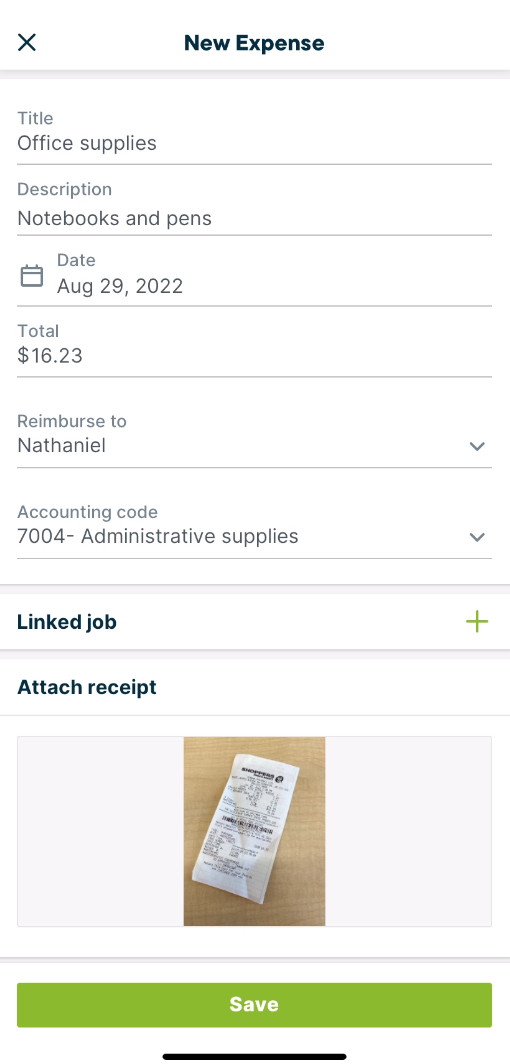 Once all the needed information has been filled out, tap Save to record the expense. You will be shown a summary of the saved information.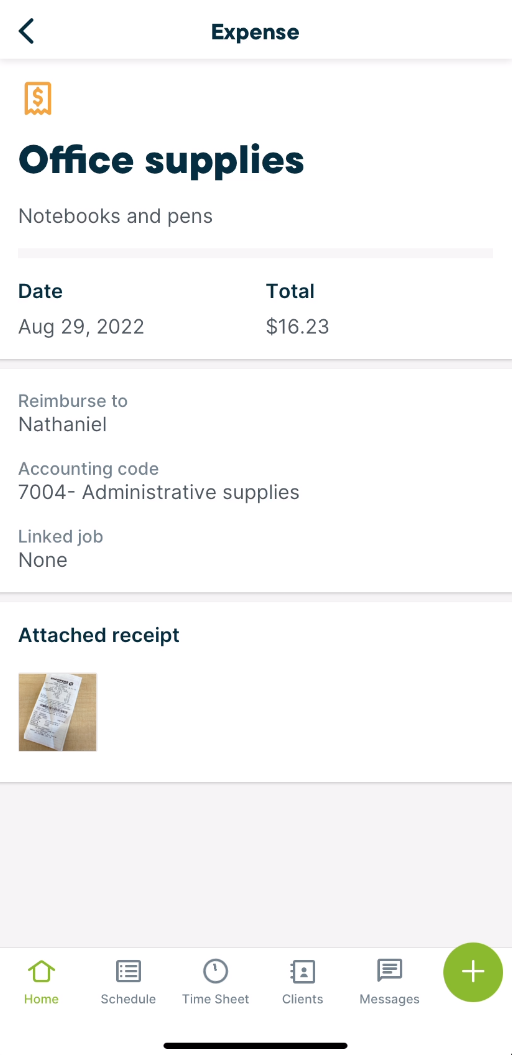 Where to view expenses
Once the expense is saved, it is viewable in Jobber online from the Expenses tab on the side navigation. This page contains a list of your most recent expenses which can be filtered by status (if they are reimbursable, or not) and the team member who entered the expense.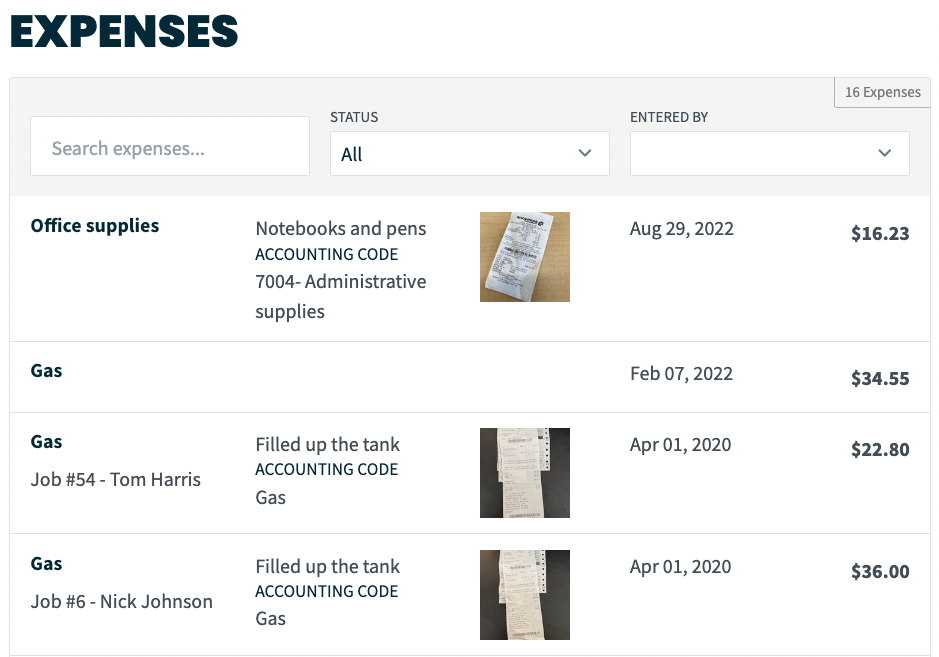 Click on an expense to view the expense details. The pop-up is where any edits can be made to the expense. Expenses cannot be edited in the app.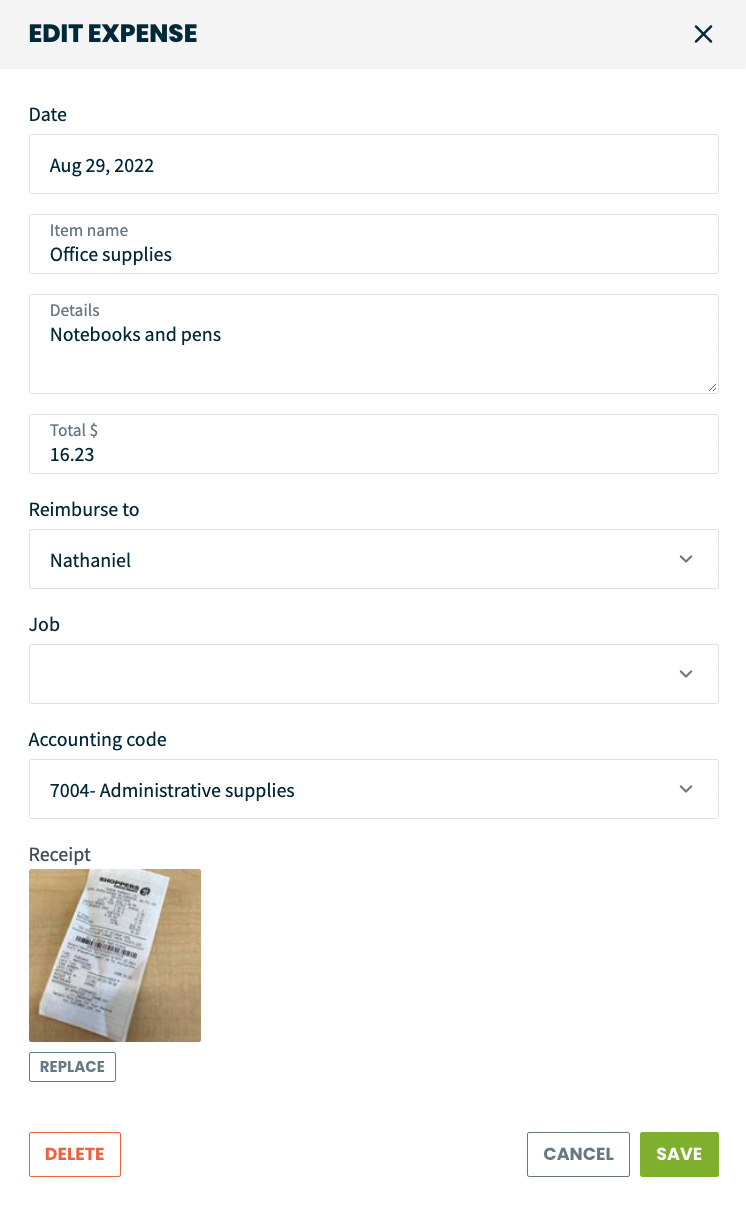 A report of all your expense can be exported in Jobber online from Reports > Expenses report.