Note
This article covers how to connect Jobber and the NEW QuickBooks Online integration which is gradually being rolled out to select accounts. For instructions on connecting Jobber with the legacy QuickBooks integration, please check out How to Set Up QuickBooks Online Sync
Overview
Our sync works behind the scenes to make sure your accounting needs are covered, while you use Jobber to power your day-to-day operations.
QuickBooks Online is an accounting software that can be integrated with Jobber. QuickBooks Online can be used to assist with payroll and accounting based on information from your connected Jobber account. Jobber syncs to both the US and Global versions of QuickBooks Online. Before you set up the sync, we suggest learning more about How Items Sync from Jobber to QuickBooks.
Note: Each QuickBooks account can only connect to one Jobber account at a time.
Get started
The QuickBooks Online integration must be set up by an admin user.
1️⃣ From the side navigation, click Apps. From the list of apps, select QuickBooks Online.
2️⃣ From the QuickBooks Online Integration page, select Connect. Jobber will prompt you to log in to your QuickBooks Online account if you haven't already to authorize the connection. Click Allow access to connect your Jobber account.
3️⃣ If this is your first time connecting Jobber to this QuickBooks integration, you'll be directed to import your clients and products & services from QuickBooks into Jobber. The import process has 4 steps. However if you are using Jobber Payments, there is an additional step to set up your Jobber Payments payouts reconciliation.
In step 1, click Connect to QuickBooks to continue the set up.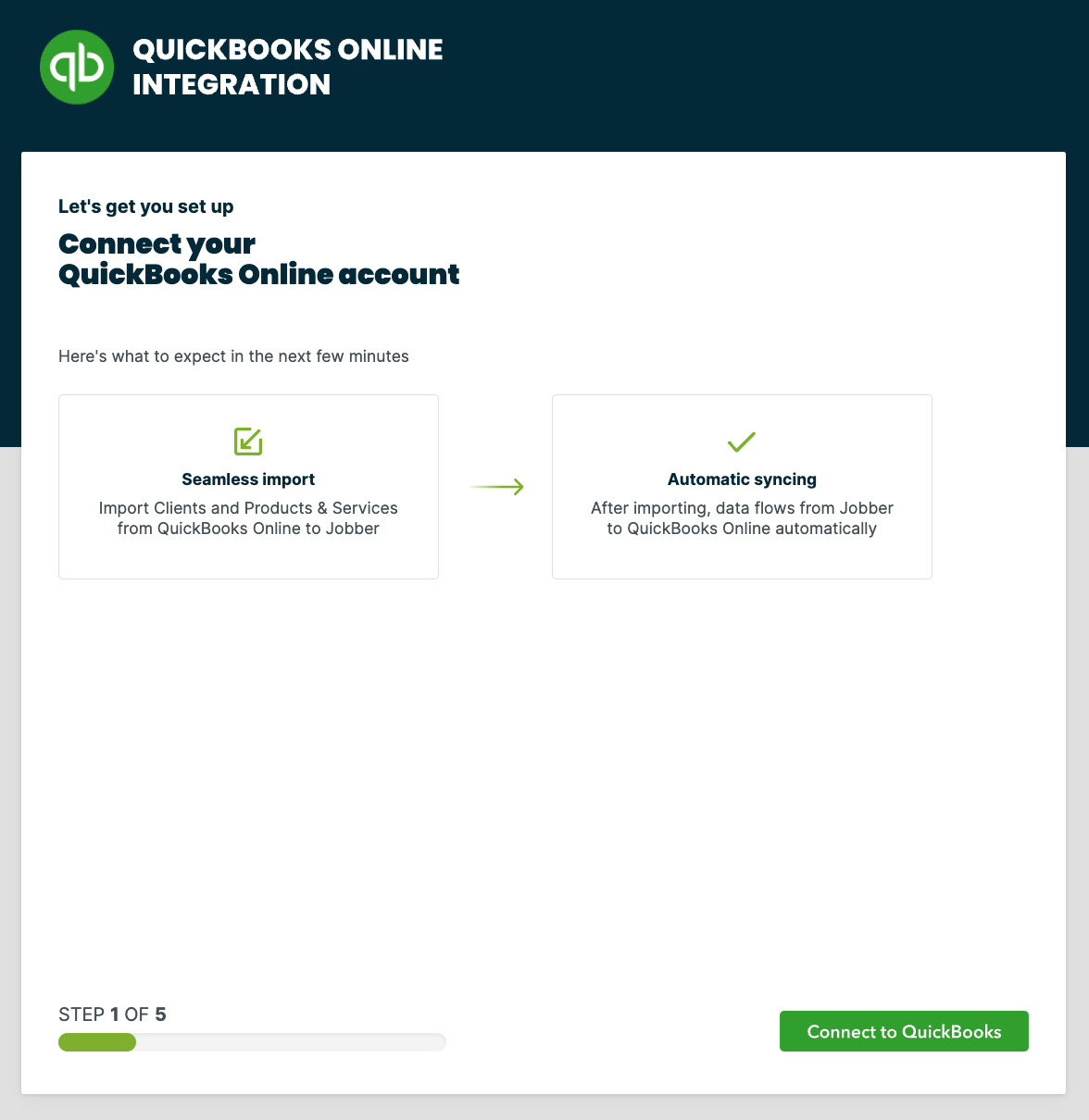 In step 2, toggle ON the items that you wish to import. To skip the import process, turn both toggles to OFF. This is a one-time, one way import from QuickBooks to Jobber. Once you've made your selections, click Continue.
Note: By turning on these toggles, you are selecting all active clients or products and services, rather than selecting specific clients or products or services.
In step 3, set up where you would like to sync your Jobber Payments payouts for reconciliation. From the drop down, select an account from QuickBooks, then select Continue.
Note: You will only see this step if you have Jobber Payments enabled.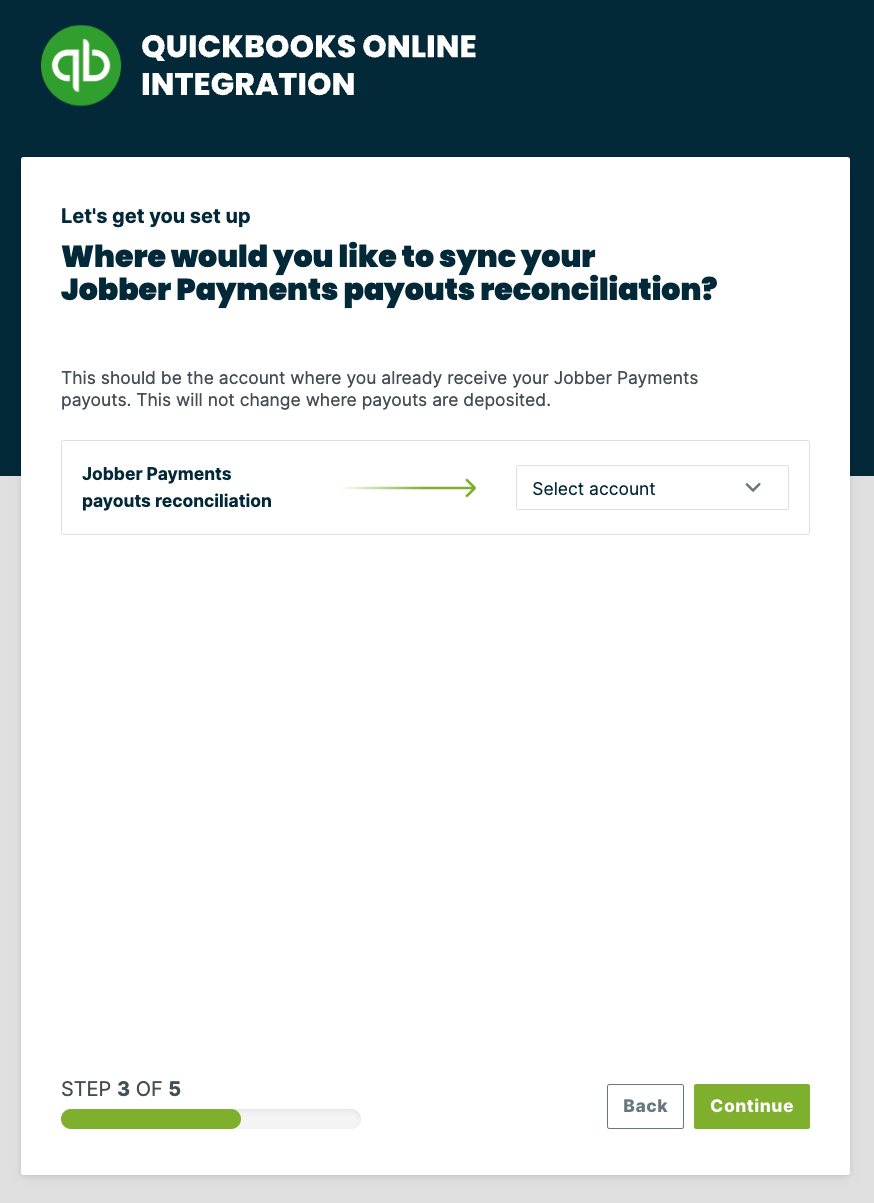 In step 4, you'll see a summary of what is being imported. Click Start import to go ahead and import these items, or click Edit to update your previous selections.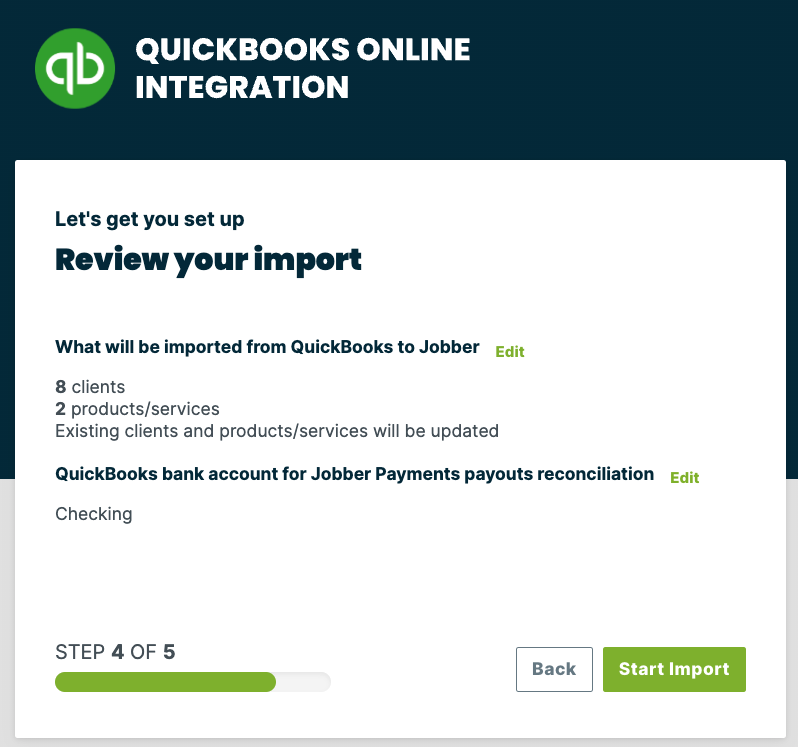 In Step 5, sit back and relax while the import runs. Feel free to leave this page and work in Jobber while this is going.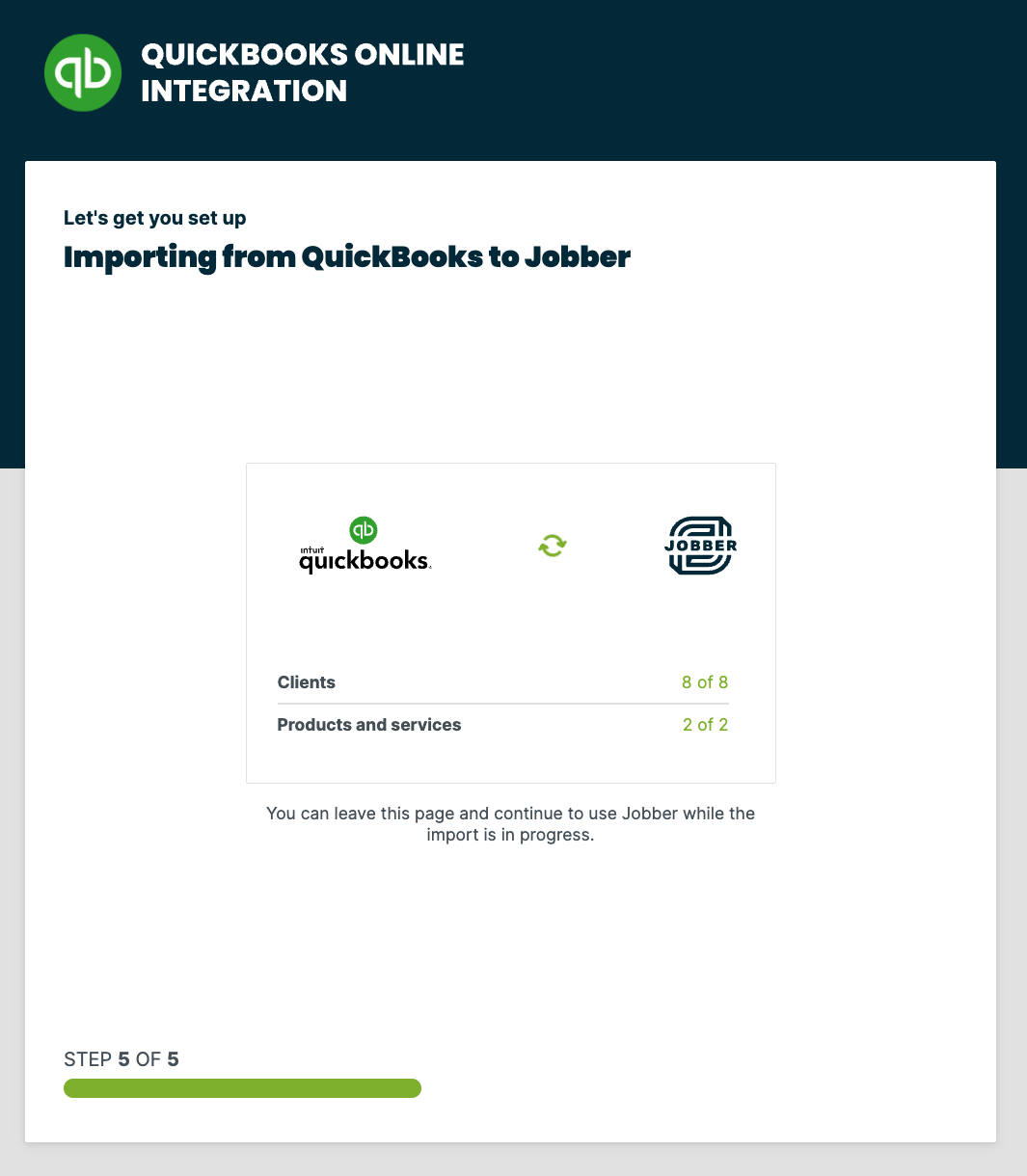 Once the sync is complete, you'll be notified if there were any errors or warnings. Click View Details to review the sync activity.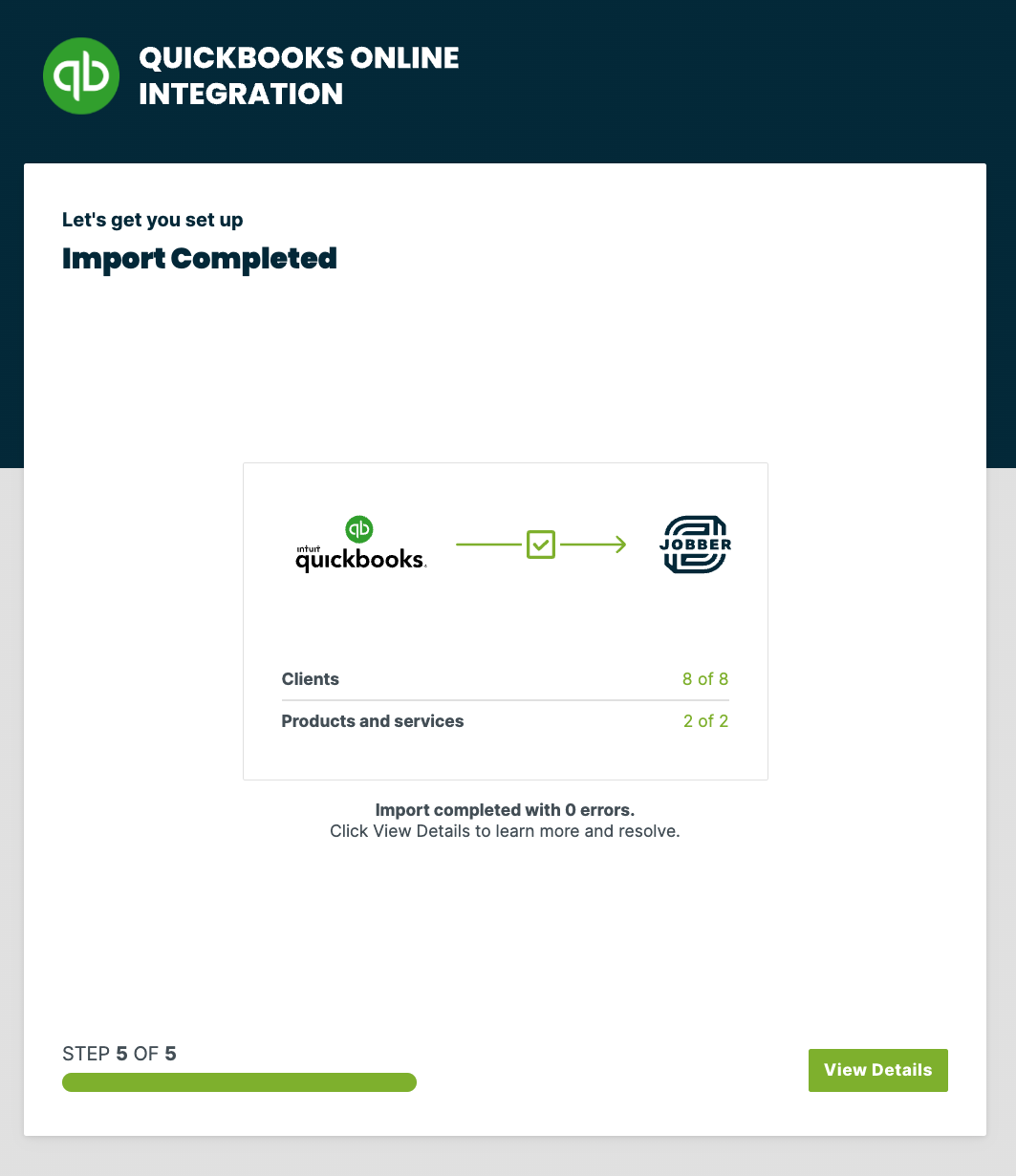 Settings
To access your settings, navigate to the QuickBooks sync activity dashboard. This can be accessed from the Gear Icon > Settings > Connected Apps > QuickBooks Online Integration. From the QuickBooks Online Integration page, click Manage App.
From the sync activity dashboard, click Sync Settings.
If there is anything that requires your attention in your sync activity, you'll see an alert in the top navigation in Jobber. Click the alert to view the sync activity dashboard where you can view any errors or warnings or access your sync settings.
From the sync settings page, there are two tabs with settings options:
Sync settings
Chart of accounts
Sync settings
Your sync settings are where you can customize when each item syncs with Jobber. For clients, products and services, and invoices there are two settings options for when the item syncs:
Once they appears on an invoice, OR

As soon as the item is created or updated

Note: for invoices, this is when the invoice is sent (or marked as sent). For payments (including payments, refunds, tips, and Jobber Payments payouts reconciliation) you have the option to sync when they are collected or to not sync these items at all.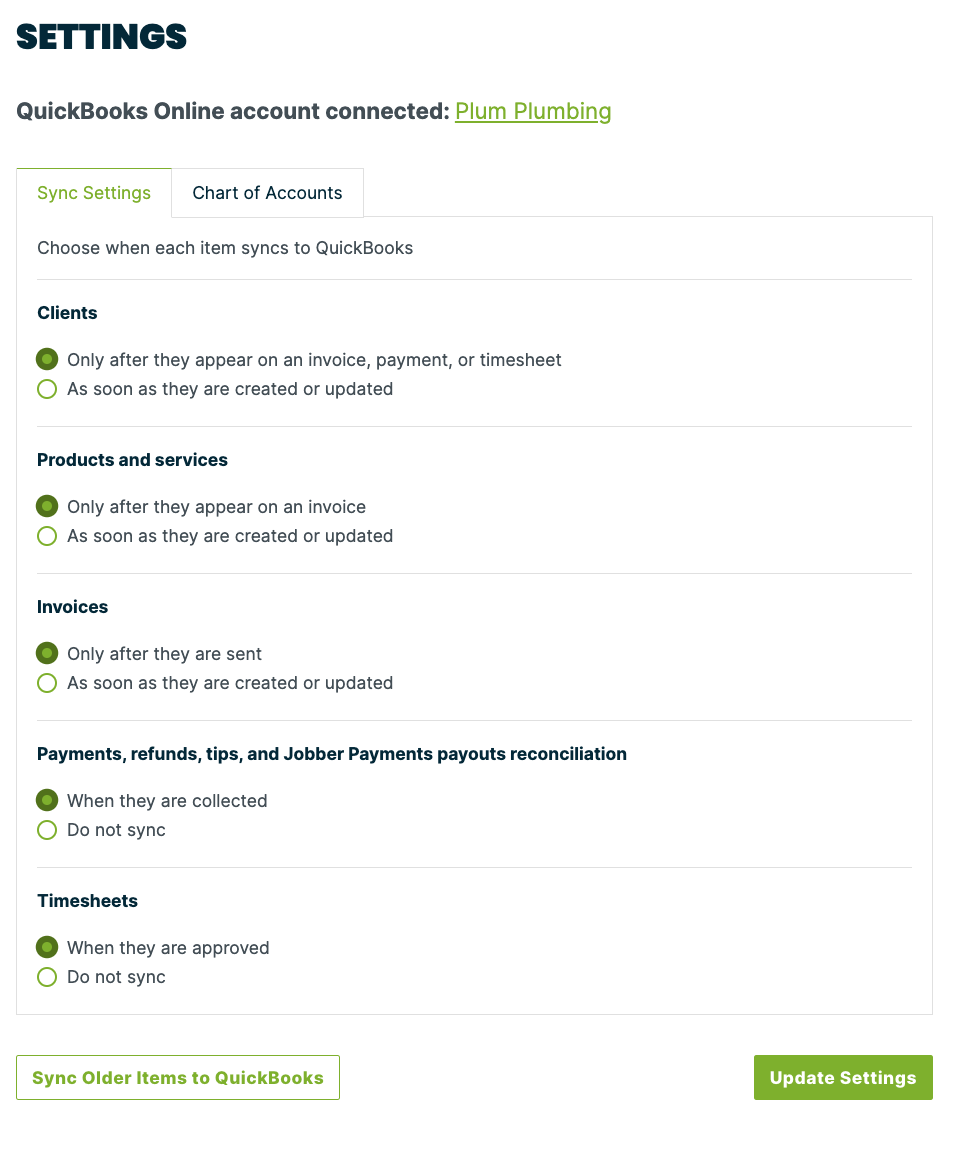 Once you've made your selections, click Update Settings.
Learn more about how items sync
Sync older items to QuickBooks
If you have past items that you need to bring over to QuickBooks, select the button on the Sync Settings tab to Sync older items to QuickBooks.
Past invoices, payments, payouts, and timesheets can be brought into QuickBooks from Jobber. The sync for these items is back dated based on their creation date. To make your selections, check the boxes for the item type. There are some dependencies when syncing these items:
To sync payments, you must also sync invoices
To sync payouts, you must also sync invoices and payments
Click Start Sync once you've finished making your selections to run a sync that includes these items. These backdated items will appear on your sync dashboard.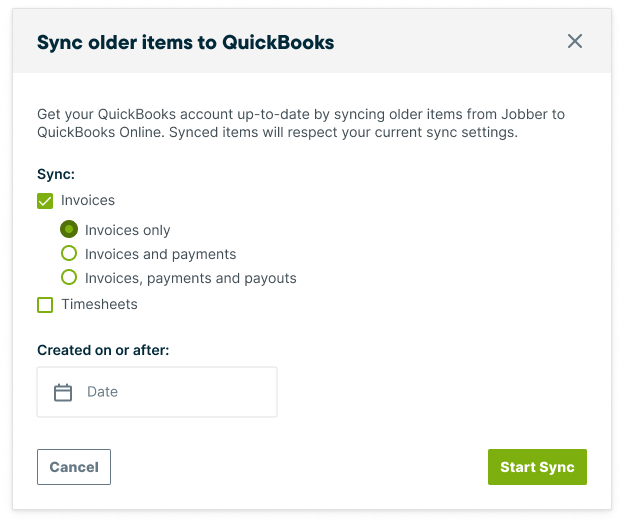 Chart of accounts
Your Chart of accounts is where you'll set up which account your Jobber Payments payouts reconciliation, fees, and tips are synced to in QuickBooks.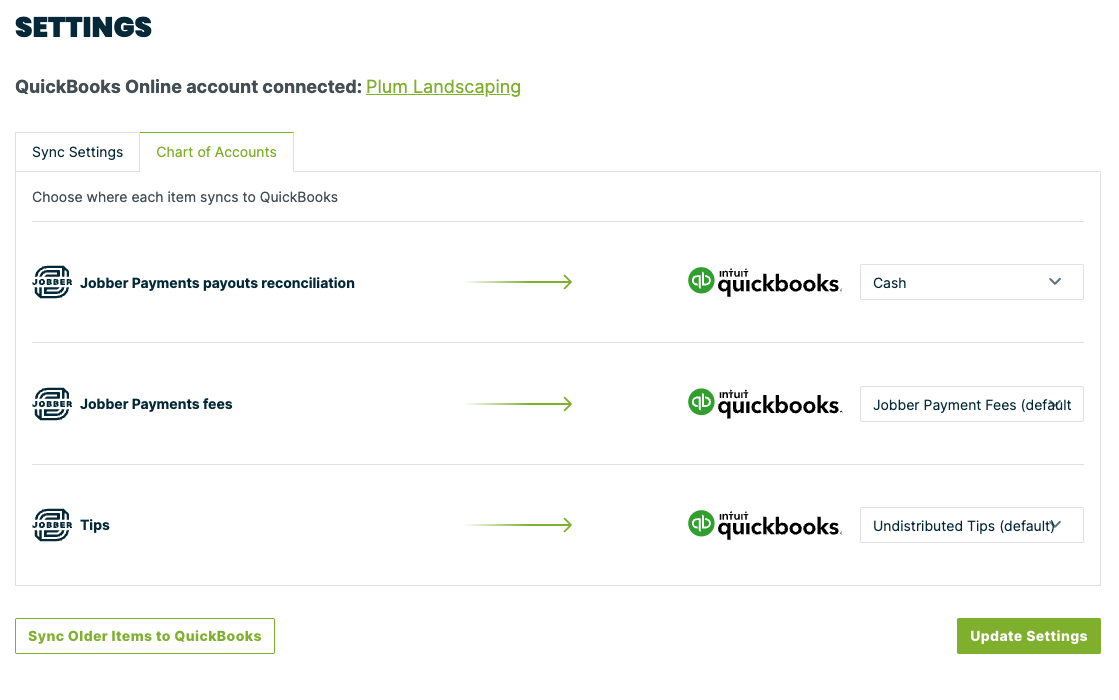 Disconnecting the integration
To disconnect Jobber from QuickBooks, navigate to the Gear Icon > Settings. From the settings menu, under Connected Apps, click QuickBooks Online Integration.
From the QuickBooks Online Integration page click Disconnect.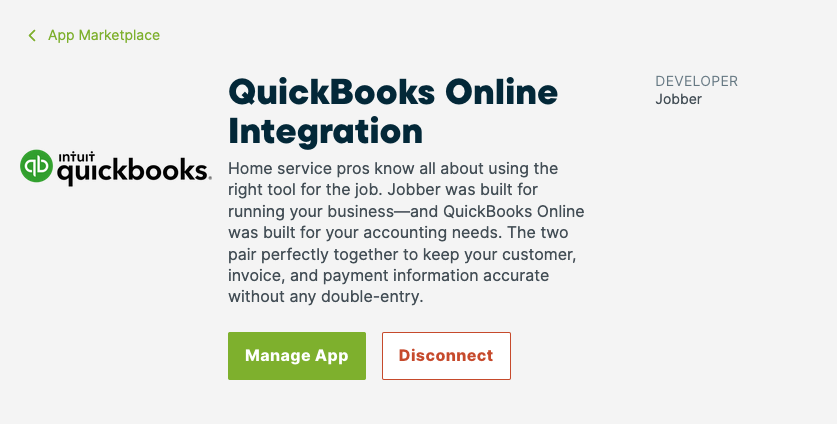 Note: After disconnecting, if you connect to Jobber again in the future you will not go through the import process again.
If the team member who originally connected Jobber and QuickBooks is deactivated, the QuickBooks connection will be disconnected and need to be re-connected.