Overview
Invoice reminders appear on the calendar to remind you of what you need to invoice and when. Invoice reminders are what triggers jobs to be put into Requires Invoicing status, which is the status that allows you to batch invoice.
Setting up reminders to invoice for your recurring jobs
When you create a recurring job, you have two options of how you want to invoice. They are Per visit and Fixed price. Select Per visit if you want to invoice for the cost of each visit. Select Fixed price if it doesn't matter how many times you visit the client since they're paying a flat rate.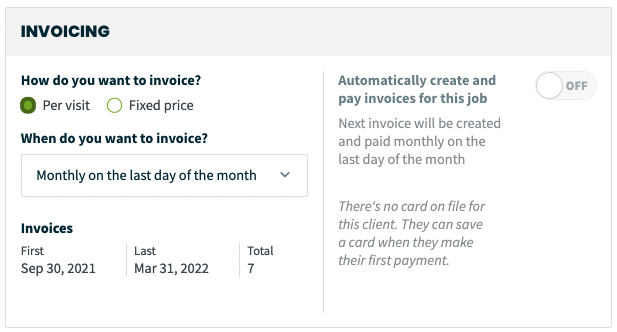 There are several options for When do you want to Invoice? on the job creation page.
When you set an invoicing schedule, you are setting up a reminder schedule that generates reminders which you will see on the different schedule views when the reminder filter is on.
Options for invoice scheduling:
As needed - we won't prompt you: This will disable invoice reminders from being created for this job.
After each visit: This will generate an invoice reminder after each visit is marked complete. This will put the job into requires invoicing following each visit.
Once when job is completed: Once the job is closed, an invoice reminder will be generated.
Monthly on the last day of the month: An invoice reminder will be generated on the last day of each month.
Custom schedule: This allows you to create a custom schedule for when invoice reminders will be generated.
Setting up reminders to invoice for your one-off jobs
When creating a one-off job, you can choose to be reminded—or not to—when the job is closed.
By default, you will be reminded to invoice when the job is closed. To not be reminded, unmark the checkbox on the Job Creation page.

Manually create your invoice reminders
To manually set an invoice reminder, scroll down on the job to the billing box. Here you can click the New button to make a new reminder or invoice.

Invoice reminders will appear on your schedule. Once an invoice has been made, they will be crossed out through to show they are done.

Use invoice reminders to invoice
Your invoice reminders will display how many and which jobs need to be Invoiced for in several places:
Home: You will see how many jobs are in requires invoicing status.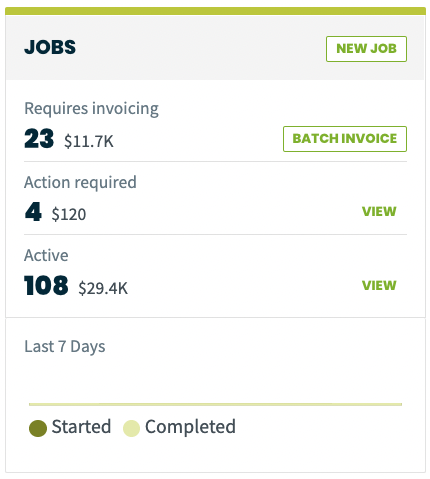 On a Job page: You can search for Jobs requiring invoicing here by selecting Requires Invoicing from the Status drop down: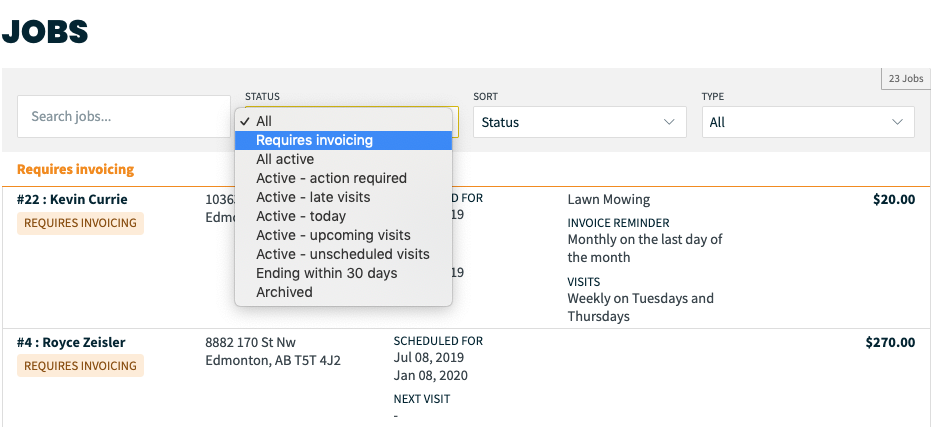 Assign invoice reminders
Is there one person in your office that takes care of the billing? You can assign all the invoice reminders to them. To do this, you will need to go to the Gear Icon > Settings > Work Settings. In the Invoice section, you can select the user to assign the invoice reminders to.

How to remove a job from "requires invoicing" status
If you have closed a job but it is in "requires invoicing" status, there will be an outstanding invoice reminder for this job which is prompting you to invoice. You will need to either delete this invoice reminder or create an invoice in order to get the job out of this status.
To check, go to the job. Then, scroll down towards the bottom of the page to the "billing" section. Click on the overdue invoice reminder. If you want to invoice, click Create Invoice. If you don't want to invoice, click More Actions > Delete. This will put the job into archived status.