Overview
You can export your Jobber client list from Jobber as either a CSV or vCard file. Your client list can be fully or partially exported based on tags.
Client lists can be exported as a spreadsheet, either as a CSV for vCard file. Exporting your client list can be a useful way to create a list of your clients including information like tags, property addresses, contact information, or custom field which can then be imported into another software or saved for your records. When exporting clients as a CSV, the export can handle up to 1500 rows in your CSV file at a time. If you have more than 1499 clients to export, you will receive multiple files attached in your export email.
Client exporting is available on select plans. View our current pricing plans.
Note: Client exporting is not available on the Lite plan.
To check what plan you're on, navigate to the Gear Icon > Account and Billing. If you have any questions about your plan's features or pricing, our support team is here to help!
How to export clients
Clients can only be exported by admin users. To export your client list, navigate to the Clients tab from the side navigation menu. From the Clients page, in the top right corner click More Actions > Export Clients.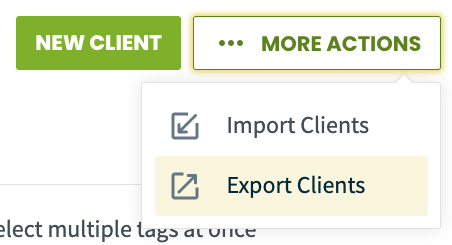 Clicking Export Clients will bring up a pop-up: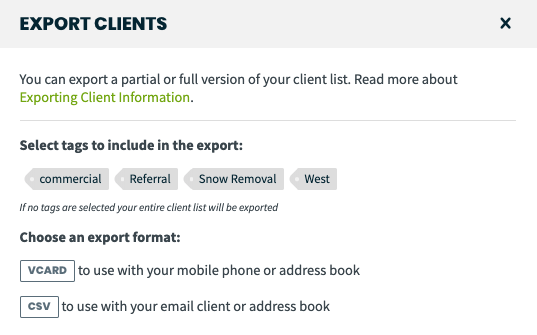 To export your entire client list, click on either vCard or CSV. Jobber will then email you a copy of the exported client list.
Exporting Only Clients with a Certain Tag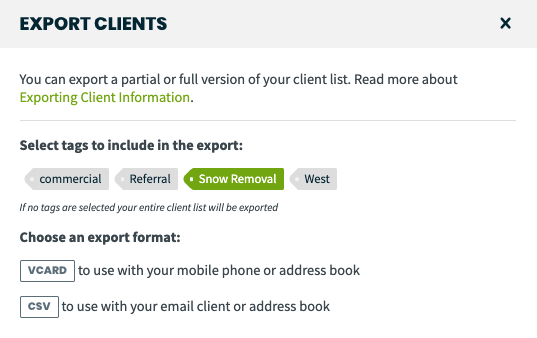 If you want to export only clients with a certain tag, click the tag, then click vCard or CSV to export this list. You will be emailed a copy of the client list.
If you select multiple tags here, only clients with all the tags select on them will be exported.
Learn more about Tagging in Jobber.
Exporting your Clients for Marketing Tools
One great way to reach out to your past, present, and future clients is mass emailing. Many marketing softwares will have an option to import a list of client names and contact information. Exporting your client list from Jobber as a .csv and then importing it into the marketing software of your choice is a way that you can bring your Jobber clients into your marketing tool.