Overview
Custom fields are available on select plans. Learn more.
While Jobber has a handful of fields you can enter information into (name, address, etc), you might have some fields of your own that you'd like to fill out. Custom fields help you track additional information that can be specific to your business. These fields exist for:
Clients
Properties
Quotes
Jobs
Invoices
Team
Adding a Custom Field Through the Settings Menu
To add a new field, go to your Gear Icon > Settings > Custom Fields. Click the + Add Field button on the area that you would like the field for.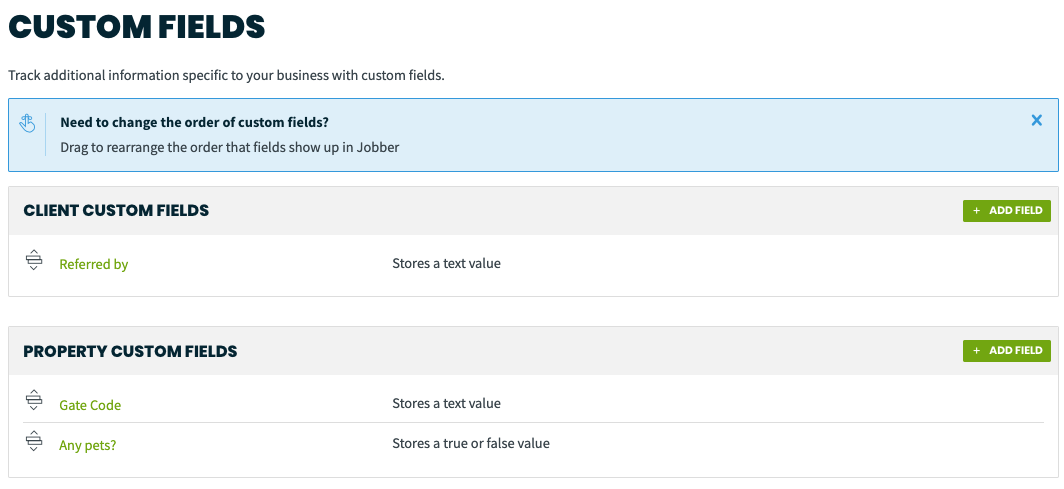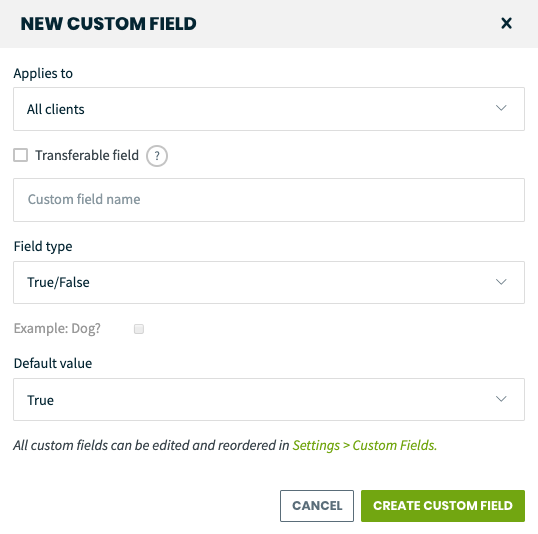 Options for the custom field:
Applies to: Choose whether this field is for properties, clients, quotes, jobs, invoices, or team.
Transferable Field: Choose to make your new field transferable to allow your data to appear in multiple places and follow you through your workflow.
Name: Enter what you want the name of the custom field to be.
Value Type: Decide how you want to store information.

True/False creates a check box field.
Numeric creates a field that only accepts numbers.
Area creates a field where you can enter length and width.
Drop Down allows you to create a drop down with certain options.
Text field creates a box where you can enter text.

Default Value: Set a default value entry for it to automatically apply to this field throughout your account, or leave it blank so that you can enter in this information as you go.
Creating a Custom Field on a Create Page
You can also add custom fields when you are creating or editing an item (such as a new client or a job). Along with that item's details, you will see an option to Add Custom Field.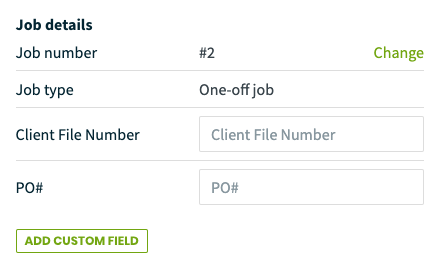 When you add a custom field here, it will be added to your list of custom fields in Settings > Custom Fields. This custom field will appear as an option on all items going forward. That means if you add a custom field on a client, when you create another client you will see that custom field for you to fill out.
Using Custom Fields
Custom fields and their details will appear at the top of the page that the field was created for. For example, if you have a custom field created for your clients, it will appear in the top right of a client profile under their contact details.

To enter or edit information in a custom field, click Edit located in the top right of the page.
If a numeric, area, or text based custom field entry is left blank, it will NOT appear on the page, but will still appear on the edit screen.
The fields below Additional Client Details are custom fields. All the different field types are shown here, including true/false, numeric, area, selection type, and text.

Transferable Custom Fields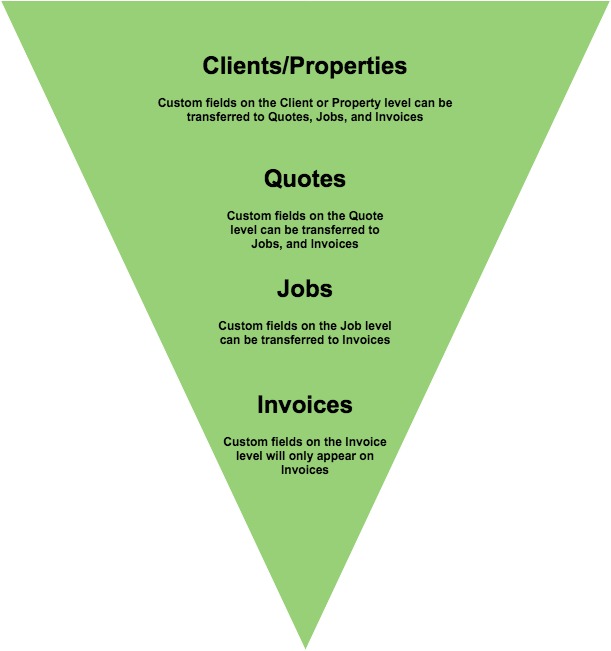 When you make a custom field transferable, this means that it will transfer the information you enter at one level down to the following levels. For example, if you create a transferable custom field on a quote, it will appear on the quote, job, and invoice. Transferable fields only transfer information forwards in the workflow, not backwards.
Editing or Deleting Custom Fields
To edit or delete a custom field, go into your Gear icon > Settings > Custom Fields and click on the field you want to edit. This will allow you to change the field name and default value. You cannot change the field type after it has been created.
If you delete a custom field, the data that you have entered into that field will be deleted as well.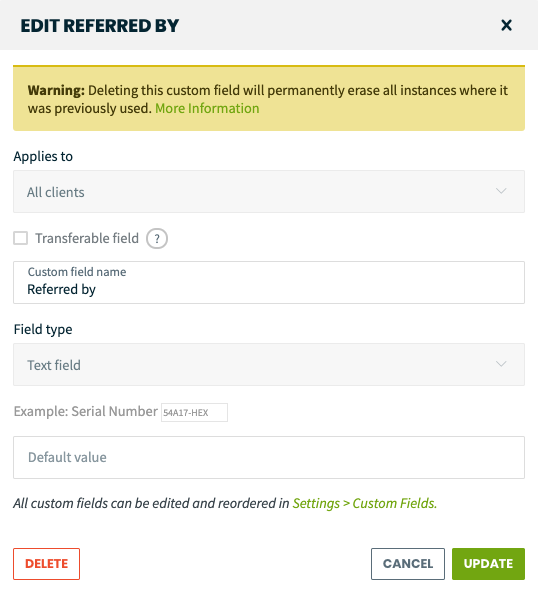 To delete a transferable custom field, you will need to delete that item in the level that it was created on. You can tell where it was created since that custom field will appear in green and the fields that it transfers to will appear in black.
If you have multiple custom fields, you can drag them into the order you want them to appear by using the Drag icon to the left of them.

Client Visibility
When you first create a custom field it is only visible within your Jobber account. You can change the visibility of your PDFs by going into your Gear icon > Settings > Branding > Open PDF Configuration. Go to the tab where the custom field exists, you'll want to check the option for Show Custom Field Name. Once you update, the custom field you selected will appear both in the Client Hub and on the PDF for that item.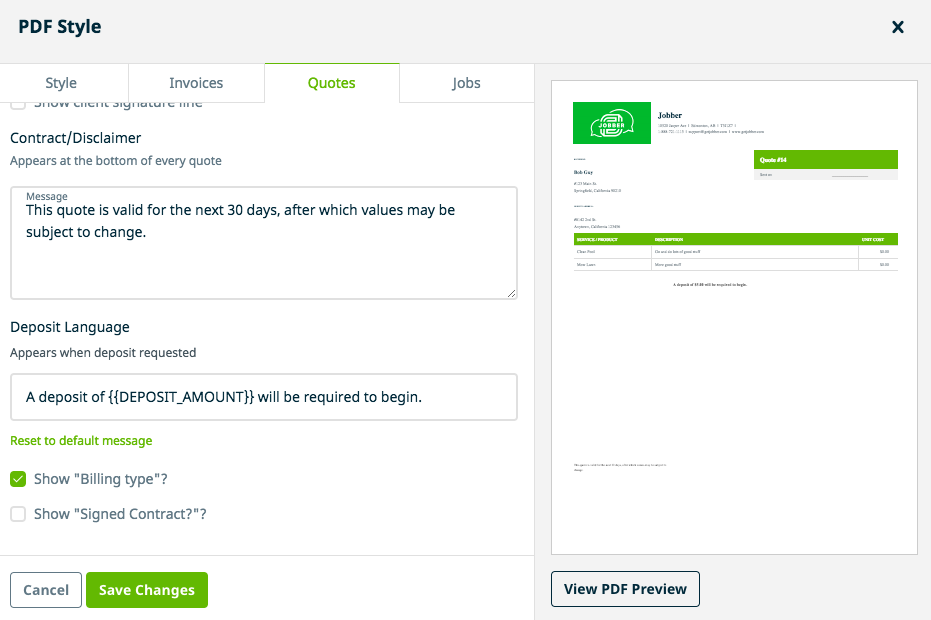 Learn more about the PDF Configuration Tool
Custom Field Reporting
Custom field data can be seen in Reports and will be visible where they are created - as an example, to see information about custom fields on invoices, go to the Invoice report.
You'll find all of your custom fields within the Columns drop down list on the right of the report. To select the custom field to shown on the report, mark the checkbox beside it.