What is an account owner?
The account owner is the individual that owns the rights to the Jobber account and all associated information. This role exists for increased security within your account as no other user is able to edit the account owner's information or settings. This person is typically the business owner.
The account owner is also the user who will initially set the permissions for all other users in the account. This includes who has the permission to delete information, view reporting, export information, etc.
In the case of any dispute with account information, the account owner is the sole owner of all of the Jobber information.
Transferring account ownership
If at anytime the owner of an account changes you can transfer the ownership role to another admin user. It is a fairly simple process that is accomplished via email acceptance. This article will go over the flow of the ownership transfer.
The first step is to be logged in as the current account owner. Click onto the Gear Icon > Manage Team.

Now just select the user you wish to make the new account owner. On their profile, make sure they are an admin user. Only admin users can have account ownership.
Under their permissions, click "Make 'their name' the account owner".

Now the new owner will receive an email invitation to accept the ownership role.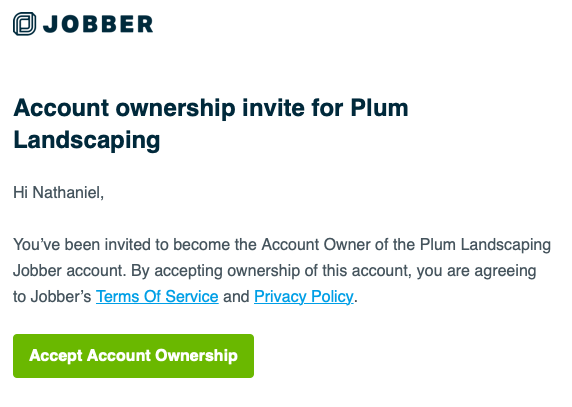 The new owner will need to be logged in to accept the ownership role. Once it has been accepted they will now be taken to the 'Manage Team' page within Jobber and the new settings will be applied. You will see the ownership role applied to the new user and the new account owner will see a banner that they are now the account owner.