What is route optimization?
Efficiently route the day's work, assign incoming jobs to the closest team member on the map, and know their whereabouts as they're on the move.
This feature is available on select plans.
Route Optimization acts as a template for the order of your anytime tasks that are scheduled for a client. Anytime tasks are scheduled on a specific date, but do not have an assigned time. With route optimization you can create your preferred route or have Jobber optimize and create the most efficient route automatically, then customize it if you need to. There are two kinds of routing in Jobber, route optimization is one of them and the daily route is the other.
Enabling Route Optimization
To enable Route Optimization, click on the Gear Icon > Settings > Route Optimization, then click Try Route Optimization.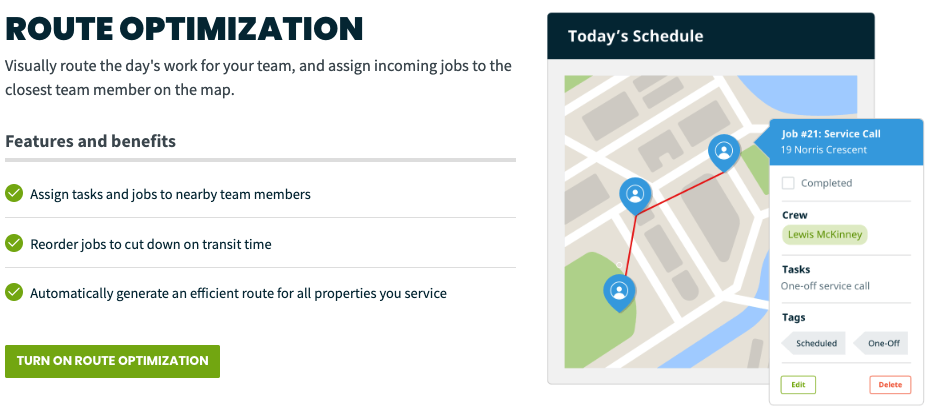 Using Route Optimization
You can choose to have Jobber automatically optimize your route or you can manually select your own route order.
Create an Optimized Route - To have Jobber automatically set the order of your route, click the Optimize button in the top right. Jobber will then create the shortest route through all properties in your account.
Manually Create Route - To create your route manually, click your preferred starting property on the map or in the list, then click Start Routing From Here. Once you have chosen where to start your route, you can then select the remaining properties listed in the order you want for your route. You can choose this order by clicking on the visit in the map, or from list to the left of the map.
To save your work, click Save in the upper right hand corner. To start from scratch and erase your existing Master Route, click Reset Route.
Remove or Add Properties to your Master Route
When you add new properties to your Jobber account you will need to make changes to your Route Optimization. You can also remove or add properties if you need to make an adjustment for clients you no longer service.
To remove a property from the route click on it, then select Remove from Route.
To insert a property at a specific point within your route, click on the property directly above where you would like to add the new property. A pop up window will open where you can click 'Insert at this Point', then select the property you want next in your route. If you have multiple properties to enter, click on them in the order you want listed in your route. Click Save when you are done.
When making routing changes, the modified route will be highlighted in red, while the existing route that's being overwritten will be in blue. To finalize your changes, click Save in the upper right corner.
Daily Route Optimization
Once your Route Optimization has been set, it will be used as the template for your Anytime tasks that are associated to clients in your account.
This order will show in the Calendar Map View, and in the Jobber App.
To create routes on a day by day basis instead of creating a Master Route for your account, learn more about Daily Route Optimization