What do push notifications do?
Control what information your team can access in Jobber, and keep them in the loop with a notification anytime their schedule changes.
This feature is available on select plans.
Jobber has the ability to send Push Notifications to any of your mobile app-using users any time they have a schedule change that affects their current work day.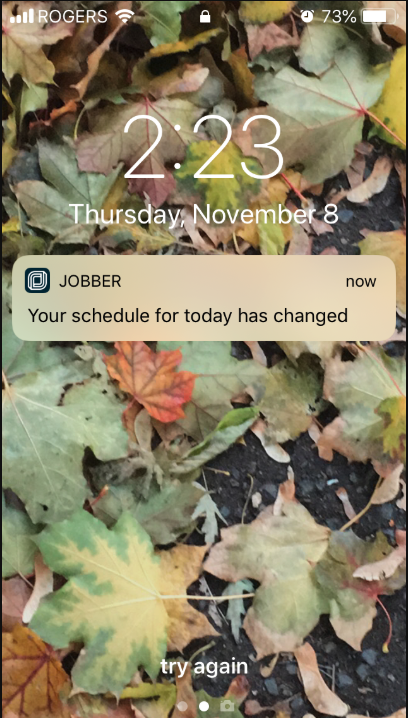 What will send a user a notification
If an employee is using our mobile app, we will send them a notification whenever you make changes to their schedule for the current work day. We will send notifications for:
New request assessments, tasks, or visits added to their schedule for today
Request assessments, tasks, or visits removed, deleted, or canceled for today
Request assessments, tasks, or visits for today being rescheduled
New booking request (Only admins will receive a push notification)

How often are they sent out?
When you are making schedule updates for your team (for the current work day) our system will wait until you are done updating a user's schedule, and then send them a notification a minute later.
Enabling push notifications
Notifications are sent out automatically by the system, so there are no extra steps that need to be done when editing the schedule. All you need to do is make sure that each user has the mobile app downloaded, and notifications are on for the app in their phone settings.
Troubleshooting
Q: My team isn't receiving any notifications
A: If your team isn't receiving the notifications, there are a few common causes:
Make sure that they are on an up-to-date version of the Mobile App
See if their phone currently has given Jobber the permissions to send them the Push Notifications. They can check in their phone's settings to make sure that they can receive notifications from Jobber.
Q: I tried sending myself a test notification and nothing happened.
A: Users will only get a notification if the schedule change is done by another person, so you can't send yourself notifications. This is because we don't want to send you notifications for things that you are already aware of.
Q: Why is there a 1 minute delay in the notifications?
A: When you are editing a user's schedule, you may be making dozens of small changes (ex. moving things around on the calendar.) We will wait a minute to make sure that you are done editing the schedule, and then will send a single notification to the user that will let them know that their schedule has been updated.