Invoice and payment reports
With over 20 built-in reports, you'll know exactly how your business is doing. Learn more.
Invoice and payment reports can be found from the Reports tab under the heading for Financial Reports.
Beyond the invoice and payment reports, you can find these other financial reports:
Reporting on income
To report on how much income you have accepted through payments in Jobber, go to Reports from the side navigation, then under the heading for financial reports, click Transactions list.
This report initially shows all payments and invoices in the set time range. To change the report to see just payments, click on 'Paid or Deposited' at the top. This will filter the report for just payments. At the top of the report, you can also select the date range you'd like the report to cover.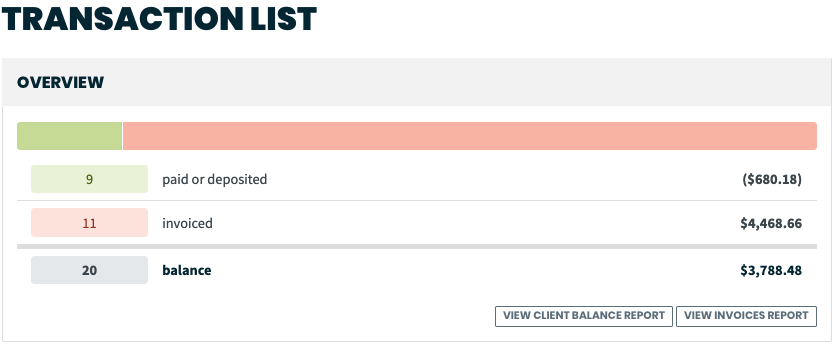 The total for all payments, will show up at the bottom of the report.
On the right hand side, you can also click on Columns to add, or hide columns on the report.

You can also export this report if you need to use it in a spreadsheet program. To do this, click Receive Excel Copy, and a copy will be emailed to you.
Reporting on invoices
If you need to report on invoices and total amounts invoiced, go to Reports from the side navigation, then click on the Invoices report. At the top of the report, you can click on any invoice type (Eg. Draft, Awaiting payment, etc.) to filter the report for just this type of invoice. You can also set the date range of the report here.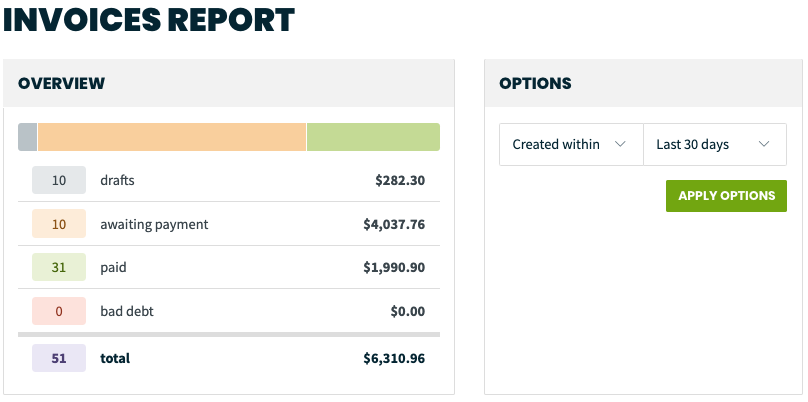 On the right of the report, you can click the Columns button, to add or hide columns. Any custom fields that you have made for invoices, will show up here as optional columns to add to the report.

Reporting on bad debt invoices
Sometimes unfortunately you are unable to collect payment from a client for an invoice. The client is not expected to ever pay, so you need to mark the invoice as Bad Debt. Within Jobber you are able to report on invoices marked as bad debt.
To do this, go to Reports, and click on the Bad Debt report. This will show you a filtered version of the invoices report, for only invoices that are bad debt.
Reporting on overdue invoices
To pull a report on invoices that are overdue, go to Reports, then click on the Aged Receivables report.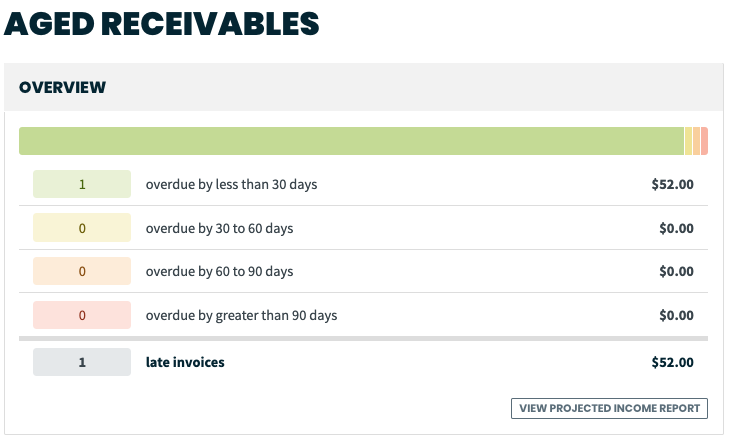 This report will show invoices late by certain time ranges. To see only invoices in the report that are late by a certain time range click on the time range in the Overview. For example, click Overdue by less than 30 days, to only see invoices that are overdue by this date range. The invoices will then be listed below. The client's email address and phone number are available as column options so at a glance you can reach out to these clients to follow-up.