What is the client communications report?
With over 20 built-in reports, you'll know exactly how your business is doing.
The client communications report shows all email and text messages sent from your Jobber account to your clients. This report is where you can make sure the communication was delivered, preview the message, and view if it was opened.
The client communications report can be found from the Reports tab under the heading for Client Reports.
At the top of the report you will see an overview of the email and text message sent out, how many emails were delivered, and how many emails were opened.
At the top of the report you can change the date range to filter the report for a certain range.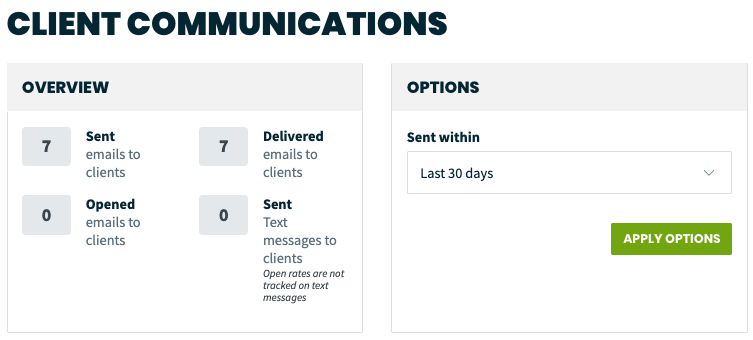 Checking emails delivery statuses
On the report you can check if a client opened an email you sent to them. To do this, find the email you sent in the report (you may want to filter the date range to so this), then check the Status column.
Opened - Means the client has opened the email. You can check the 'Opened Date' column to see when they opened it.
Sent - Means the client was sent the email, but they haven't yet opened it.
Failed to Deliver - Means the email could not be delivered to the client's inbox.

Report actions
Export Report - Click on Receive Excel Copy, and you will be emailed a copy of the report to the email you are logged in with to Jobber.
Add/Remove Columns - Click on Columns, on the right, to add or remove certain columns from the report.
Sort the Report - To sort the report, click on the header of any column that shows the up and down arrows. For example, if you click on 'Client name', the report will sort alphabetically by the client's name.
View Email - To view an email that was sent to a client, click the 'Open' button in the column on the far right. A window will then come up, where you can view the email body. You'll be able to see which email addresses the email was sent to, what was entered in the body of the email, and any attachments that were sent out with the email.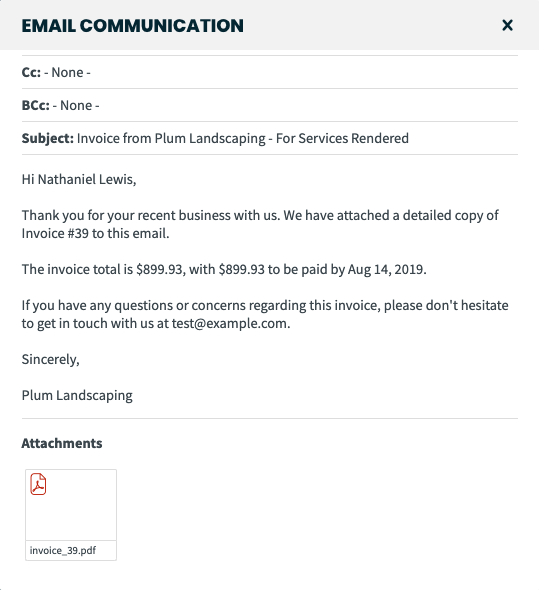 Client profile
The client communications report also populates on the client profile with the communications relevant for that particular client. In this section, if you click the "view communication" button it will preview the email or text message that was sent. The "view all" button you will be taken to the Client Communications Report.