With over 20 built-in reports, you'll know exactly how your business is doing. Learn more.
This report can be found from the Reports tab under the heading for Work Reports.
The products and services report shows all of your products and services. It shows how often they were used on quotes, jobs and invoices, and what the dollar value of the quoted, schedule, and invoiced amounts are for each item.
At the top of the report, you can filter the report by a date range of when the products or services were used on quotes, jobs, or invoices.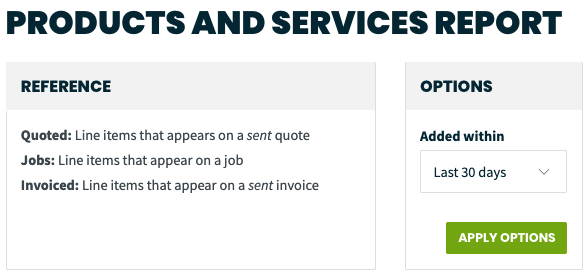 Keep in mind on the report what quoted, jobs, and invoiced mean:
Quoted- Line items that appears on a sent quote
Jobs- Line items that appear on a job
Invoiced- Line items that appear on a sent invoice
Report actions
Export the Report - Click on Receive Excel Copy, to be emailed a copy of the report to the email you are logged in with to Jobber.
Add/ Remove Columns - Click on Columns, on the right, to add or remove certain columns from the report.