Overview
There might be times where you've sent a client an invoice and you've come to realize that you won't be receiving a payment for either the full invoice or a partial amount. In these cases, mark the invoice as "bad debt" to indicate that this payment is not going to be collected. Marking an invoice as bad debt removes the invoice balance from the client's account balance to show that there is no longer an outstanding payment.
Marking an invoice as bad debt
Navigate to the invoice you want to mark as bad debt. From the More Actions menu, click Close Invoice.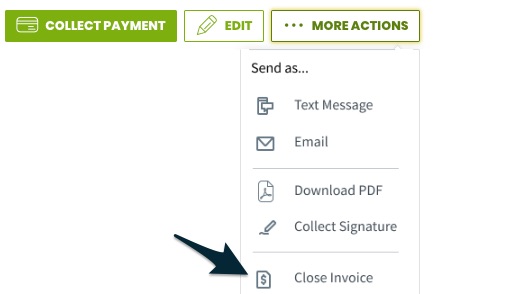 Selecting Close Invoice gives you three options to close this invoice. Click As Bad Debt.
The invoice status is changed to show "Bad Debt". This deems it as uncollectible and removes the invoice from "Awaiting Payment" and "Past Due" lists.

The date the invoice was marked as bad debt shows under the total for the invoice along with the total amount that was marked bad debt. If you mark an invoice as bad debt that does not already have a deposit or payment recorded against it, the whole invoice balance will be written off as bad debt.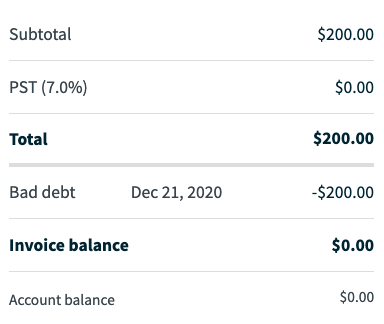 If the client has already paid part of the invoice balance but won't be paying the rest, you can mark just the partial, outstanding balance as bad debt.
Marking a partial balance as bad debt
To record just a partial balance as bad debt, first record the payment that you have received by clicking Collect Payment. When recording the payment, make sure to change the amount to what you have received so far and not the full invoice total which will be filled in by default. Then click Save.
Now that the partial payment is recorded, click More Actions > Close Invoice > Bad Debt. The remaining balance will be marked as bad debt.
Under the invoice total line, you will see both the payment details as well was the amount marked as bad debt. Clicking the link for Payment will open information about the payment such as method as well as some actions. Bad debt is not clickable since there are no details to show as no payment was received.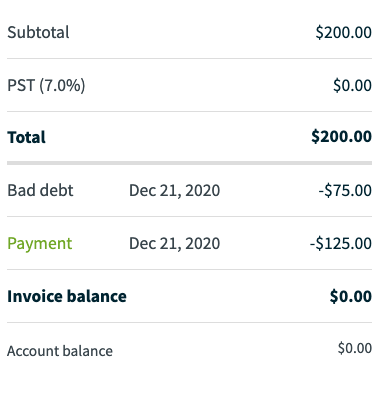 Unmark as bad debt
In the future, if you do receive payment from this invoice, it can be unmarked as bad debt and you can record the payment.
When an invoice is in bad debt status, the primary action will be to unmark the invoice as bad debt.

Click Unmark the Invoice as Bad Debt to re-open the invoice.
How does bad debt look to my client?
Your client will not know the invoice has been marked as bad debt.
An invoice marked as bad debt does not show in client hub, so the client will not see the bad debt status or the invoice. This means that invoices that have a partial amount marked as bad debt will also not show in client hub. If they have partially paid, a good way to communicate that you have received their payment is to send a receipt for the partial amount.
In both the mobile app and jobber.com, there are no options to email or text the client an invoice in bad debt status. Instead, you can download the invoice PDF which can be shared with your client. The PDF doesn't show the invoice has been marked as bad debt, however the invoice balance will be $0.00.
Reporting
While a bad debt invoice will no longer show to your client, you will still have access to it for your records.
From the Reports tab on the side navigation, there is a report called Bad Debt which is the bad debt section of the invoices report. This report shows all the invoices that are in bad debt status.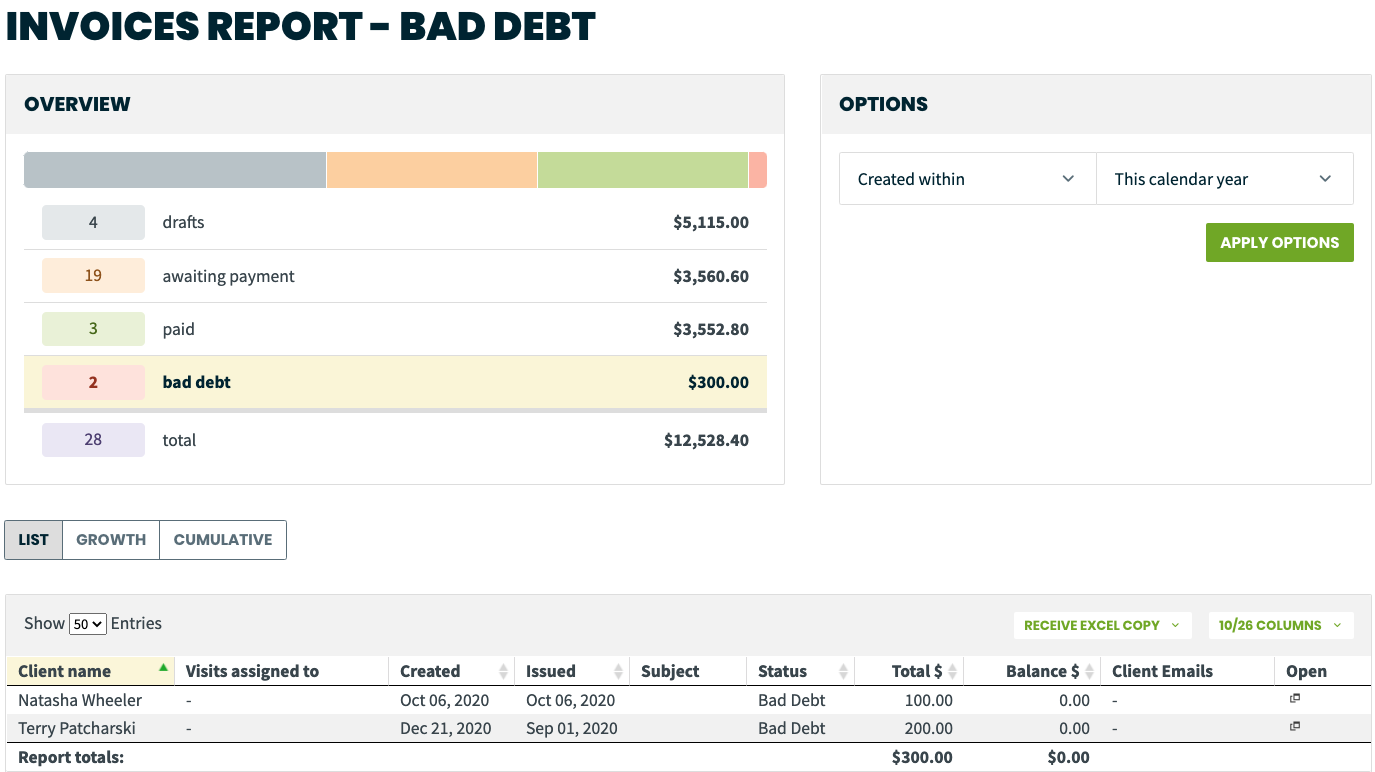 Bad debt and QuickBooks
Invoices in bad debt status will still sync to QuickBooks Online when they are marked as bad debt prior to the invoice syncing. Since invoices sync just one time, updates made to the invoice after it has synced to QuickBooks are not reflected in QuickBooks. Any changes made at that point will need to be made in both Jobber and QuickBooks.
In QuickBooks, the invoice will show as a regular invoice with a balance owing.