Overview
To comply with carrier regulations as of November 1, 2022, all businesses that use Application-to-Person text messaging via standard 10-digit long codes (also known as A2P 10DLC, or in this case, text messages sent via your dedicated phone number with Jobber) are required to register their business's dedicated number with additional business information. This regulation is part of an effort by carriers to validate business entities to help prevent unwanted messages or spam from reaching their clients.
If you are based in the United States and have already selected a dedicated phone number, you will be prompted to submit additional information to re-register your phone number. If you are selecting your dedicated phone number for the first time, the registration will be part of the signup process. Registering your dedicated phone number builds trust with carriers and ensures better text message deliverability to your clients. If your number is not registered, it will lead to a heightened risk of text message delivery failure.
How to register
In order to ensure your communications are being received by your clients, you must register your dedicated phone number with the required information.
Here are a few things you can do to help reduce the chance of any delays on your registration:
Ensure the website or social media link you provided is working. This is part of the approval process to ensure your organization is a legitimate business.
Ensure the website or social media link you provided indicates your legally registered business name and address. If different, you can add this information to your website's footer or as part of your Terms online. This will help support the validation that your business is legitimate.
Use opt-in language on any online contact forms you have set up. If you don't have this now, here's what you can add to your form:
"By providing your phone number, you agree to receive text messages from Your Company Name. Message and data rates may apply. Message frequency varies."

If you use the request form through Jobber, we'll be updating the form to reflect this shortly so you won't have to!
If you see a banner in your account prompting you to register your number, click Complete Registration to begin the process. The details needed to register your number are:
Business details

Legal business name and business type; this information should be associated with your EIN (Tax ID)

Tax ID

EIN is your 9 digit tax ID if your company is a registered organization. Sole proprietor businesses do not require this

Business address

Required to be a physical address (not a PO box) and should also be associated to your Tax ID

Point of contact

name: the person listed should be able to validate the legitimacy of your business
email address: the point of contact's email address.
phone number: this should be the text message enabled phone number for the point of contact. It should not be:

Your dedicated phone number (we already have that!)
A landline
A VOIP number

Website or social media link
This form will be visible to all admin users, but only one needs to complete it. The phone number entered here should be the phone number of the point of contact, not your company's dedicated phone number since we already have that on file for the registration.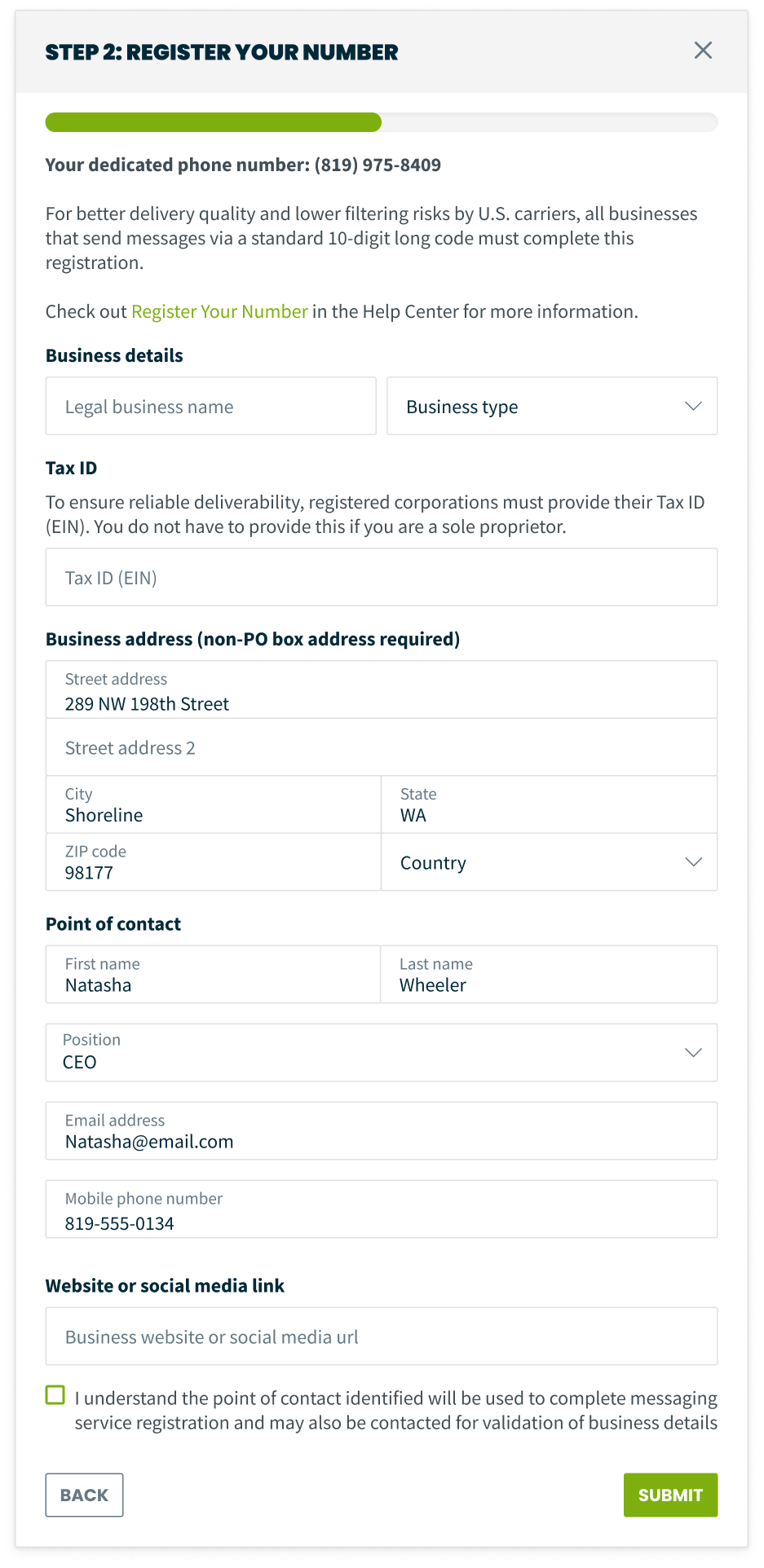 Once the form has been filled out, click Submit.