Overview
To reset your password, click the button below then enter the email address you use to log into Jobber.
There are a few different reasons why you may get errors when trying to reset your password. Here are the most common reasons and errors you might receive.
"Sorry, the link you used has expired"
This means that you are clicking on an expired password reset instructions email. This email will expire on its own after a short period of time. Each time you enter your email into the "Forgot Your Password" box, you will be sent a new email which will invalidate any previous reset emails in your account.
Make sure that you are clicking on the newest email. A lot of email programs will create an email thread, making it difficult to tell which one is the newest. If you're unsure, check the timestamp of the email.
If you are still receiving this error, delete the entire email thread and try re-entering your email into the "Forgot Your Password" to send yourself a new reset email.
Delete Email
Re-request Password Reset Email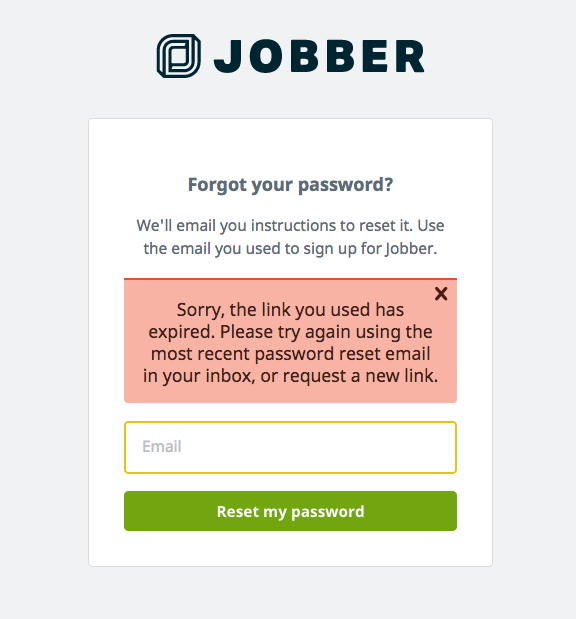 "I'm not receiving a password reset email, where is it?"
The Password Reset Email might be getting sent to spam, etc. Try searching your inbox for "Password Reset Instructions" it will be from notification@getjobber.com.
Click Set New Password to enter in your new credentials.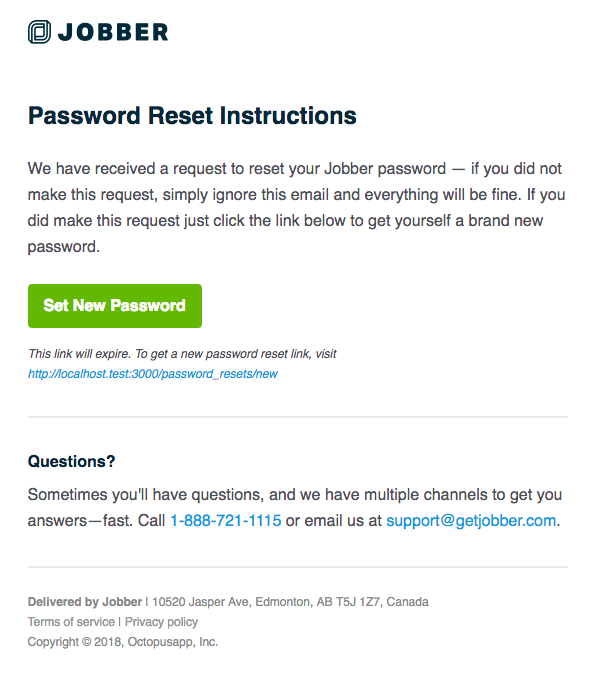 Next steps
If you are still having any trouble resetting your password, our Success Team can help! Give us a call at 1-888-721-1115, or start a live chat with us by clicking the speech bubble in the bottom right corner of the screen.