What is NiceJob?
NiceJob is a Canadian company specializing in reputation management. Their focus is to send out automatic review requests via text message and email to clients after their service has been completed. Users can manage the feedback that has been received and share it with their company website or social media pages.
Note: Before setting up the Jobber and NiceJob integration, make sure you already have a NiceJob account. You will need a NiceJob account to utilize their reputation management platform or to set up a Convert Website.
How Does the Integration Work?
When the job is closed, Jobber will transfer the client contact information to NiceJob where the client will be added to your reviews campaign to request a review from them. Since NiceJob has created this review campaign, the only way to see responses will be from your NiceJob account - this information is not transferred back into Jobber.
We recommend turning off your automatic job follow-ups in Jobber to avoid duplicate requests being sent to your clients.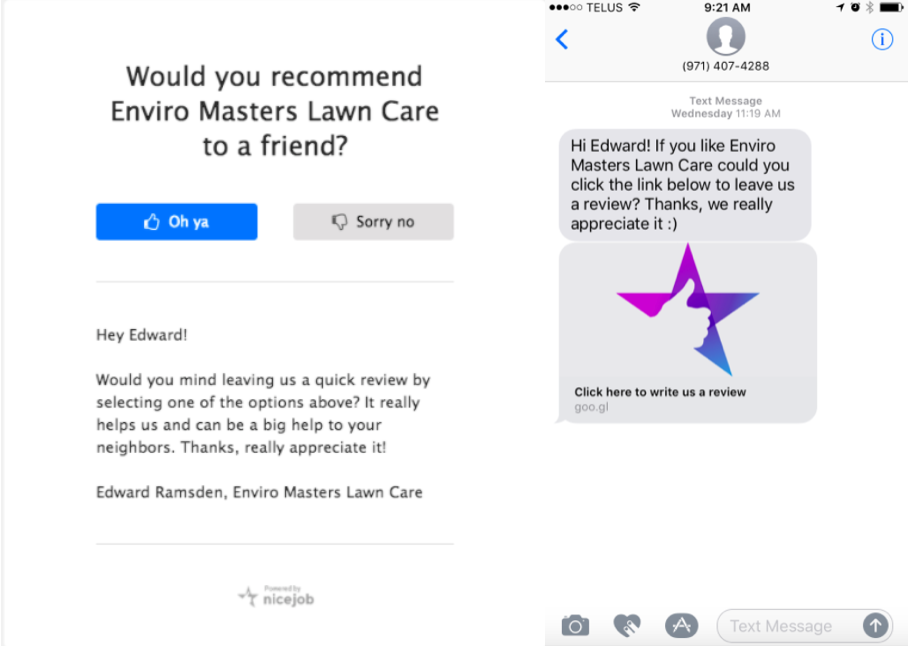 Connecting Jobber to NiceJob
The integration between Jobber and NiceJob is set up in NiceJob. After creating your NiceJob account, click Settings > Product Settings. From the settings sidebar, click Apps. Locate Jobber from the list of apps and click Connect. Then on the pop-up, click Connect.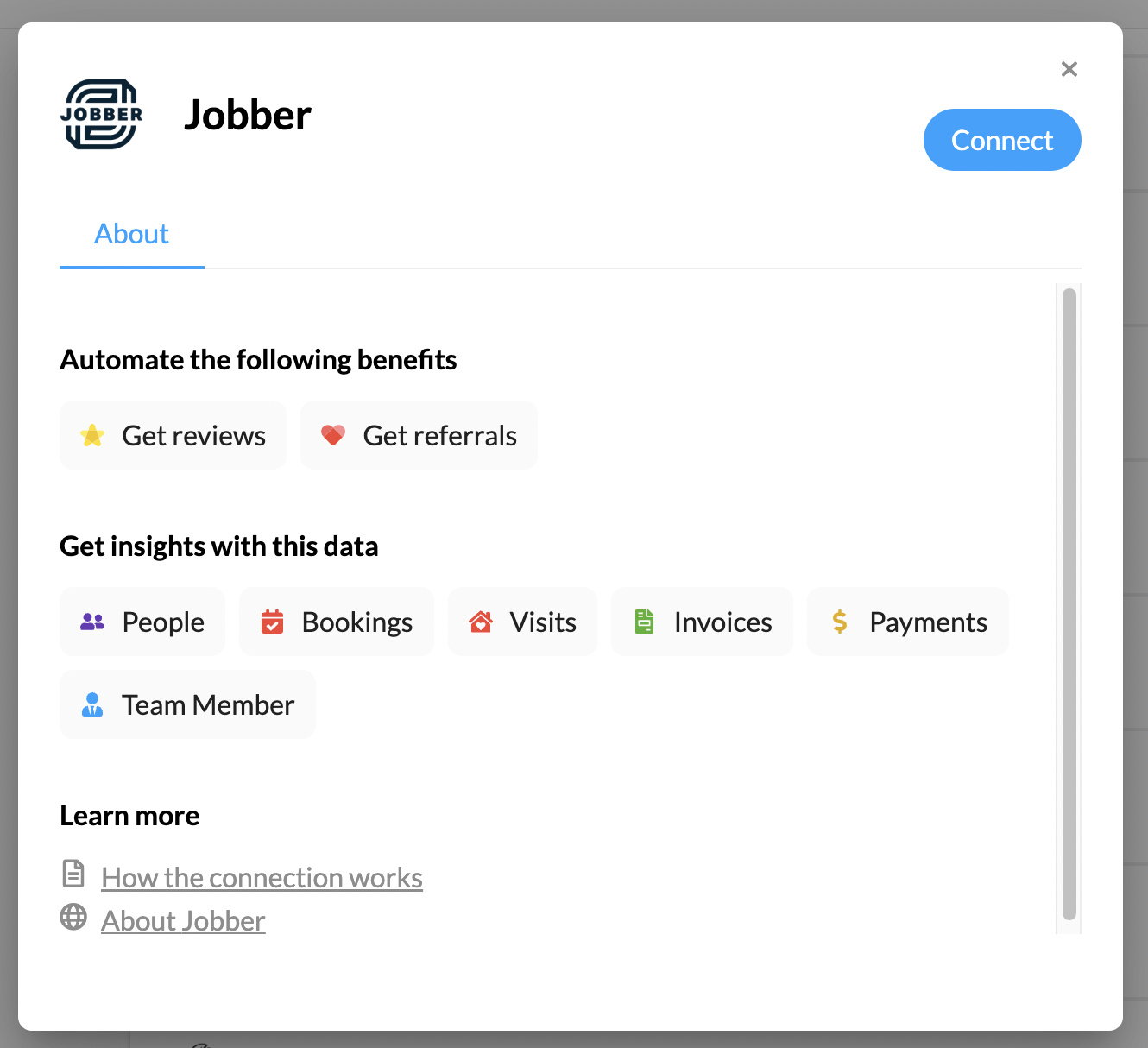 Next, you will be prompted to authorize NiceJob to access Jobber. Click Allow Access.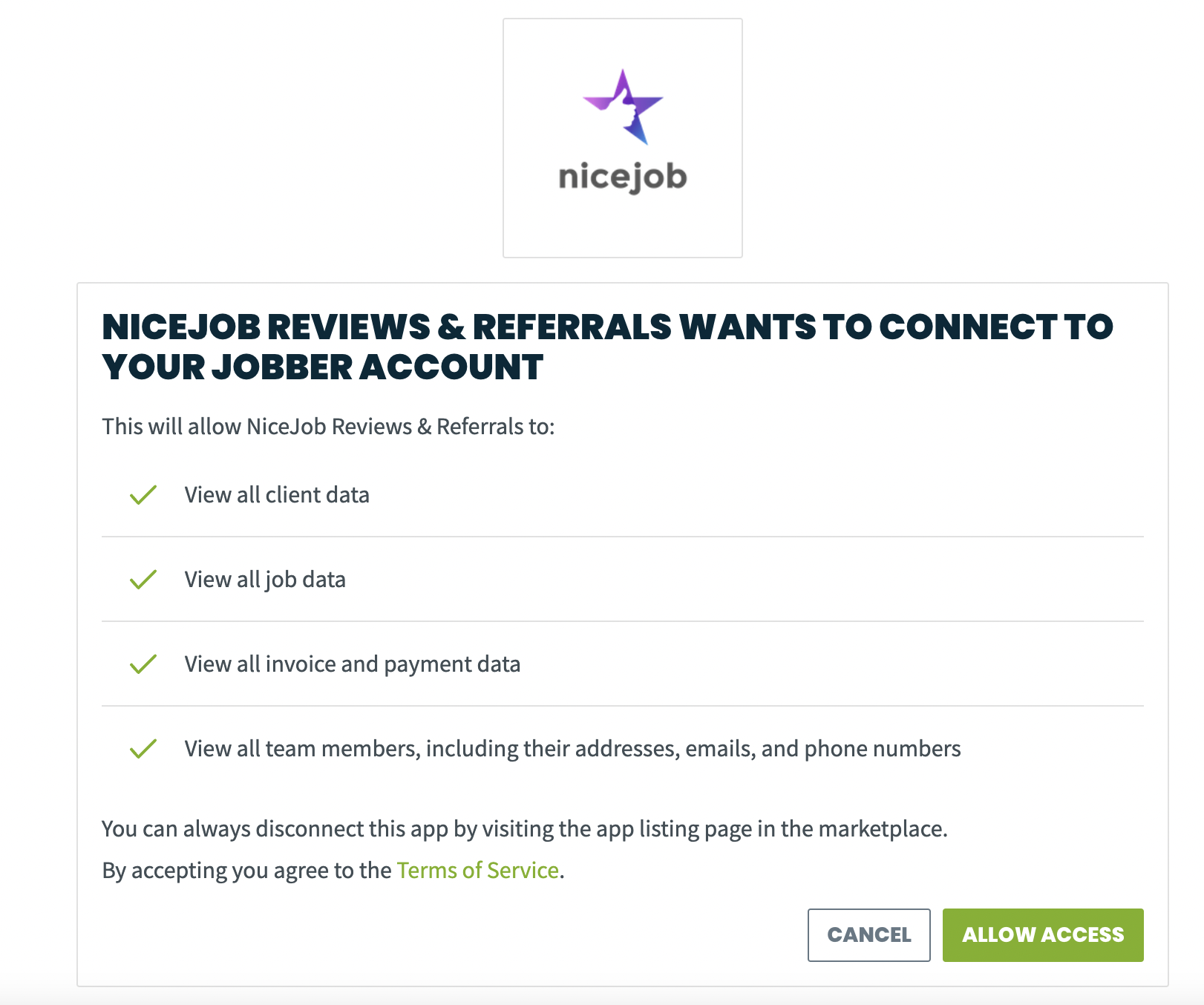 Now you'll see in NiceJob the first name, last name, and email address of the admin user that connected NiceJob to your Jobber account.
Disconnect from NiceJob
To disconnect from NiceJob, start in NiceJob and go to Settings > Product Settings > Apps. Click Manage beside the Jobber app.

Next, click Disconnect. You will be prompted to confirm that you want to disconnect , click Disconnect.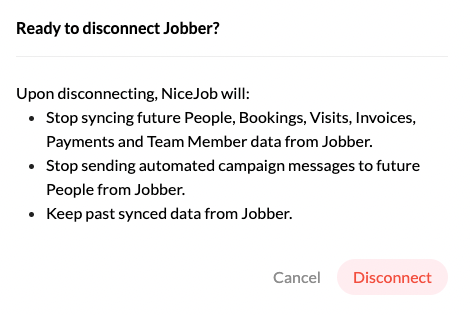 FAQ
For more information about how Jobber and NiceJob work together, check out NiceJob's FAQ about the integration with Jobber.
The FAQ covers questions such as:
When will NiceJob invite my customer to leave a review?

What if I close multiple jobs for the same customer?

How do I prevent someone from getting a review invite?

How many messages will my customer get?

What if I don't close jobs, and complete visits instead?

Will this get me more reviews?
Does Jobber send employee data to NiceJob so that my reviews can get automatically attributed to the right employee?
Does Jobber send booking events to the Engage Widget?
Is there a limit to the number of contacts NiceJob can import from Jobber upon connection?
Questions?
If you have any further questions about NiceJob or the integration with Jobber you can contact them at 1-888-336-9082, or visit their website here and start a live chat with their team!