What is Jobber Labs?
Jobber Labs is a place where we run experiments to learn more about a particular feature area. We build an experimental feature and put it into Jobber Labs to get them in front of our customers and, with your feedback, we can make these potential features even better! Your feedback will help us learn more about a particular area that we're interested in. Jobber Labs is available to subscribed accounts only.
How can I access Jobber Labs?
When Jobber Labs has a new experiment to test you will be notified from the gear icon with the red dot (similar to Product Updates).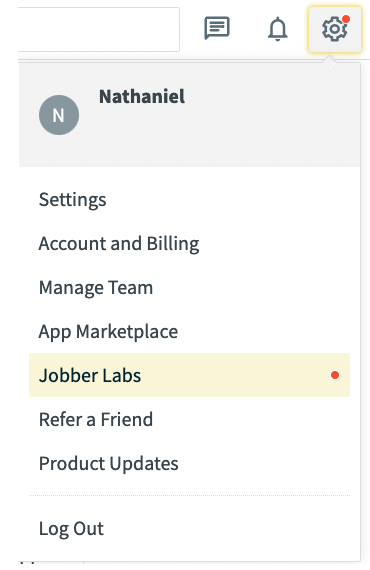 As an admin user, you will have access to turn on or off experiment testing, as well as provide feedback directly to us to help us improve.
To join a Lab, from the Gear Icon > Jobber Labs locate the lab you would like to join, then click Turn On. Before your account is added to the Lab, you will be prompted to check some boxes to acknowledge that:
This feature is experimental and subject to removal or may end at any time.
The functionality of the feature in the Lab may change as we learn more about the area.
This is a new feature and it may contain minor bugs.
If the feature does make it into Jobber after the Lab closes it may only be available on certain plans and may not be available on your current plan.
Additional considerations based on the specific Lab.
Share your feedback
If you are taking part in the Lab, we want to hear your thoughts–good or bad! To leave feedback, navigate to the Gear Icon > Jobber Labs. Then from the Lab card, select Give Feedback. Enter your thoughts into the feedback form that opens and then select Submit to send them to our team.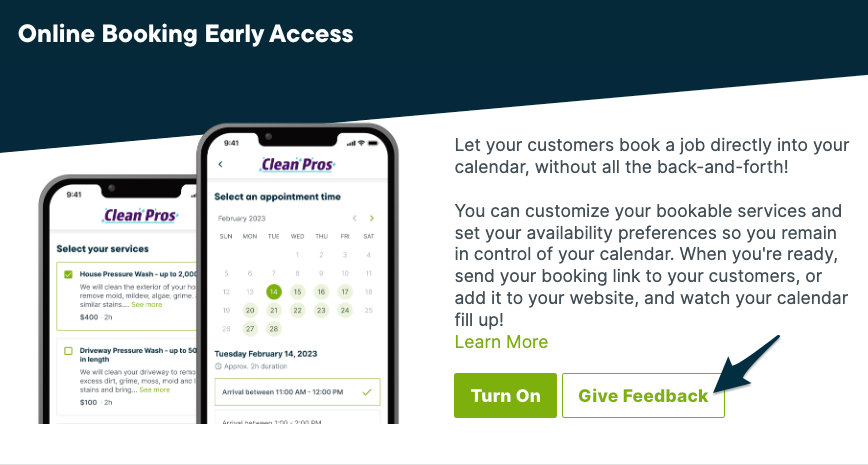 Important notes
As these features are experimental, there will be a maximum number of accounts that can turn on testing so that we can accurately monitor feedback and performance. If your account has subscribed and is not seeing the option for Jobber Labs, we may have already reached that maximum number of accounts, or the testing period has ended.
Experimental features that are added to Jobber Labs are still in the testing stage - this means that things may not always go according to plan. This is where you come in to help provide feedback about what you find is working well, and what may not be working so well, so that we can make further improvements.
Unfortunately, not all experimental features that will be available for testing will make it past the testing stage and into Jobber. Experimental features that do make it into Jobber may have changed through the feedback process. Likewise, if we do end up implementing a feature it may only be available on certain pricing plans. We want to make sure that we're releasing features that will benefit the majority of our users and that releasing those features doesn't negatively impact our current features and workflows.
Contact our Success team at support@getjobber.com or 1 888 721 1115 to learn more!