Overview
After processing your first few transactions through Jobber Payments, you may see a banner message from the team asking for additional documentation.
Click image to open in a new tab.

The banner message reads: "Additional documentation is required to continue receiving Jobber Payments. Please verify your identity before 04/11/2019."
This indicates that your Jobber Payments account needs further authorization so you can continue to process payments without any interruption to those funds being paid out to your bank account. You will need to provide additional documentation to our team before the date listed so that we can authorize your account.
What documentation is required?
The documentation we request will vary on what needs to be verified in your account. We will either need to verify your identity or your bank account details.
Identification
We require a valid piece of government-issued ID, either a driver's license or a passport, of the legal representative that signed up for Jobber Payments.
When you click the More Info button in the banner, you will be taken to a secure form where you can directly upload your ID.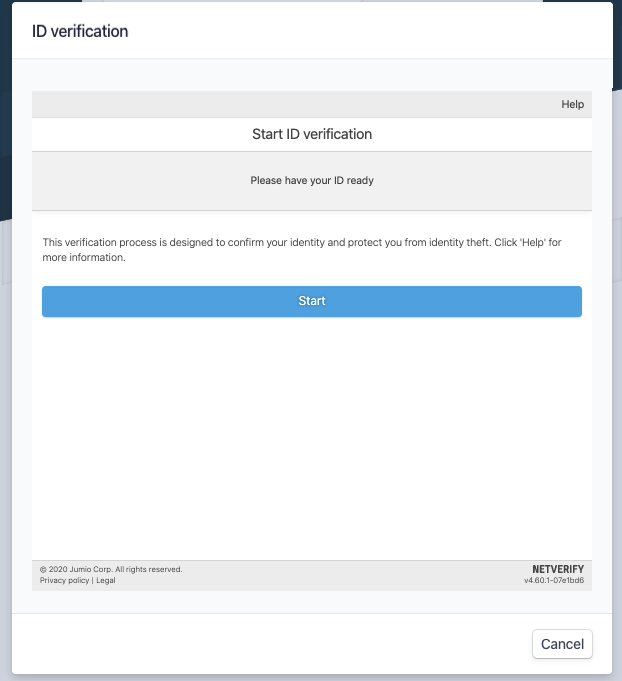 The copy of your ID must be in color and high resolution. Please do not use a flash if taking a picture of your ID to prevent the glare from distorting the image.
Void check
If you are manually connecting your bank account, it is possible in the future we will need to verify your bank account. In that situation, we will ask you for a void check to verify your bank details.

What happens if I don't send in my ID?
We will continue to display a banner message until the additional documentation has been submitted. If you miss the deadline, your payouts will be frozen until we receive the information we're looking for and are able to verify your Jobber Payments account.
If you have any questions about this process don't hesitate to reach out to our Success Team at 1.888.721.1115.