Overview
Efficiently route the day's work, assign incoming jobs to the closest team member on the map, and know their whereabouts as they're on the move.
There are two types of routing in Jobber:
Settings > Route Optimization or the "master route": This is the big list of how you would route all your properties if you were to do them all in one day. This is what the daily route defaults to based on what is scheduled that day. Sometimes we refer to this as the "master route". This type of routing is more rigid and works well for companies that have a fixed schedule
Jump to route optimization settings
Daily route optimization

(done from the map view of the schedule):

This is where you can alter your route day to day. We call this "daily route optimization". This form of routing is useful for when you have a more variable schedule and need more flexibility
Note
: You may need to switch to the map view of the schedule
Optimize your route
You will want to start by setting up your "master route" by going to the Gear Icon > Settings > Route Optimization. You can choose to optimize your route automatically, or create a route manually.
The route that appears on this page is set for all your clients, so you can think of it as a running list of clients to be serviced. To optimize the order of these visits, click the button for Optimize in the top right of this screen. This optimization is based on Google maps and can only be run twice a day, however in most cases you won't need to re-optimize your route very often.
This type of routing doesn't take your schedule into consideration. This means if you have a route for each day of the week, you might want to set your route manually. From the sidebar on the right of the map, you can change the order of these properties to set the route. Clicking a property will open a pop-up that allows you to start inserting properties at that point in the list. Click the property that you want to insert in that point in your list, it will highlight in red. Then click the pins in the order you want to insert them.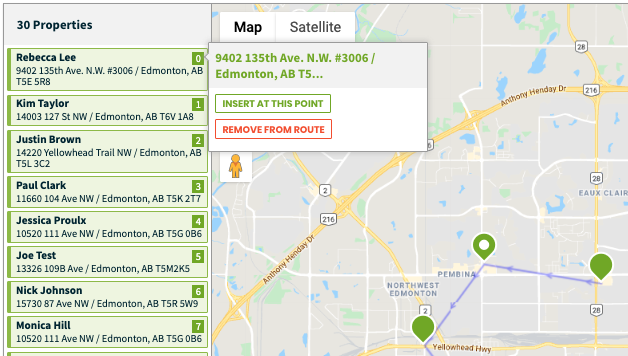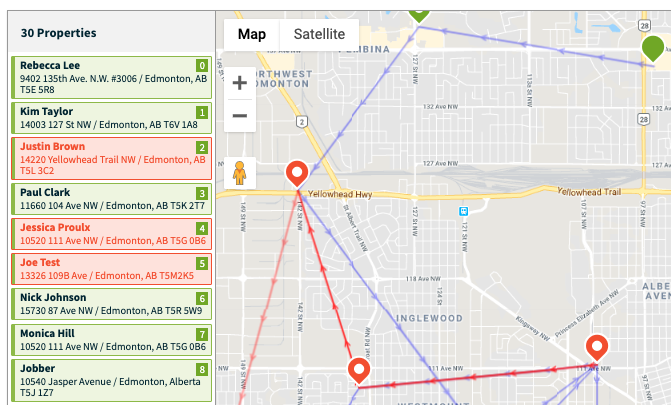 For example, if you have ten properties you service every week for your Monday route put those ten first, followed by the properties you service on Tuesday, and so on.
Daily Route
You can find the daily route by going to the map view of the schedule.
Now that we've got our "master route" setup, we can take a look at the daily route. This is a more flexible routing option and it takes your daily schedule into consideration. The routing order here is based on what we've set up on the master route, however, it can be customized for that day's schedule.
If you haven't set up a master route, you can still use this type of routing! However, setting up the master route might cut down on the amount of manual editing you need to do from this page if the master route has already put your visits into an efficient order.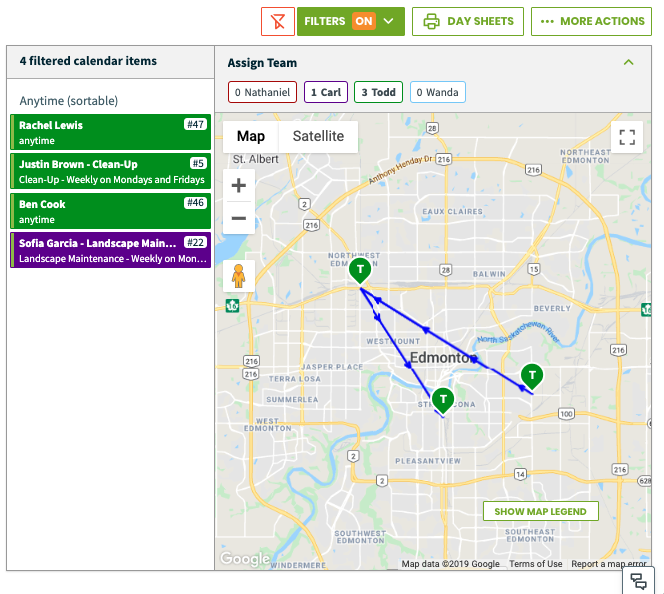 Note: To route from the map view of the schedule, your visits will need to be anytime visits. You cannot include the scheduled visits in your route since well.... they're scheduled. They need to happen at the scheduled time.
The order that shows up on the sidebar on this page is the routed order of visits for the day. If there is a visit you'd rather use as your starting point for the day, click that visit then on the pop-up click Route From Here. You can also drag and drop your visits from the sidebar to put them into the order you would like the route to be in. There is no limit to the amount of re-ordering or editing you can do from this screen!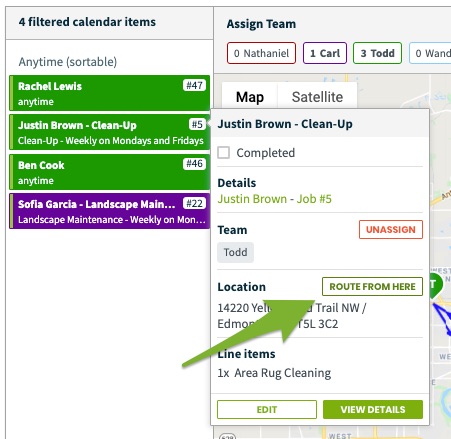 The Route From Here option can come in handy if you get an emergency call mid-day and that location needs to become your new starting point for the rest of the visits that day.
It's important to note that the order the visits appear here is just for this specific date. If you know, for example, that a certain point is going to be the starting point every time you service that property, it might be a good idea to move that property up higher on your master route in Settings > Route Optimization. That way it will take priority and be listed first on your daily route.
Jump to route optimization settings
Note: You may need to switch to the map view of the schedule