What is FleetSharp?
Track your vehicles in real time and use their location to make scheduling decisions based on location.
This integration is available on select plans.
Note: This integration is currently available in the United States and Canada.
Using the FleetSharp integration, you will be able to view your trucks on the map view of the calendar in relation to your visits for the day. Being able to see the real time location of your team though FleetSharp's GPS tracking will allow you to hold your employees accountable and schedule based on your team's location. If and when that urgent call comes in, having the ability to see who is closest to the client's location will come in handy.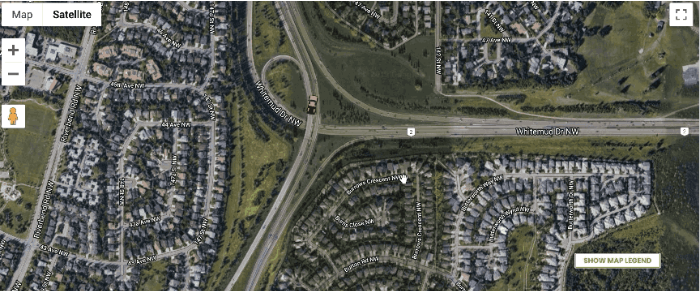 Setup
The FleetSharp integration can be setup through the App Marketplace. Click Apps from the side navigation then select the Live GPS Tracking card.
There are options on this page to Order Your Device and View Available Devices.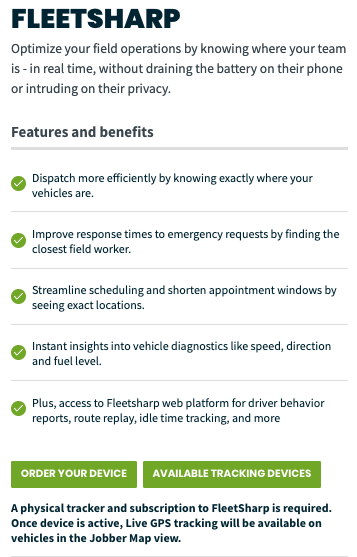 Note: You will need to order a FleetSharp device through this page in order to link the device to your Jobber account. If you already have a FleetSharp device you can reach out to our Success Team and we can connect it to your account.
You will need to order a FleetSharp device to use the integration. The device plugs into your vehicle and contains a SIM card that sends information back to FleetSharp, they don't rely on an internet connection or an app. Devices typically ship within 5 to 7 business days. We run an update nightly which will populate the vehicle on your map view of the calendar in Jobber the following day.
To manage your devices, click the Gear Icon > Settings > Connected Apps > Fleetsharp GPS. This is where you can view your vehicles, tracking ID, and route history. Clicking the option under Action will allow you to edit the tracker name and vehicle color.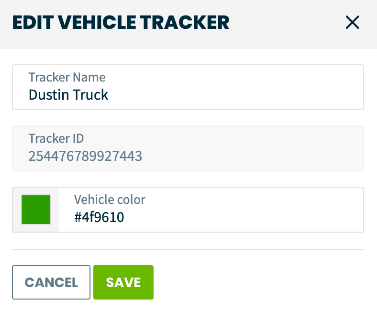 Vehicle overlay
From the map view of the calendar, when you click on a vehicle you will see stats about that vehicle. You will see the device name, speed and direction, fuel level, mileage, and the check engine light.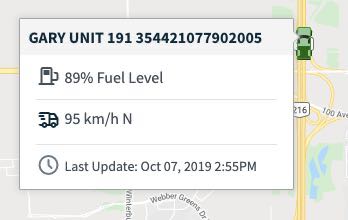 FleetSharp reporting
If you are looking for more robust tracking and reports, FleetSharp offers a variety of reports on their website as well as a free app. Their reports include statistics like engine diagnostics, safety reports, idling reports, route replays, and mileage.
You can login to the FleetSharp portal here.
Fleetsharp webinar
In January 2020, Jobber and Fleetsharp put on a webinar together to discuss how fleet management software can help you reduce fuel costs, improve fleet safety, and enable you to provide better service to your customers.
Customer portal reset
If you ever run into an issue where your FleetSharp device is unresponsive, these are the steps you can take to reset it.
Note: These steps take place in FleetSharp's interface, rather than in Jobber.
1. You will need to login to your FleetSharp portal via desktop with a compatible browser of Google Chrome or Firefox.
2. Locate the offline device in the tracker list.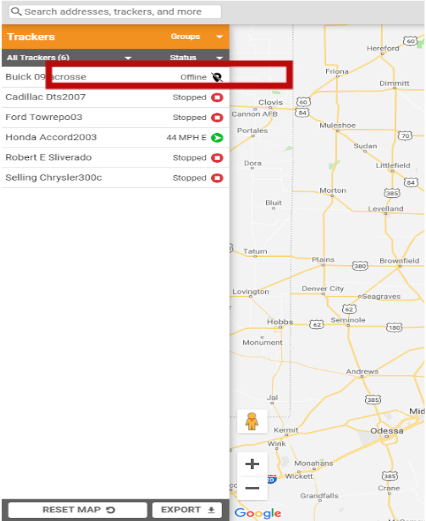 3. Select the offline device.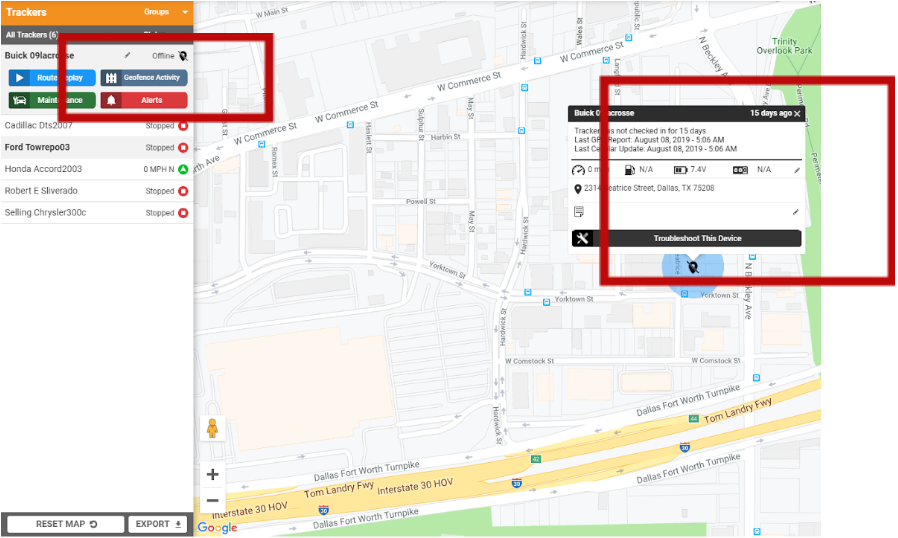 4. Click "Troubleshoot This Device" on the offline tracker, and a pop-up window will open to reset the tracker.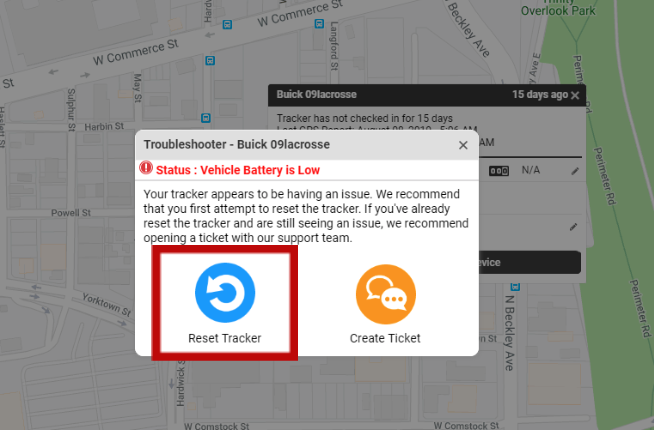 5. This will send a reset to the offline device.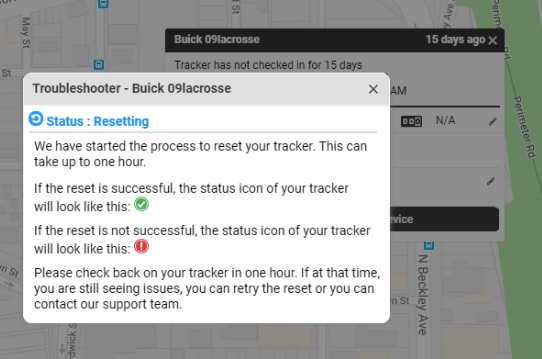 6. Sit back and wait for up to an hour. If the device does not come online within the hour, contact FleetSharp Support (844.498.9450)
FleetSharp's support can be reached at jobber@fleetsharp.com.