Overview
Optional line items on quotes give your clients the ability to add on items to their quotes.
Optional line items provide clients with extra products and services they can choose to add onto their quote. Maybe these are items that would complement the items that you're already quoting, or maybe you'd like to offer your client a selection of items. With optional line items, clients can check off which extra products or services they'd like, then approve the quote including those items they added.
Adding optional line items
When creating a quote, there will be a blank line item by default that you can add your products or services into. Below, there will be two buttons. One to add another line item and one to add an optional line item.

If you have any products or services that you will definitely be offering and charging for, chose the + Add Line Item button. These line items will be reflected in the subtotal for the quote. Quotes must have at least one regular line item.
However, if there are any items that could be an add-on to the quote or you'd like to suggest complementary services, click Add Optional Line Item. This will list these items as an option for your client.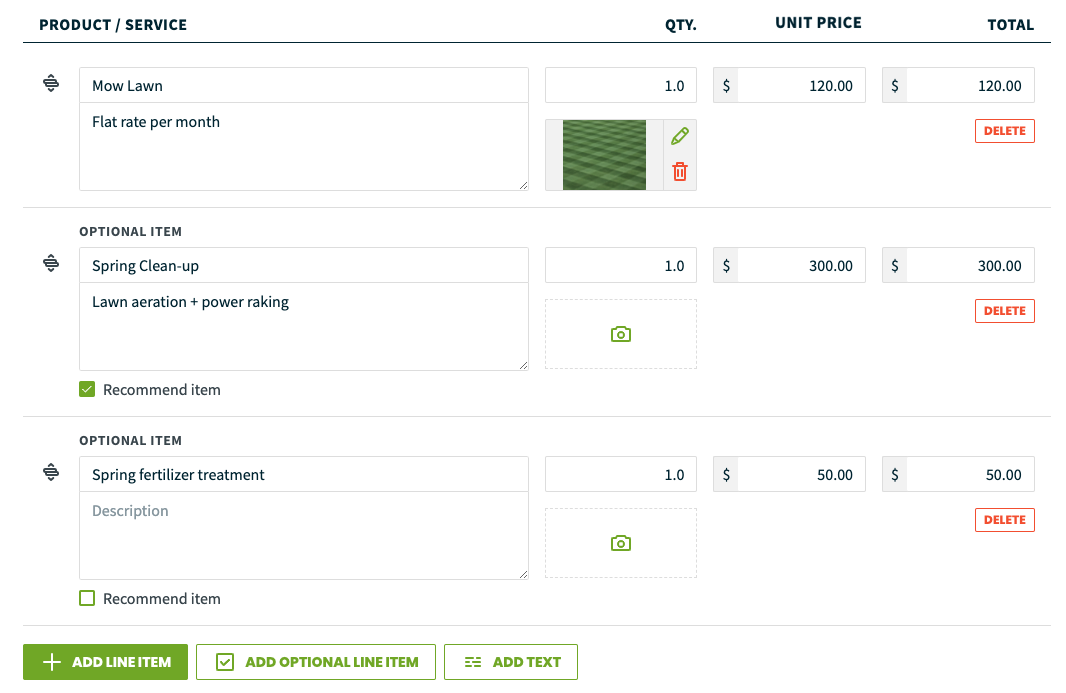 You can choose to 'recommend' an option for optional line items by checking off the box for Recommend option. Recommended options will appear to the client as already selected when they review the quote and are included in the total.
When reviewing a quote from client hub, your client can add these items to the quote by checking them off and then clicking Approve. Additional items selected will be reflected in the quote's subtotal.
What does your client see?
Your client will receive an email or a text message letting them know that they have a new quote with an option to view it in client hub.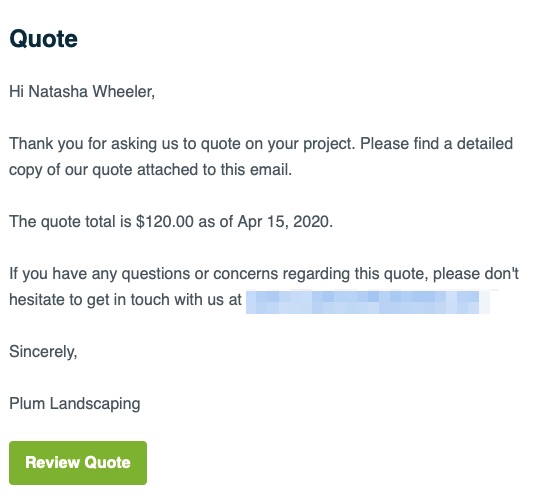 In client hub, the total column has a label to show if a line item is optional or not. The labels are:
Optional- this label means that this is an optional line item that was selected. This line item is included in the total of the quote. This also includes line items that were "recommended" since those line items were pre-selected for the client.
Not included- this line item was not selected. It is not reflected in the quote total and is greyed out on the PDF.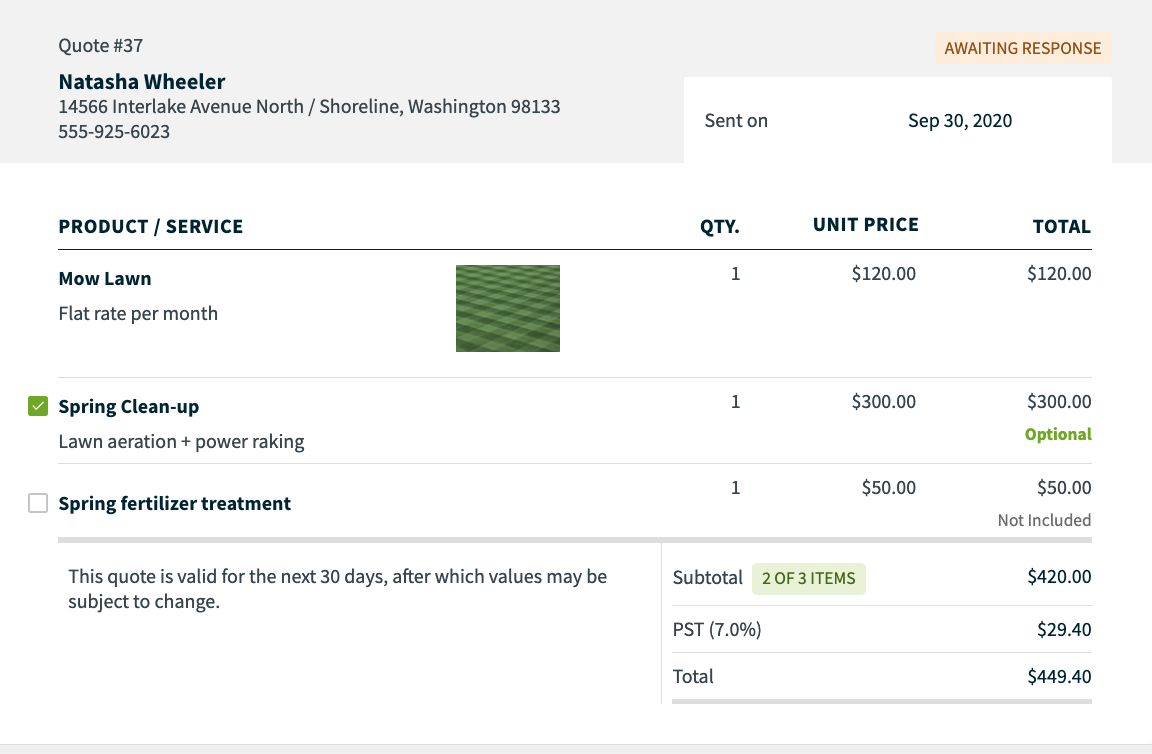 If your quote has a required deposit that is a percentage, when the client adds on additional line items the required deposit amount will update based on their selections. The required deposit will reflect the percentage of the total items selected.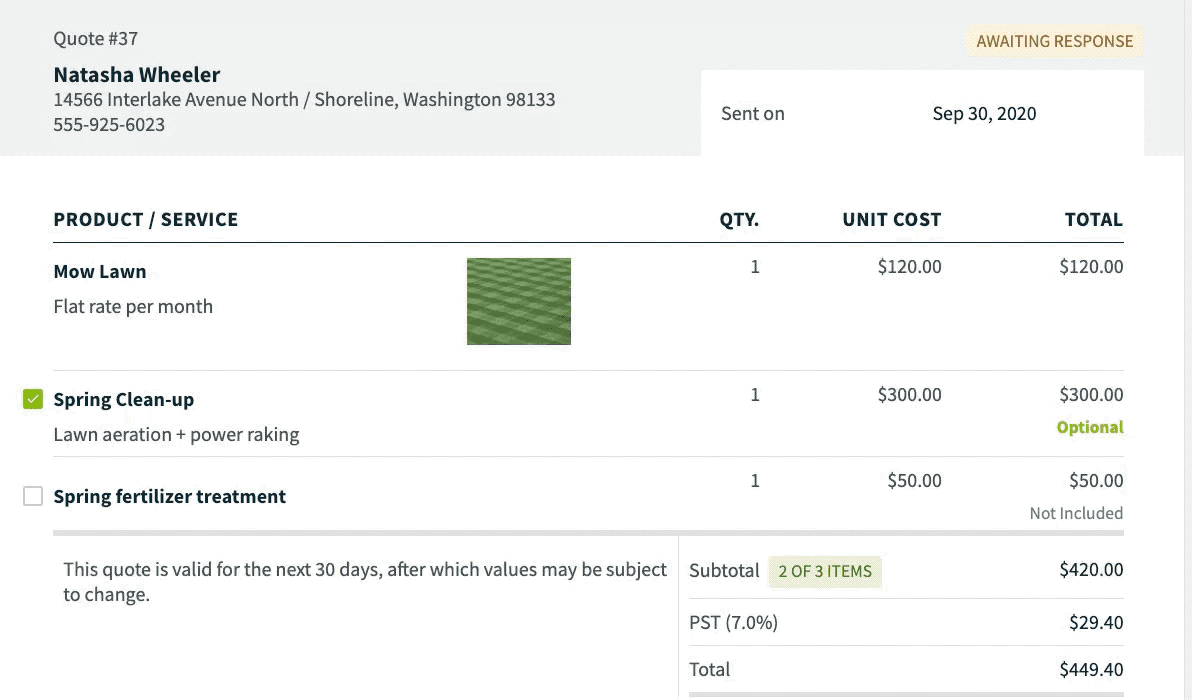 If you send your client the PDF version of their quote, their optional line item selections are reflected by labels in the total column like in client hub. The PDF shows both optional items that were on the original quote that the client didn't go with, as well as those that they selected.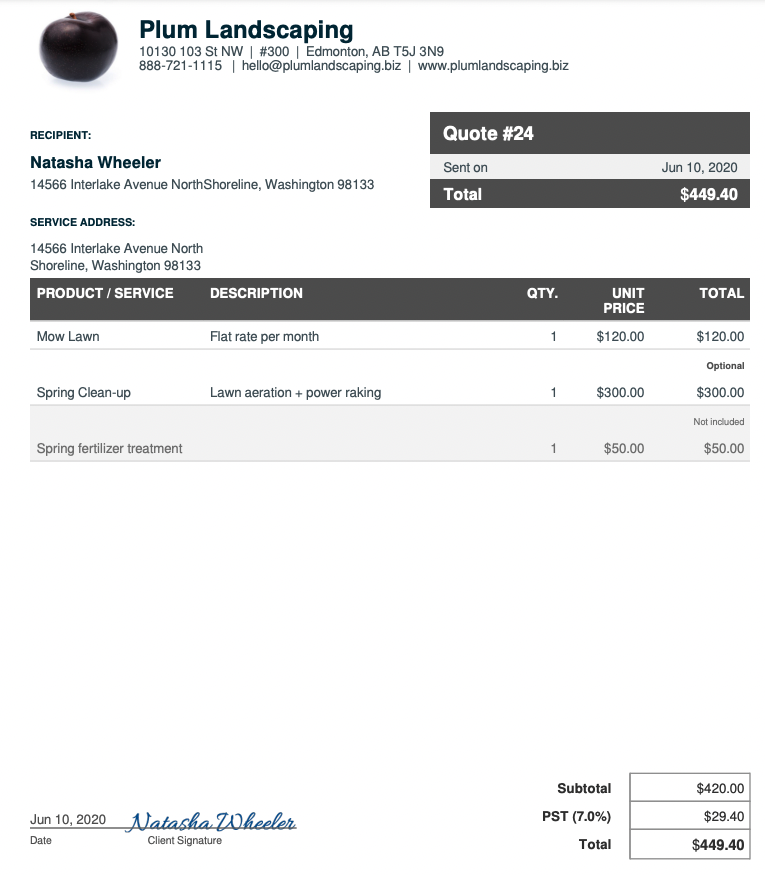 Preview as client
Before sending the quote to your client, you can preview how it will appear to them when they view it in client hub. From the quote in Jobber, click More Actions > Preview as Client.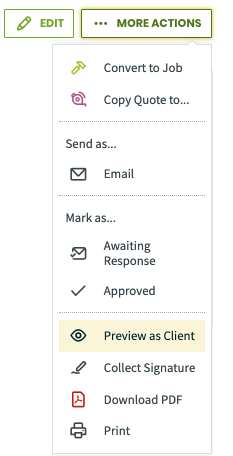 What you see in this preview screen is read-only, so if there are any changes that you need to make on the quote, you'll need to go back to the edit screen to make them.
Converting the quote to a job
When the quote is approved, if the client selected any additional line items they will appear with a greyed out checkbox. The value of the quote will include any items added on.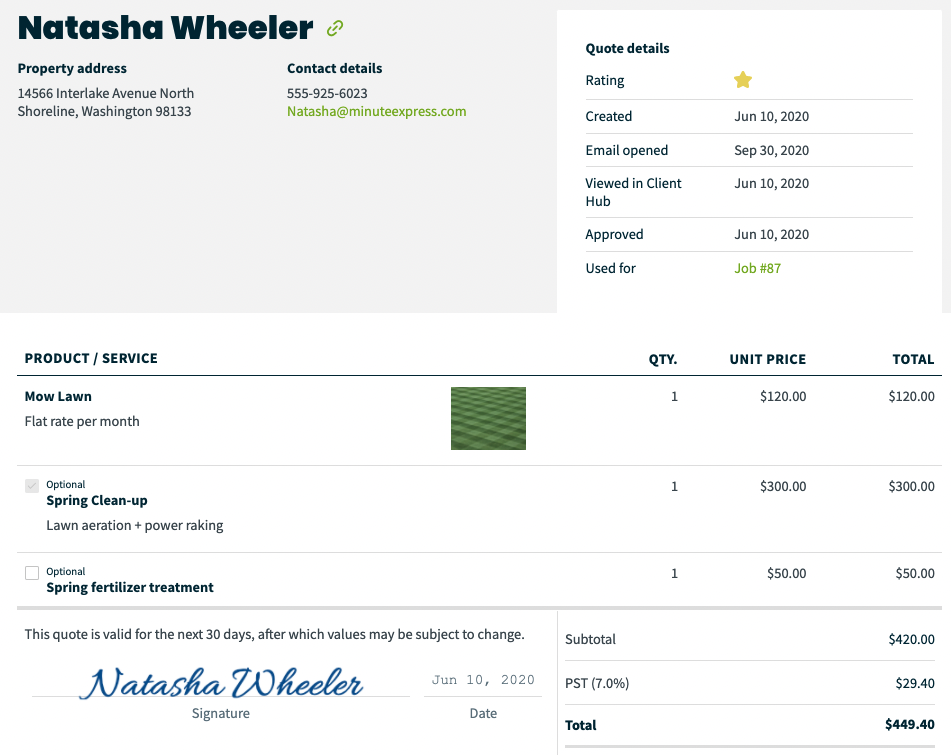 To convert the quote to a job, click Convert to Job.

When the quote is converted to a job, any selected optional line items will become regular line items on the job. Any optional line items that were not selected will disappear and not be included on the job. The quoted price will appear along with the quantity and cost, so it can be referenced if you need to edit the line items.