Overview
Jobber seamlessly integrates with your favourite apps and software so you can focus on what you do best - running your business.
App Marketplace is your go-to destination to browse the apps that can be integrated with your Jobber account. This is where you can see what is available, set up an integration, manage connected apps, and learn more.
To navigate to App Marketplace, click Gear Icon > App Marketplace.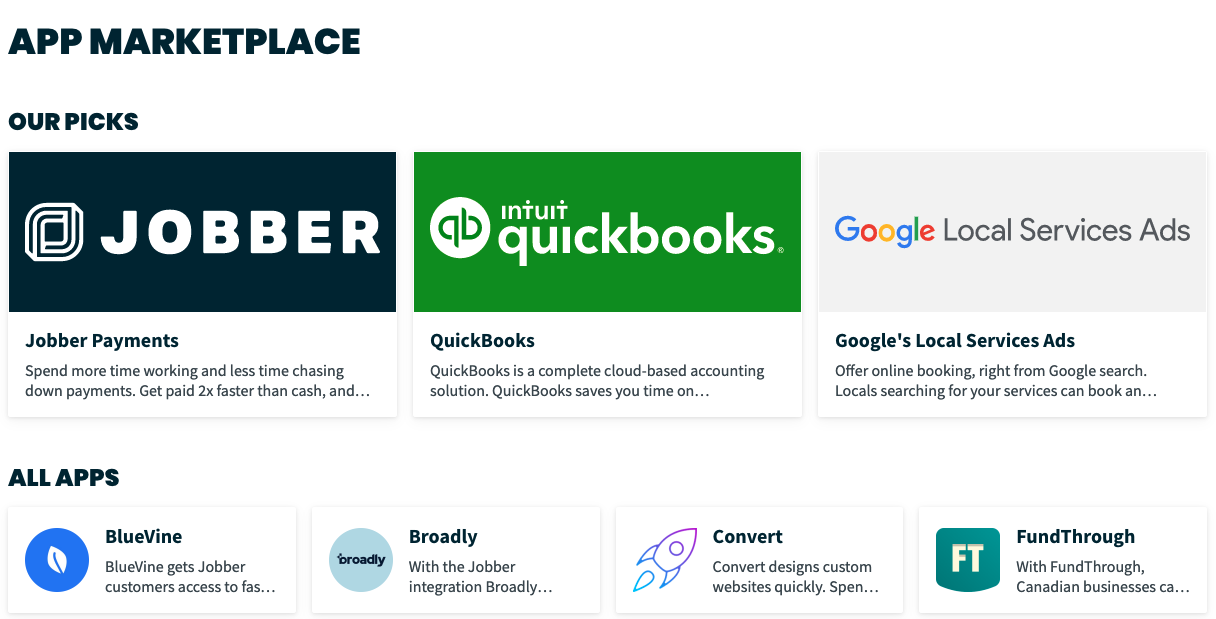 Note: Some apps may not show in App Marketplace if you don't meet the criteria to use that integration.
Available apps
BlueVine – Jobber has partnered with BlueVine to provide funding solutions to help grow your business. BlueVine gets Jobber customers access to fast, flexible lines of credit up to $250,000. Apply online in minutes. Approvals as quick as 10 minutes and pay for only what you use. Available on all plans (US only).
Broadly – Broadly automates your review process. Get more positive online reviews, keep negative feedback offline, and attract more customers. Available on all plans.
CompanyCam – Easily capture details on every job site and keep your customers informed along the way. Automatically get photos with location, time information, and annotations into Jobber and share them with your customers on jobs and invoices. Available on all plans.
Convert – Convert designs custom websites quickly. Spend 15 minutes with one of their experts, and launch your custom site within two weeks. Available on all plans.
FleetSharp – Optimize your field operations with live GPS tracking. Track your vehicles in real time and use their location to make scheduling decisions based on location. Available on select plans (US and Canada only).
Fundbox – Fundbox offers United States business owners a simple way to fix their cash flow by advancing payments for their outstanding invoices. Available on all plans (US only).
FundThrough – With FundThrough, Canadian businesses can manage cash flow gaps by advancing payments for their outstanding invoices. Available on all plans (Canada only).
Google's Local Services Ads – Offer online booking, right from Google search. Locals searching for your services can book an available time in your calendar, directly from your Local Services Ad. Available on select plans for supported industries (US only).
Hatch – Hatch combines two-way text, email, and phone with automation in one collaborative workspace to help you increase close rates, shorten sales cycles, and boost 5-star reviews. Available on all plans.
Indeed – Indeed enables employers like you to post and promote jobs, control company pages and branding, provide sourcing, screening & video interviewing, and recruiting services to help you find the best and most relevant candidates. Indeed is offering a $200 Sponsored Job credit for Jobber customers who are new to Indeed. Sponsored Jobs receive optimal visibility, delivering more quality applicants to your job. Available in the United States and Canada. Click the link for your country and post a sponsored job today.
Looka – Design a stunning new logo using artificial intelligence - takes only 5 minutes and completely free-to-try! Available on all plans.
Mailchimp – Find more business with ready-to-run email marketing campaigns, postcards, and more! Design and publish your ads in the same place you manage your other marketing. Available on select plans.
Next Insurance – Next's policies are tailored specifically to your business, and align with industry standards and state requirements. Save up to 30% with budget-friendly coverage. Next's online process can have you covered in just 10 minutes (US only).
NiceJob – NiceJob sends your customers friendly review reminders automatically to help you get more great reviews and build your reputation online. Available on all plans.
QuickBooks Online – QuickBooks Online is a complete cloud-based accounting solution. QuickBooks saves you time on bookkeeping, reporting, and financial management. Available on select plans.
ResponsiBid – ResponsiBid makes creating beautiful quotes easy. Collect job specifications, run it through your pricing structure, and build your proposal. Available on all plans.
SendJim – SendJim is a relationship marketing tool. It helps you get new customers and keep them forever as raving fans. Available on all plans (US only).
Wisetack– We've partnered with Wisetack to make the process of providing monthly financing options to your customers fast and easy. When you build a quote in Jobber, a financing option will automatically appear beside your quote total. If your customer chooses to pay through financing, you get paid as soon as the work is complete and your customer pays in instalments over time (3 – 60 months) through Wisetack. Available on all plans (US only).
Zapier – Save time when you move information automatically between Jobber and 1,500+ web apps. Available on select plans.
Payment integrations
Jobber's own payment integration, Jobber Payments can be set up from the App Marketplace.
Jobber Payments is our fully integrated payment processing platform that lets you manage client card information, payments, and deposits in Jobber. Learn How to Set Up Jobber Payments through App Marketplace.
We also integrate with the following payment integrations:
To integrate with one of these payment integrations, reach out to our Success Team for steps on getting started.
Set up and manage integrations
Each available app shows as a card in the app marketplace. Some can be set up through the App Marketplace (for example, Jobber Payments, QuickBooks Online, or Mailchimp), however others need to be set up directly through the integration (for example, NiceJob or ResponsiBid). Clicking on each card provides you with next steps, whether that's setting up the integration in Jobber, or information about how to set the integration up on our partner's side.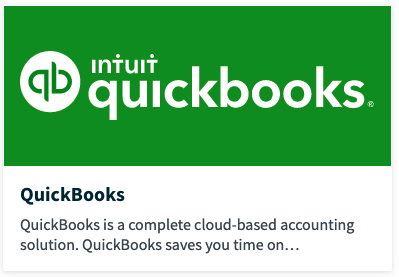 If the app was set up in Jobber, the settings for the app are managed in Jobber. However, if the app was connected to Jobber on the integration's side (for example, in NiceJob), the settings will be managed in the other app.
Once the app is connected, the Settings sidebar will also update to have a section for Connected Apps. This is another way to navigate to the app settings.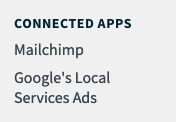 For Jobber Payments, the settings can be managed from Settings > Jobber Payments.