Overview
Tasks can be used to schedule things that you won't be invoicing for. They can be associated with a client, or be stand alone items. Tasks are often used internally as reminders, to block out time on the schedule, or for non-billable work.
Tasks are indicated by a blue clipboard icon. Learn more about the schedule in the Jobber App.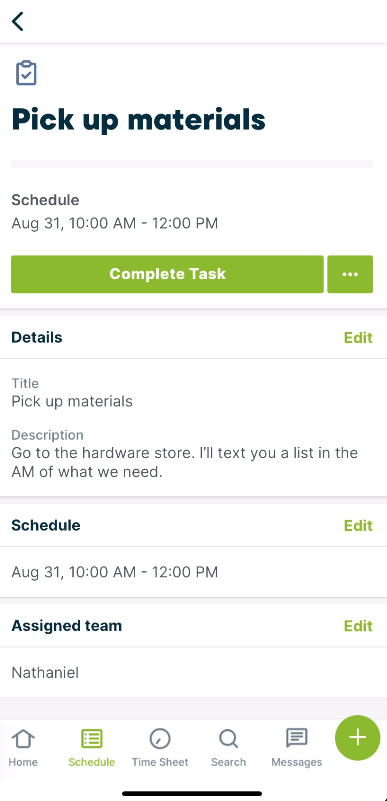 Tasks can be created by:
Tapping a blank space on the schedule, then selecting

Add task

from the menu.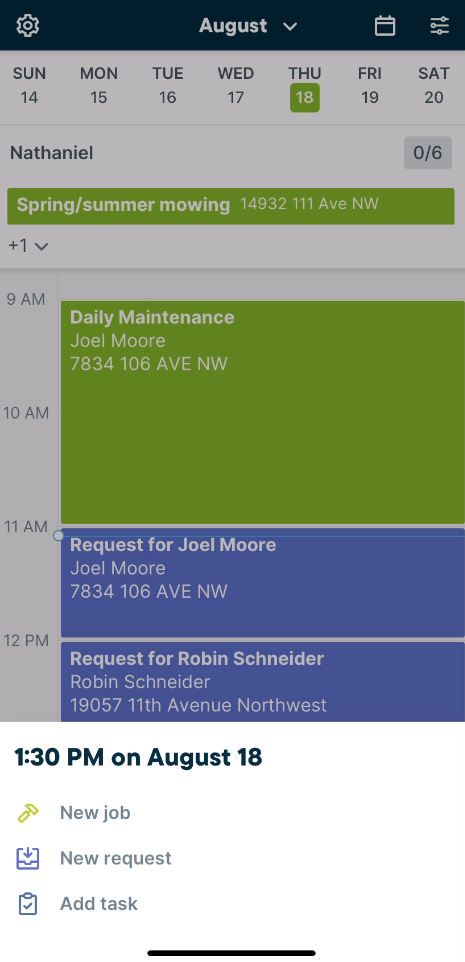 Tapping the quick create menu (+ icon), then selecting Task.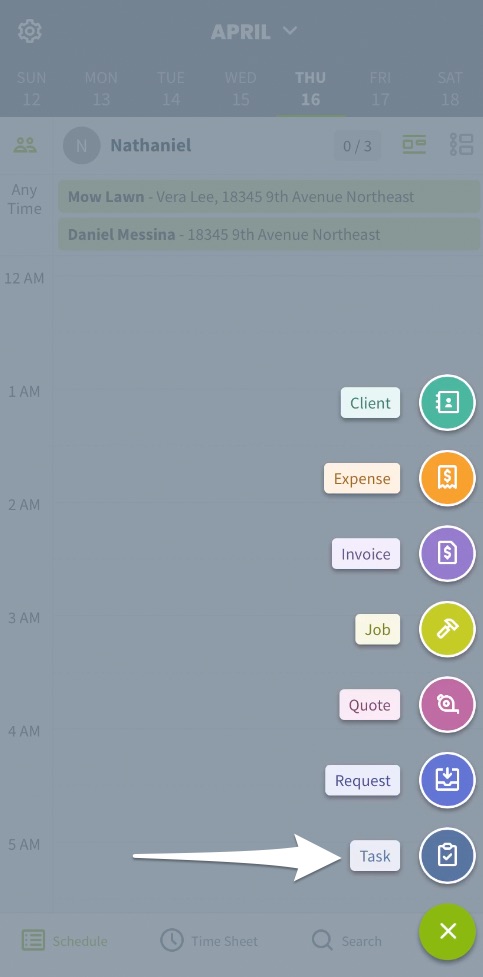 Creating a task
From the new task screen, you will be prompted to enter:
Task title: The title will show on the schedule as the name of this task. A title is required.
Description: What will you be doing for this task.
Client: This is optional. Tasks can be created without being associated with a client. Tap + to add a client to this task.
Date: This is the date and time this task will be performed. If this is a task that will happen on an ongoing basis, for example weekly, you can specify the frequency from the Repeating dropdown to create a recurring task. Options include:


Every month on the same date
Every two weeks on this day of the week
Every week on this day of the week
Daily
Does not repeat

Team: The team members who are assigned to this task and will see it on their schedule.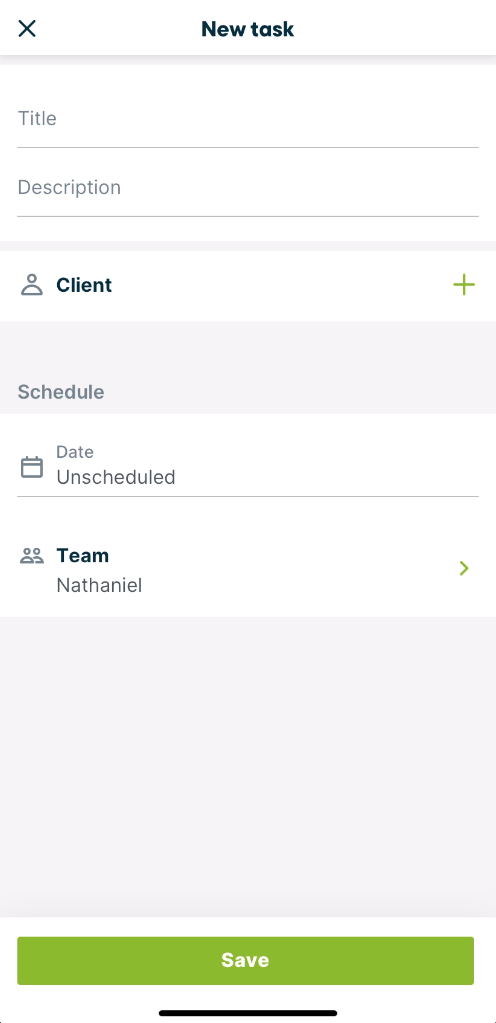 Editing a task
If you need to edit any of the details on the task, navigate back to the task from the schedule. To edit a field, tap the field or the arrow (>) to open the edit screen.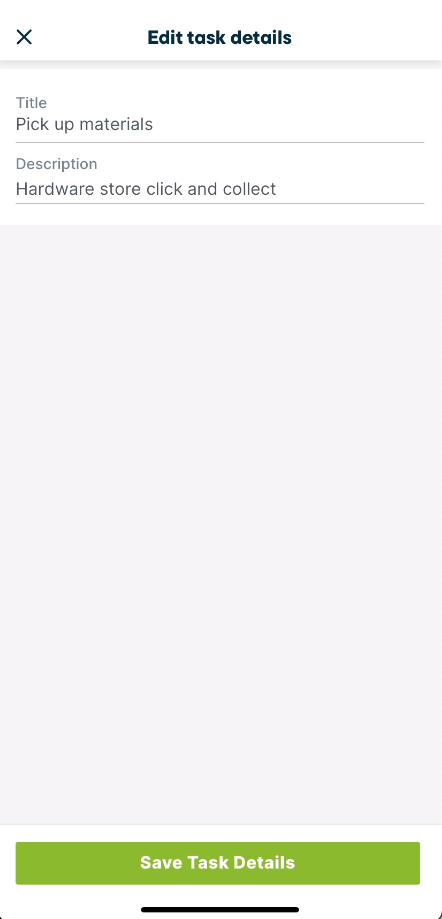 If you are editing a recurring task, you will have the option to apply the changes you've made while editing to only this instance of the task or to all future tasks. If the change you're making to the task is a one-off change that will only be relevant one time, select Update only this task. If your change effects all future tasks (such as fixing a typo or adding a new description), select Update all future tasks.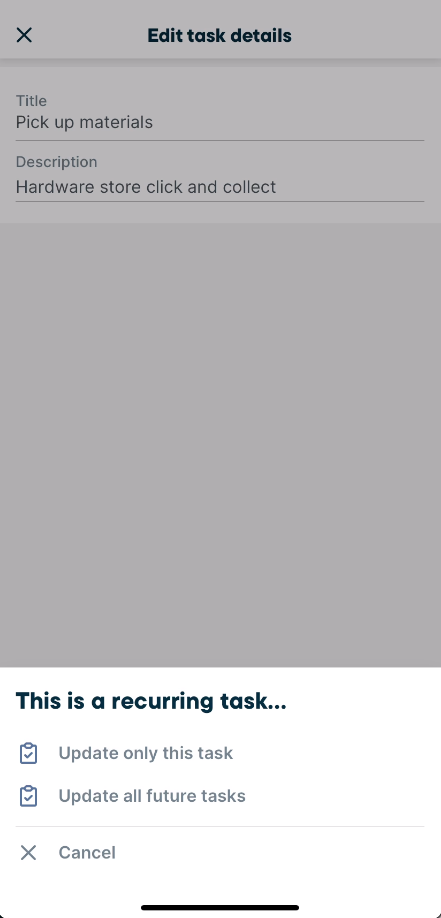 Note: If the task was created without a client, a client cannot be added later. In this case, you would need to create a new task and add a client.
Deleting a task
To delete an existing task, tap on the task from the schedule to open up the details. From the More Actions (...), tap Delete task.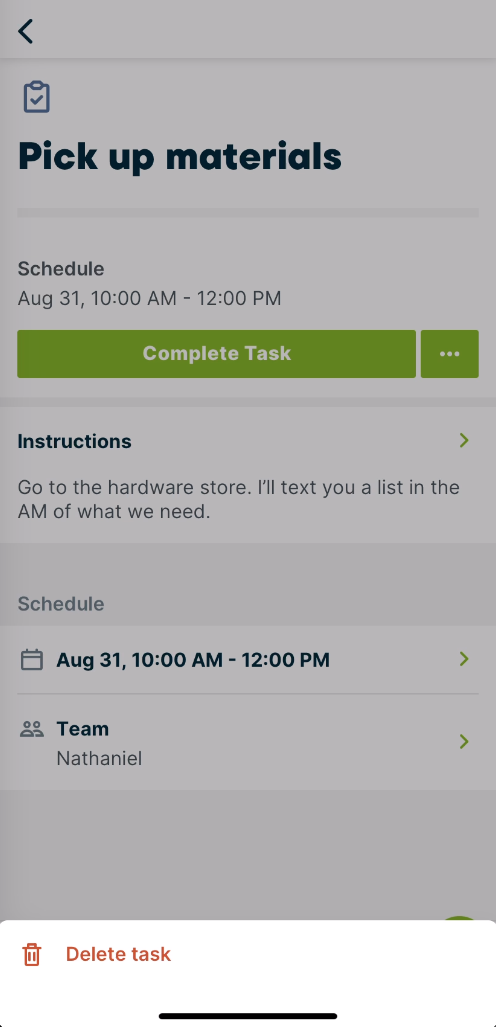 If you are deleting a recurring task, the menu will show options to delete only this task or to delete all future instances of this task.