Overview
Sometimes situations come up where you need to issue a refund to a client. This article will walk through how to process a refund for an invoice or a deposit that was paid through Jobber Payments. Jobber Payments refunds take approximately 5-10 business days to process and the funds are returned back to the same card that was originally charged.
Note: Only full payments can be refunded–it is not possible to process a partial refund for Jobber Payments. If you do need to refund a client only a portion of what was charged, first refund the full payment, then charge the client again for the partial amount.
How to issue a refund
First, you will need to find the payment or deposit that you're refunding from the client's billing history box located on the client's profile. Once you've found the payment or deposit from their billing history box, click to open the payment details. From the pop-up, click the Issue Refund button.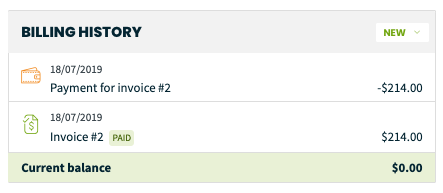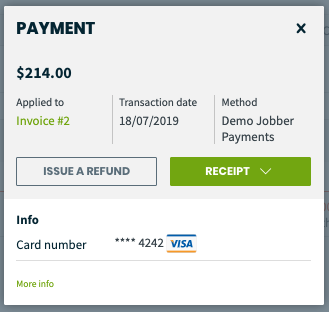 The payment details will be updated in the billing history box to show it has been refunded to the client. The system will then email a refund receipt to the client for the amount of the payment.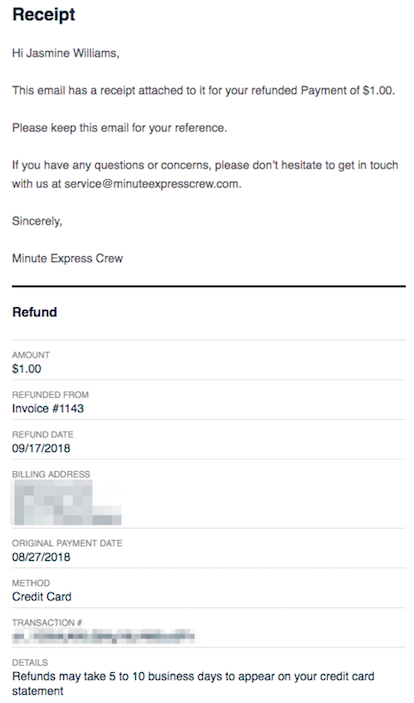 Note: If the bank account connected to Jobber Payments has a balance of -$1,000 the option to refund the payment will be temporarily disabled until the bank account contains a positive balance.
Since Jobber Payments are charged directly through Jobber, the Issue Refund button only appears for these payments and deposits. For payments that were made by cash, check, or another payment method that isn't Jobber Payments, these will need to be refunded outside of Jobber. Once the funds have been returned to the client, the original payment amount can be edited to $0.00 with a note added to indicate that a refund took place.
What about the fees?
When your client is refunded, you will also be refunded the fees that were charged as part of the transaction.
Refunds can take from 5 to 10 business days to be returned back to your client's card.