What is the billing history box?
Found on the right side of a client page, the billing history box is the record of balances, invoices, deposits, and payments specific to that client.
To view a client's billing history, go to their client profile. The billing history box appears on the right of the page below the last communication with that client.
Invoices and payments
In the Billing history box, invoices that are Awaiting Payment will display in black text. Once an invoice is marked Paid, it will show as PAID in a green box.
Similarly, payments and deposits will also show in the billing history box. Once a payment or deposit has been Applied to an invoice or quote, it will say which item it's applied to. Payments that are not associated with any invoice will show as "applied to account balance".
Invoices that have been sent to the client and are now Awaiting Payment, show up in the Billing history box. If an invoice is still in Draft status, it will show in a note will below the box and will not be counted in with the client's balance.

Sending receipts
To view a receipt for a client, or to email them a receipt, click onto the Payment or Deposit from their Billing history. Click Email Receipt to send the client a copy. Click Download PDF to view the receipt.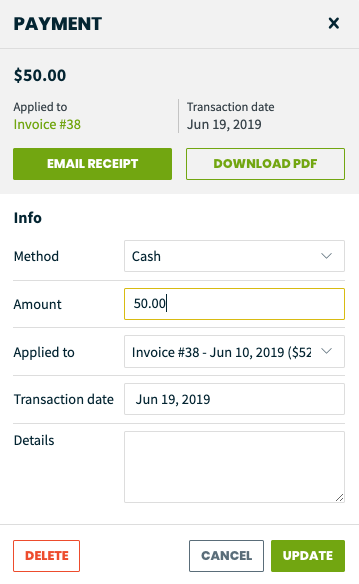 Tip: If you are using Jobber Payments, your receipts for transactions paid by credit card might be set to sent automatically when a payment is made. You can check this setting by going to the Gear Icon > Settings > Jobber Payments > Preferences.
"New" button
From the billing history box, you can click New to make new payments, deposits, invoices, statement and set an initial balance for a client.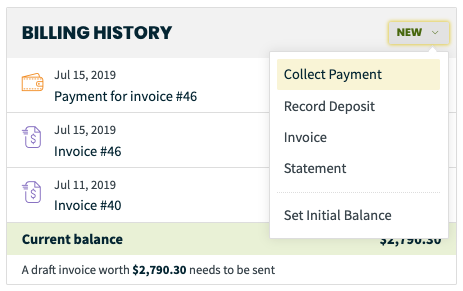 Statements
To send or download a Client Statement, click New > Statement from the Billing history.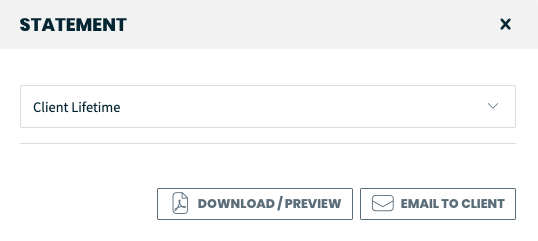 You can either download a PDF copy, or email the statement to the client.
Statement Period:

Client Lifetime: This is the entire client's billing history
Since Last Zero Balance: This will show a report that shows the client statement since the last recorded 0 balance
Pick a Start Time: This will show a report from a selected point in time onwards
Set initial balance
You can set Initial Balances for clients who have outstanding amounts due when you start using Jobber.
To set a client's Initial Balance, click New > Set Initial Balance.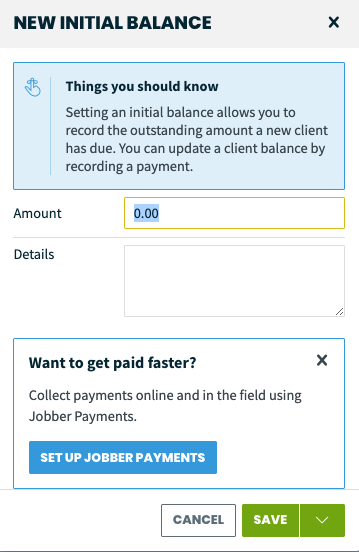 You can then enter the amount they owe and click Save.
Edit or delete items in the billing history box
To edit information in the Billing history box, click on the item you want to edit. This will bring up a pop up with information about it: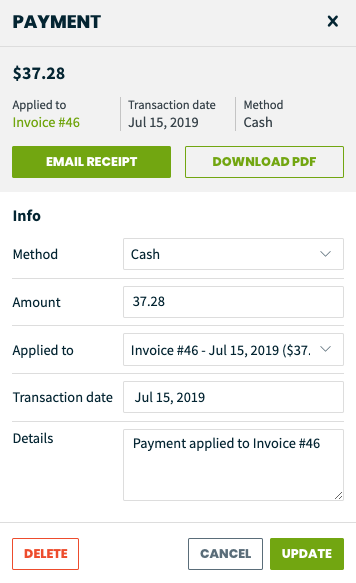 You can make changes to the item, while in the edit screen. Click Update to save changes.
To delete a payment, deposit, or initial balance, click on it in the Billing history box. Then click Delete. Keep in mind, once this has been deleted it cannot be retrieved.