What is batch invoice creation?
Batch invoice creation allows you to generate invoices for jobs in Requires Invoicing status with a few simple clicks. Requires invoicing status is triggered by invoice reminders on jobs. These invoice reminders are created when you set up the job and select when you want to invoice.
When choosing to create invoices through batch creation, Jobber will list all jobs showing as Requires Invoicing and you will have the option to manually select what jobs to invoice, or select all jobs to invoice. If your job has a status that is not Requires Invoicing, and it does not have an active invoice reminder, it will not appear on this list and will need to be invoiced manually.
Batch invoice creation can be done from the invoices page. 
Batch invoice creation from the invoices page
Click the Invoices tab on the sidebar to take you to the Invoices page. On this page, click More Actions > Batch Create Invoices.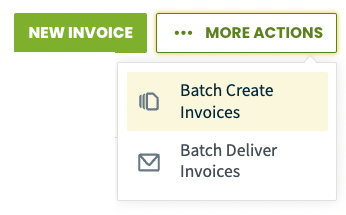 Selecting jobs for invoicing
To select the clients you want to create invoices for check the box next to their name. A list of jobs that require invoicing and their visits will appear to select to invoice.
You can also select 'All' from the Filter options at the top of the page for all clients and jobs to be chosen at one time.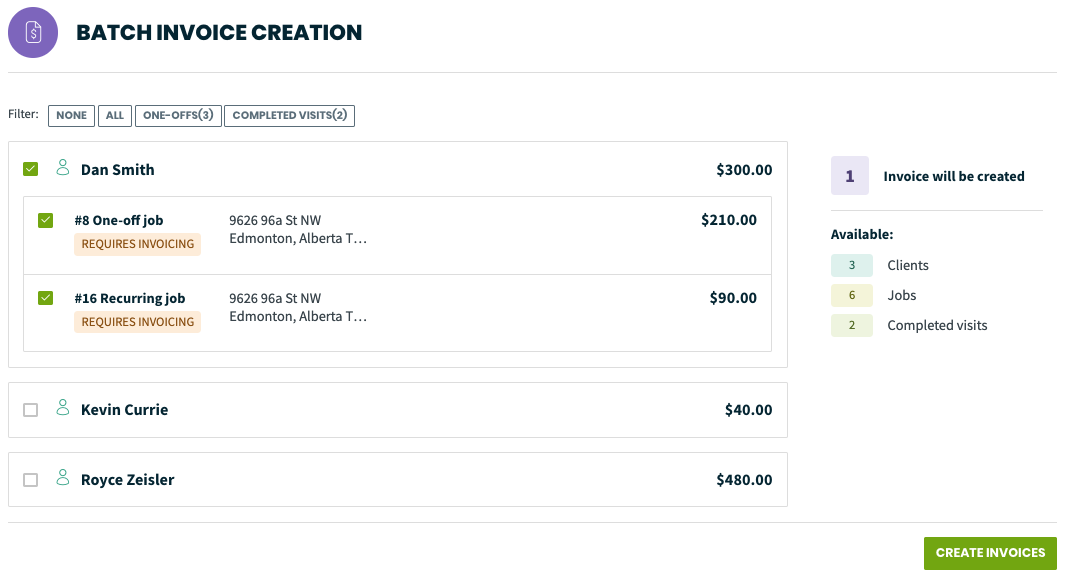 Batch invoicing will create one invoice per client selected. If the client has multiple jobs ready for invoicing they will be combined into one Invoice. However, If you are invoicing for a client that has multiple jobs at property addresses with different tax rates, multiple invoices will be created for that client to accomodate the different tax rates. 
Batch invoicing for incomplete visits
By default, the batch invoicing tool will not include incomplete visits, either past or future. You will need to manually select past or future visits that are incomplete to invoice for them.
Note: If you select uncompleted visits, they will be marked complete.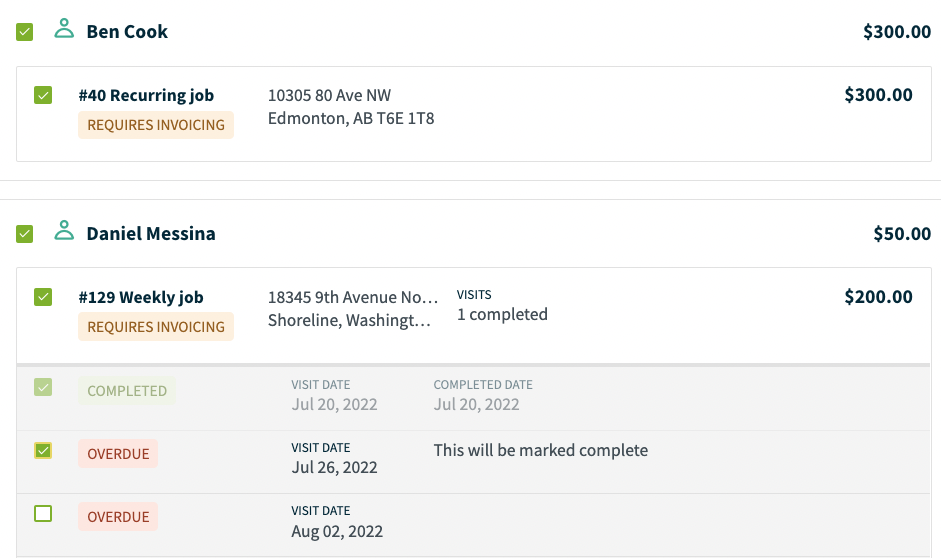 Once the clients and jobs are selected, click Create Invoices at the bottom right to generate invoices. All invoices created will show as Drafts. Learn how to Batch Deliver Invoices.
NOTE: Invoices can only be generated through Batch Creation if you have Invoice Reminders created for your jobs. You can use this batch option on the same date that the reminder is scheduled for or after that date has passed and once the invoices are created those reminders will show as completed in the calendar.