Overview
Our sync works behind the scenes to make sure your accounting needs are covered, while you use Jobber to power your day-to-day operations.
The integration with QuickBooks is available on select plans.
Once you have completed the setup of your QuickBooks Online (QBO) - Jobber integration, you can begin to sync different pieces of information. Jobber syncs to both the US and Global versions of QuickBooks Online.
Syncing is triggered manually so that you have complete control of your business information in both systems. Anytime you want to sync, click the QB icon in the top right of Jobber, and select Sync & Settings, then click Sync to QuickBooks.
Jobber and QBO are two different systems so you may find that when you sync an error occurs. If that happens, we'll let you know right away on the Sync & Settings page and also by sending an email to the admins on your account. You can check out our QuickBooks Online Sync Error Messages article to learn how to resolve them.
This article will cover how the following items sync:
Clients
Properties vs Sub-Customers
Products & Services
Invoices
Payments
Timesheets
Note: Each QuickBooks account can only connect to one Jobber account at a time.
Sync Settings
In Jobber you can select which items you would like to sync with QBO. To do this click the QB icon > Sync & Settings.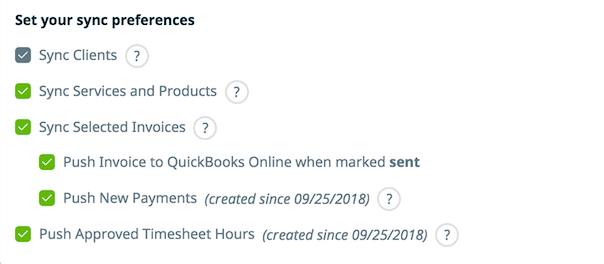 Clients are the foundation of our sync, so they cannot be unchecked.
Clients/Customers
Sync both ways between Jobber and QBO
Both Archived and active clients sync from Jobber to QuickBooks
Only Active customers in QBO will sync with Jobber
In Jobber, if a client has a lead label (available on select plans) it will sync to QBO
Regardless of where the client has been created, it will sync into the opposite program. To avoid any duplication of clients when syncing it's best that either your Jobber account or your QBO account does not have any clients in it to start. If you have clients in both accounts, let us help! Contact our Success Team at support@getjobber.com.
When a sync is taking place, Jobber looks at the First and Last Name fields to try and determine if they are the same client/customer.

Our sync relies on the client's billing address, any changes to a billing address must be done in your QBO account and then you can run a sync to update that client in Jobber.
If you've created a client without an email address in Jobber, it will sync to QBO with the preferred delivery method set to 'Print'.
Clients will appear as a Company in Jobber if there is only a Company name in QBO and no first or last name, or if the Display name is different from the first and last name. Display names should be changed in QBO and then will update in Jobber on your next sync.
Properties vs Sub-customers
In Jobber, a Client can have multiple Properties. In QBO, a Customer can have multiple Sub-customers.
A Customer in QBO will sync to Jobber as a Client. Sub-customers will sync to Jobber as Properties as long as the Sub-customer has a shipping address that is different than the Customer's. While QBO will let you create Sub-customers under Sub-customers, Jobber will only sync 1 level deep and will not be able to bring these over.
Any properties created in Jobber will not sync to QBO.
Products & Services
Sync both ways between Jobber and QBO.
Only Active Products and Services in QBO will sync to Jobber.
QBO is the source of truth for this sync, if changes need to be made to the name, description, or price, it must be done in QBO.
The Name field of the Product or Service will inform each program whether a new item needs to be created or is already existing
When a new item is created in Jobber or QBO, it will appear as a service - in QBO you can edit the service to show as a product after the item has synced over.
In QBO, line items can be customized to be sub-items, categorized into different types of products/services, and allocated into varying income accounts. If an item has been customized like this and then used on an invoice in Jobber, errors will occur in the sync preventing the invoice from syncing to QBO. To prevent any errors, please ensure your products and services are not sub-items, categorized, or allocated to an income account other than 'Sales'.
Products in Jobber that are added in QuickBooks as inventory products will update your inventory in QuickBooks. When a product is used on an invoice, when that invoice syncs to QuickBooks the quantity of the product on the invoice will be deducted from your inventory in QuickBooks.
Line item images do not sync to QuickBooks. For products and services that have an image added, the image does not sync to QuickBooks but the item type, name, description, unit cost, and taxable status will sync to QuickBooks.
Invoices
Sync one-way from Jobber into QBO.
Invoices will only sync to Customers in QBO, not to sub-customers. Because properties don't have an active sync, only the billing address will appear on an invoice in QBO.
Jobber will sync: due date, issued date, billing address, line items, and client message on the invoice. The line items will appear on the QBO invoice showing: name, description, quantity, dollar amount, and service date (if available).
QBO does not support one-off custom line items. They are placed under a service called 'Custom Service' in QBO and will add the name from Jobber into the item description.
There are two ways that you can set up your invoices to sync:
Push Selected Invoices - these will only be invoices that you have chosen specifically to sync to QBO by clicking More Actions > Push to QuickBooks from the invoice.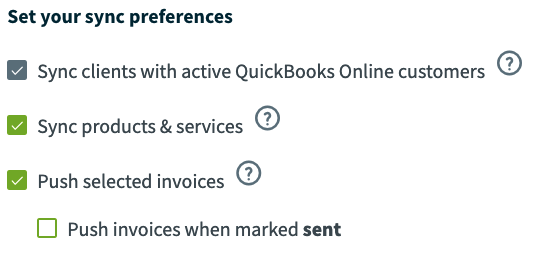 2. Push Invoice when marked sent - any invoices that have been marked as sent (no longer in drafts) will be sent over to QBO on your next sync.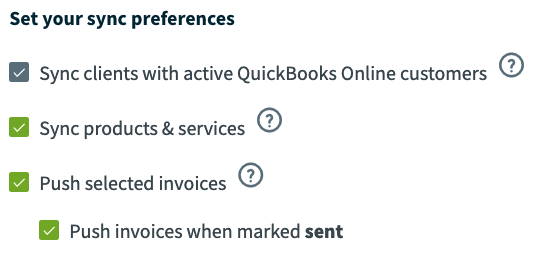 Invoices sync one time, which means if you make any edits to an invoice after it has already synced to QBO you will need to do so in both programs to ensure they match. The only additional information synced after the initial invoice is when a full payment has been added to the invoice - the Paid status will update in QBO.
We push invoices to QBO starting on the date that you begin your invoice sync to QBO. If you have invoices in your Jobber account that were created before you started syncing, please get in contact with our Success Team at support@getjobber.com to have those synced over to QBO.
Payments and Deposits
Sync one-way from Jobber into QBO.
Will appear as 'Unapplied funds' or 'Undeposited funds' and will need to be reconciled to your correct Chart of Accounts within QBO.
Like invoices, this is a one-time sync. If edits need to be made to the payment or deposit after a sync has been completed, they will need to be edited manually in both programs.

Invoice payments that include

tips

will create a journal entry for the tip portion to 'Undistributed tips' when the payment is synced to QuickBooks.
If an invoice is marked as 'Paid' in QBO, that status will sync back to Jobber and the invoice will show as paid. Keep in mind, payments do not sync from QBO to Jobber, so only the invoice status in Jobber will show as 'paid' and the balance will remain the same. The only way to resolve this is by creating a payment in Jobber for that invoice. Because of this, we recommend that payments for invoices are only recorded in Jobber to avoid manually entering the same information twice.
If you have past payments in your Jobber account that you need to be synced to your QBO account, please get in contact with our Success Team at support@getjobber.com.
Timesheet hours
In order to sync timesheets to QuickBooks, the payroll feature in QuickBooks must be enabled first.
In Jobber, the box to Push new approved timesheet hours must be checked to sync timesheets. Your account will show the date that timesheets are syncing as of; if this date needs to be adjusted our support team can help.
Timesheets sync one-way from Jobber into Time Tracking entries in QBO. Timesheets can be viewed in QBO by going to Payroll > Time Activities by Employee Detail.
Timesheets first need be approved in Jobber to be able to sync. Approving a timesheet is what flags it to sync to QuickBooks the next time a sync is run. To approve timesheets go to Timesheets > Approve Timesheets.
Only the total hours a user has clocked for the day will sync to QBO

From Payroll > Time Activities by Employee Detail, the total duration can be viewed.
From Time > Employee, the start and end times for each time entry can be viewed.

Notes left on timesheets in Jobber will sync to QuickBooks in the memo/description field.
User names need to be exactly the same in both Jobber and QBO in order for timesheets to sync.

Before syncing, overnight hours will need to be edited and split between two days, a single time entry cannot run over two different days as QuickBooks does not support overnight timers.

For example: If an employee works from 10:00pm until 3:00am, the time should be edited to show 10:00pm -11:59pm and then 12:00am - 3:00am.