Overview
Our sync works behind the scenes to make sure your accounting needs are covered, while you use Jobber to power your day-to-day operations.
Home service pros know all about using the right tool for the job. Jobber was built for running your business—and QuickBooks Online was built for your accounting needs. The two pair perfectly together to keep your customer, invoice, and payment information accurate without any double-entry.
If your Jobber account is already connected to the legacy QuickBooks integration, you can seamlessly move to the NEW QuickBooks integration. Here's what you can expect from the migration:
Anything created or updated in Jobber since your last manual sync will be synced to QuickBooks
After that, the sync is one-way from Jobber to QuickBooks in real-time
Once you move to the new integration, you are unable to return to the old integration
Connect to the new QuickBooks integration
1. Start by signing into both your Jobber and QuickBooks Online accounts. In Jobber, navigate to your QuickBooks Sync and Settings page from the QuickBooks Icon in the top navigation or by navigating to the Gear Icon > Settings > QuickBooks.
2. If you are eligible to migrate your legacy QuickBooks integration to the new integration, there will be a banner that says "our new and improved QuickBooks integration is here! Connect it today and enjoy automatic, live one-way syncing and more." Click Connect Now from the banner.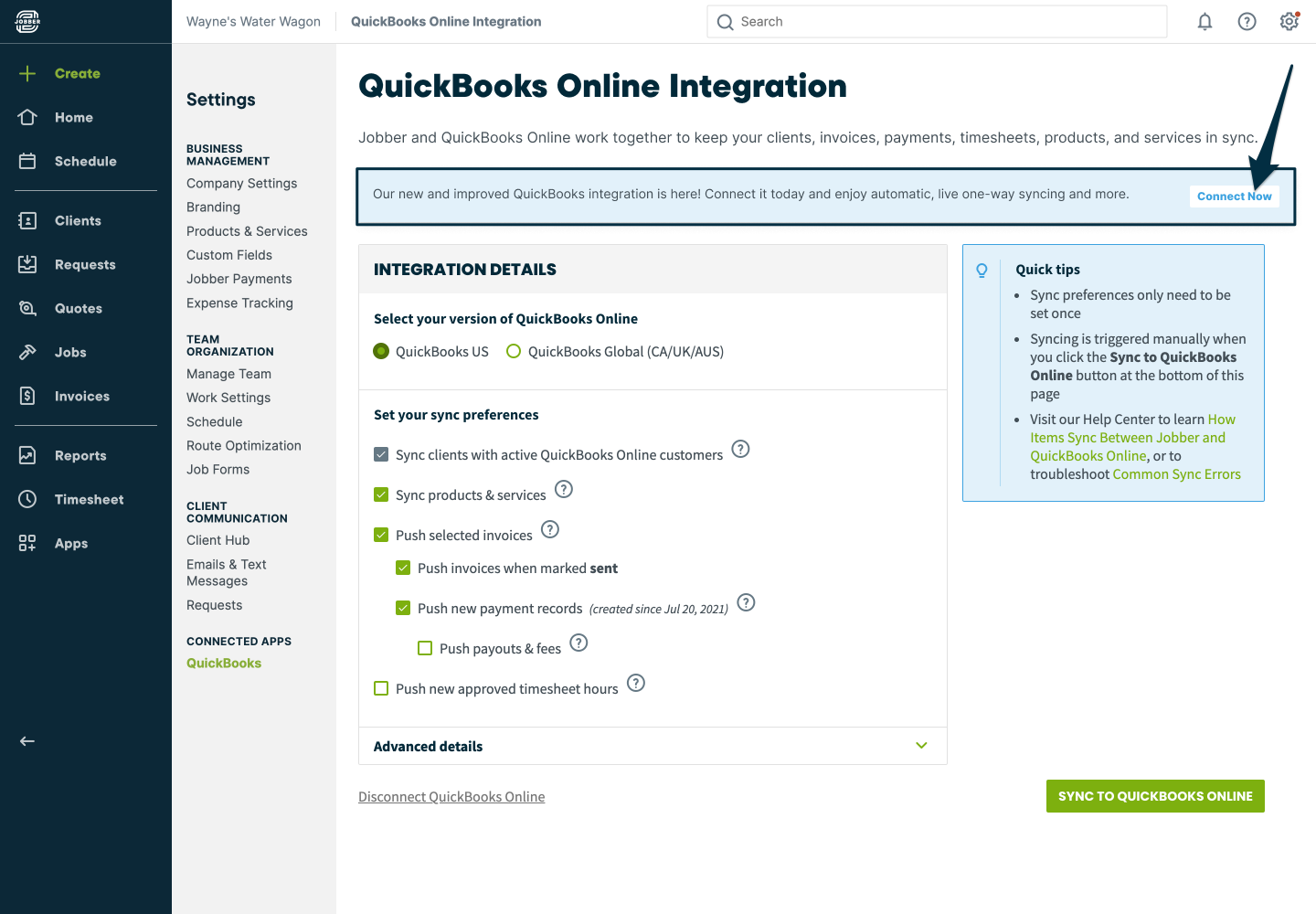 3. Next you will see an overview of the changes with the new QuickBooks integration. These changes are also listed in the overview of this article for your reference. Click Connect Now to begin the migration process.
4. You will be prompted to authorize the QuickBooks Online integration to view and edit the information in your Jobber account, click Allow Access.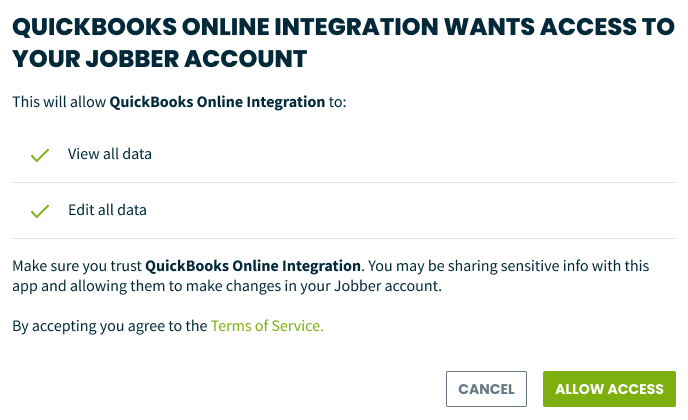 5. QuickBooks will prompt you to connect your QuickBooks account to Jobber, make sure the correct company names are listed, then click Connect.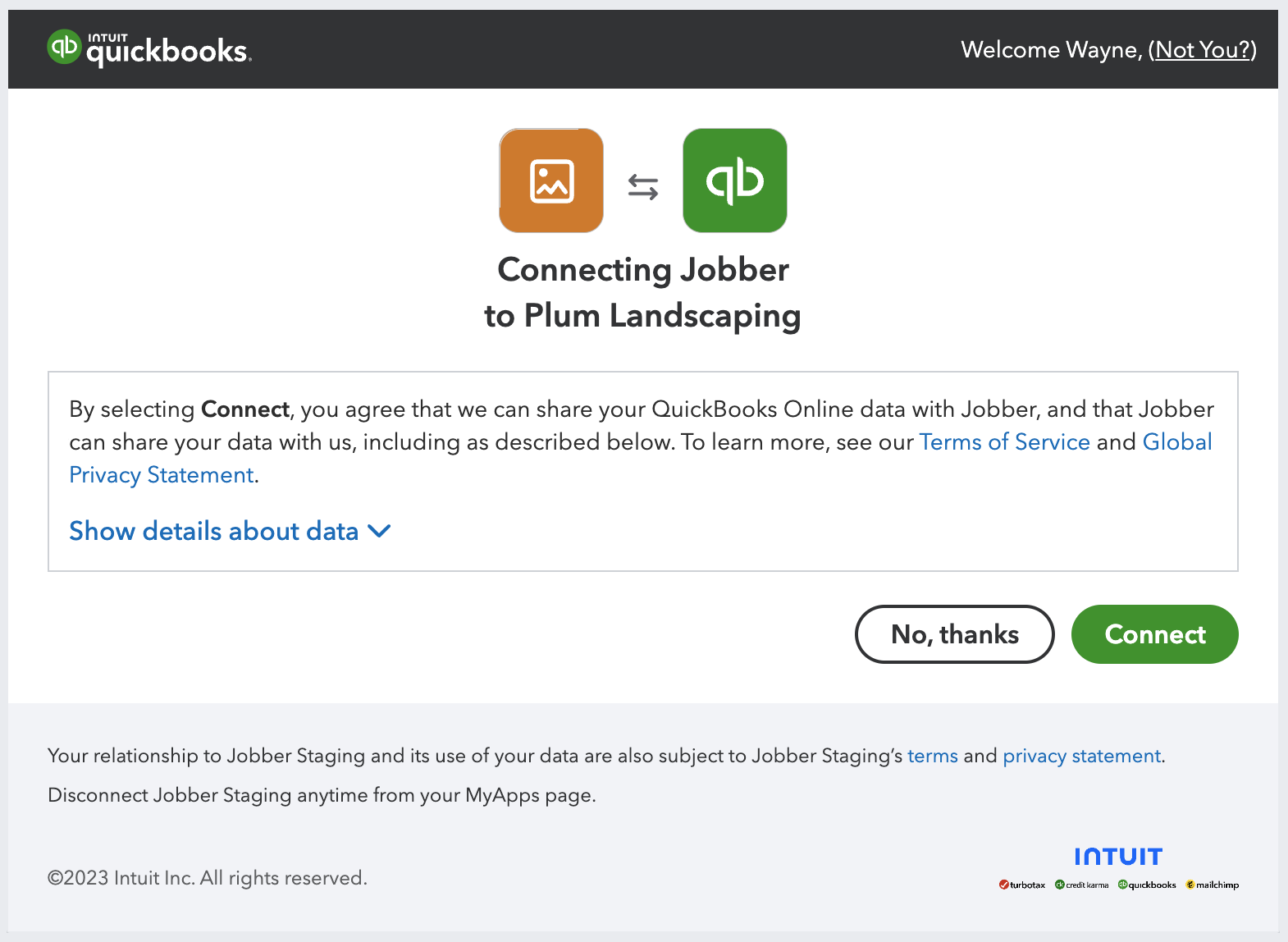 If you are connecting a new company in QuickBooks that is not currently connected to your Jobber account, you will be asked if you'd like to reset previous sync settings to connect this new company in QuickBooks to Jobber. Select Reset and Connect to continue connecting a new QuickBooks account, starting with importing data from QuickBooks to Jobber.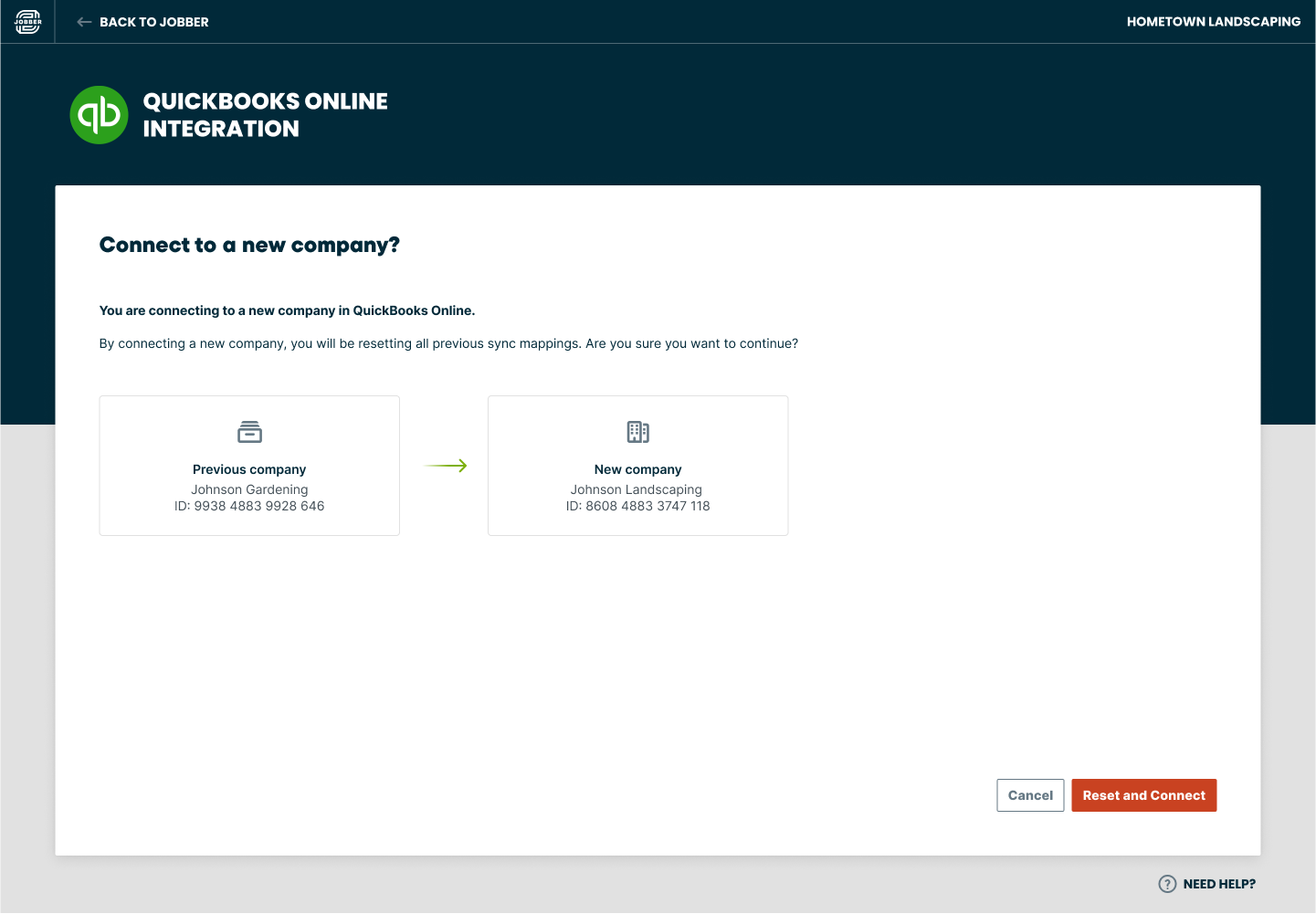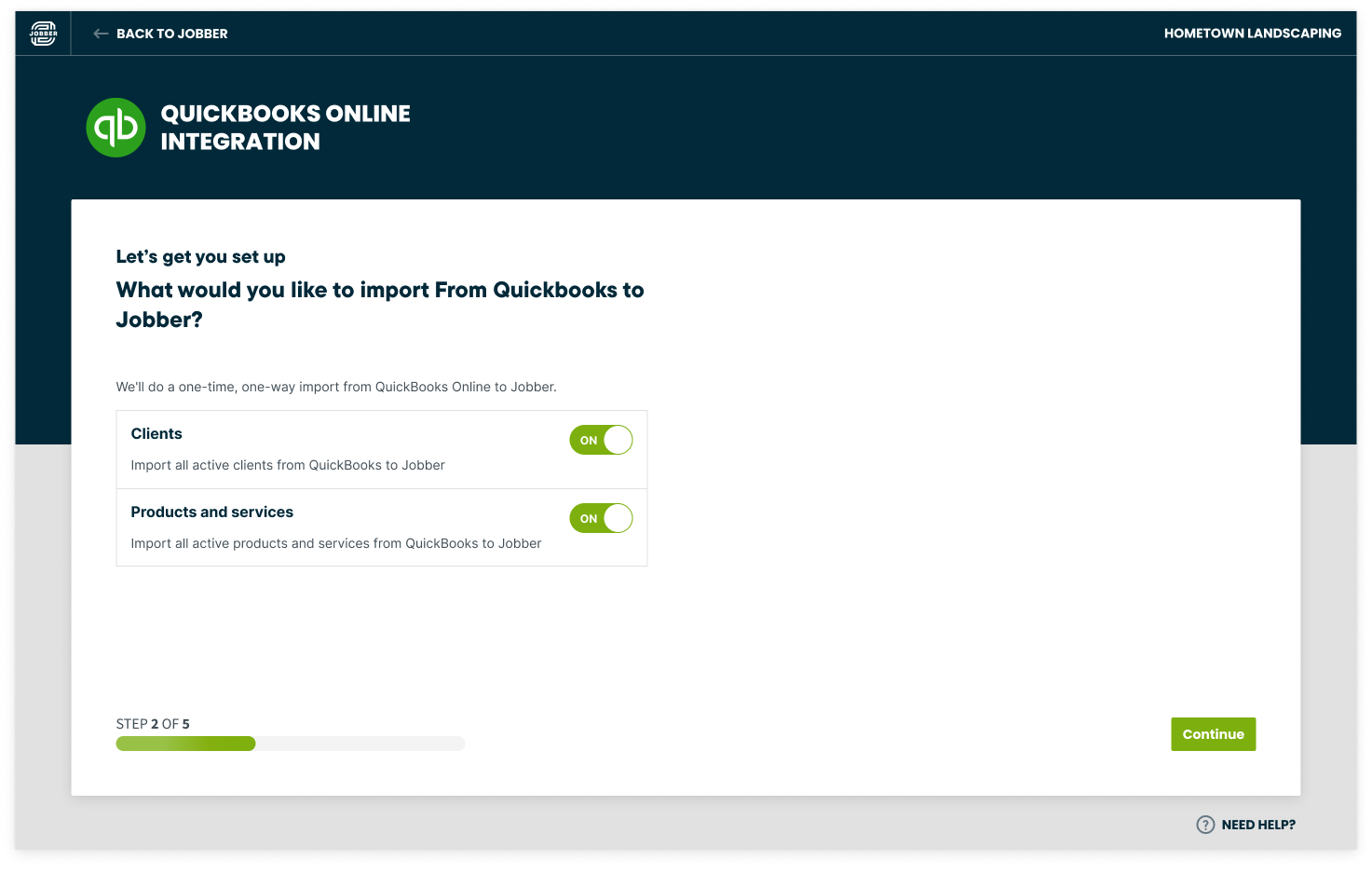 6. You're done! You are now using the new QuickBooks integration.
The new QuickBooks integration
Here are some key things to know about how the new integration with QuickBooks works:
The sync is now one way, from Jobber to QuickBooks.

Jobber is the source of truth for clients and products and services. These items no longer sync both ways, so any edits to these items should be made in Jobber to avoid overwriting them in QuickBooks.
"Paid" status on invoices no longer sync back to Jobber.

The sync is now ongoing and automatic. No more hitting the Sync now button to initiate a sync with QuickBooks.
Sync errors can now be resolved from your QuickBook dashboard in Jobber. Learn more about common QuickBooks sync errors and how to resolve them.
There is no initial import when you are migrating to the new QuickBooks integration since your information is already in both Jobber and QuickBooks. However, if you choose to connect your Jobber account to a new company in QuickBooks you will have the option to import data from QuickBooks.