Overview
You can send your clients an email with your company branding that is composed and sent from within Jobber. This general email allows you to send customized communication to your clients — like pre-season marketing emails, quick notes about their work, and feedback survey responses.
Just like any email that comes from Jobber, these emails will be sent from notification@getjobber.com but will have your company name associated with the sender. Replies to these emails will go to the email you have listed on your Company Settings page. Learn more about Company Settings.
Sending an email
To send an email to your client, go to the client's page, and in the top right corner there will be a button for Email beside the options for Edit and More Actions.

Clicking on Email will bring up the email template editor, which allows you to input the client's email address, add cc's, attachments, set the subject line and message of the email.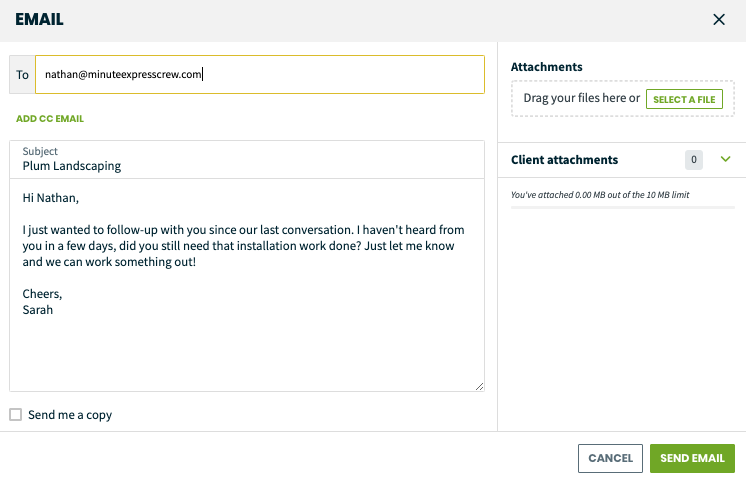 Any client note attachments that you have will appear here and be available to attach to this email. You can also choose to add any attachment from your computer by clicking select a file, or dragging and dropping the file into the designated area.
To change the recipients of an email that you're sending, click on Add recipients. This will allow you to add other email addresses on the client's account, and select the addresses this email will send to.
To BCC yourself an email, select the box beside Send me a copy on the bottom left.
Once you've made your email, send it by clicking on Send Email.
How emails will look to your client
Emails sent through the client's page will be sent from notification@getjobber.com but will have your company name associated with the sender. It will also be branded with the information you have set in your Branding.
Learn more about Company Branding.
Emails that get sent to your clients will look like this: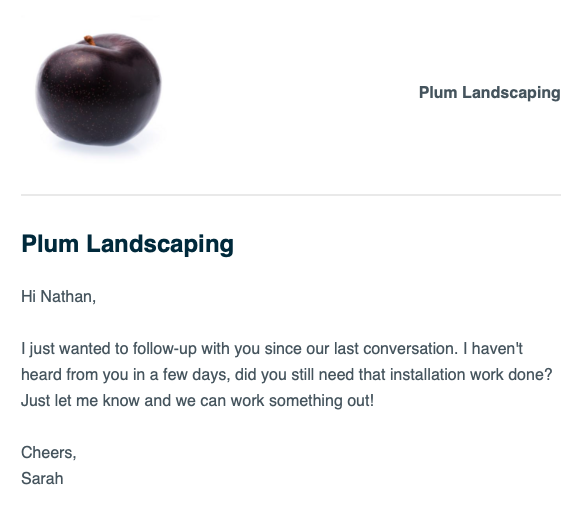 Reporting on Emails
Emails that are sent to your client will show up in the Client Communications Report. To open this report, go to Reports > Client Communications:

Note: This is a feature that is currently available to Jobber subscribers — once you become a subscribed customer, you'll be able to access these general email templates and send them to your clients!