Overview
Company Settings is the landing page when you navigate from the Gear Icon > Settings.
The Company Settings page is where general information about your company lives. This page in Settings includes your:
Company details: This is your contact information and business hours
Tax settings: This is where to set up tax rates and tax groups
Regional settings: Information about your account's country, time zone, date format, time format, and which day of the week is displayed first on the calendar.
Company details
The company details section is where your contact details are managed. This includes:
Company name
Phone number
Website URL
Email address
Address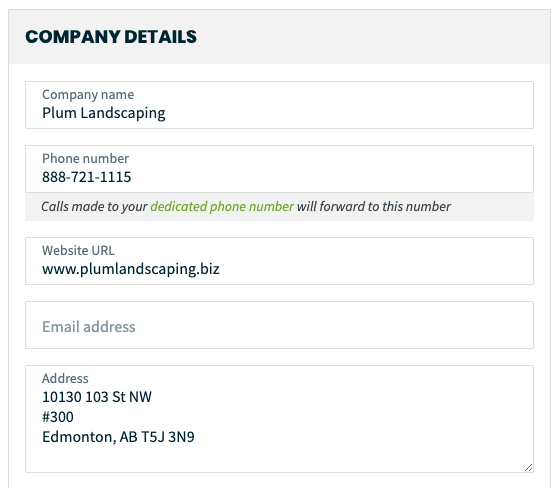 The details entered in the company details fields appear on PDFs generated through Jobber so that your clients are able to reach out to you, if needed. To add a logo, links to your social media accounts, or to manage how your PDFs appear, check out Settings > Branding.
If you are using a dedicated phone number (available on select plans along with two-way text messaging) and someone calls your dedicated phone number, the call will be forwarded to the phone number you have listed in your company settings since dedicated phone numbers are meant for text messages only.
When an email address is entered in the company email address field, it is an option in Settings > Emails and Text Messages to receive replies in case a client replies back to an email sent through Jobber. Learn more about Email Reply Settings.

Your company name, phone number, email address, and address also appear in the footer in your emails sent through Jobber.
Note: Your website does not appear in the footer, but does appear on PDFs.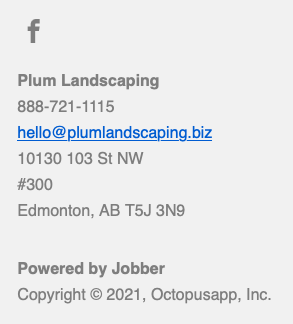 Your contact information (company name, phone number, email address, and address) and business hours also appear in client hub from the Contact Us tab.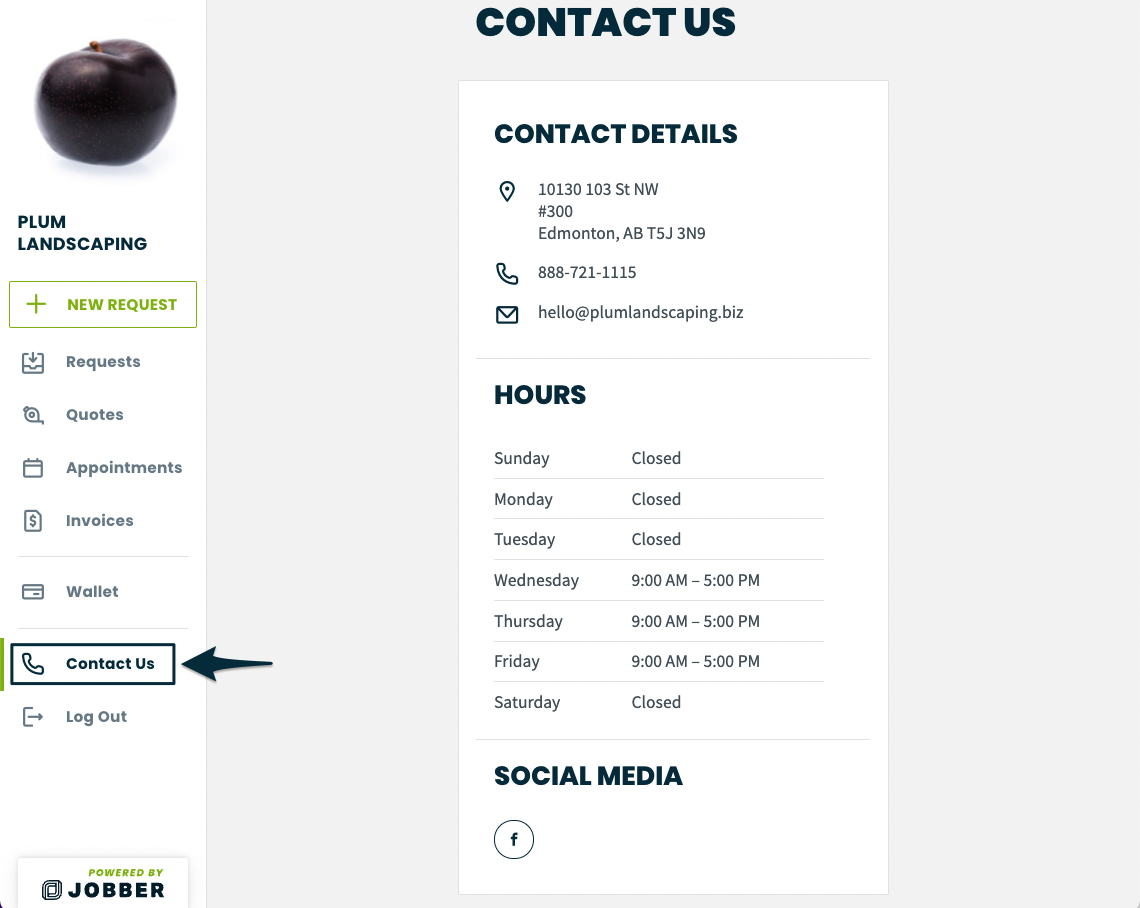 Business hours
In this section, you can turn on and fill out your company's business hours. This will show in the client hub in the contact us section. If you are using Jobber's online booking feature, the business hours will make sure that your clients aren't requesting work during times when you are closed.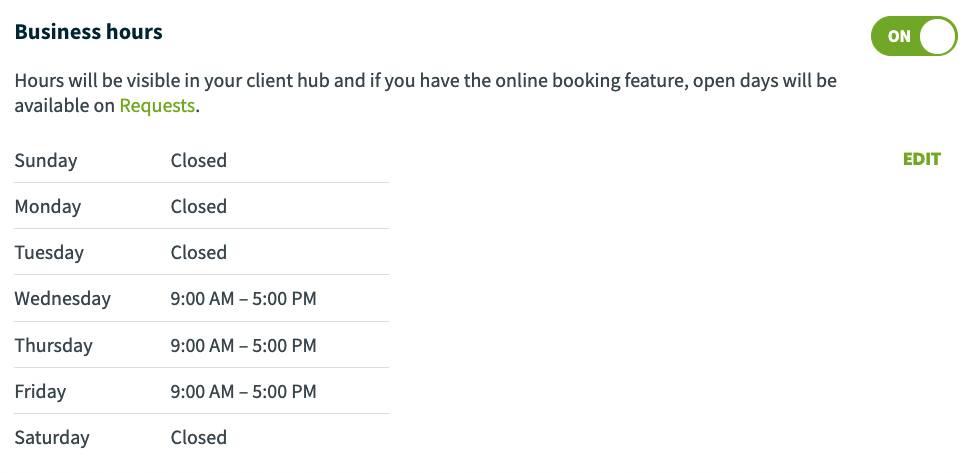 Tax settings
You can enter your company's tax registration type and registration number at the top of this section. This name and number will then automatically appear at the bottom of your invoices to clients.
You can create tax rates and tax groups for your account and set a default rate (or group) which will automatically be applied to new quotes and invoices that are created. To learn more about taxing in Jobber and how to set this up further, check out our Tax Settings page.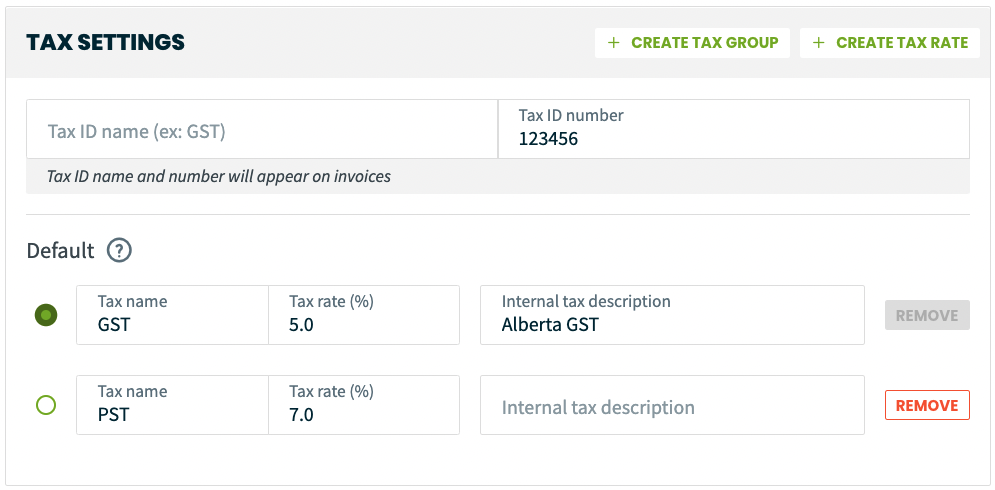 Regional settings
Regional setting is where the following settings are managed:
Country: The country you set determines the currency for your quotes, jobs, and invoices. For example, selecting the United Kingdom will show your prices in £ rather than $. If your currency is not available it will show in $.

Timezone
Note: Timezone is set at the account level, not for individual employees. Ensuring your timezone matches the timezone you are actually in will avoid visits appearing at the wrong time in your calendar.
Date format
Time format: This can be 12-hour or 24-hour
First day of the week: this is what appears on your schedule in Jobber. The first day of the week can be either Sunday or Monday.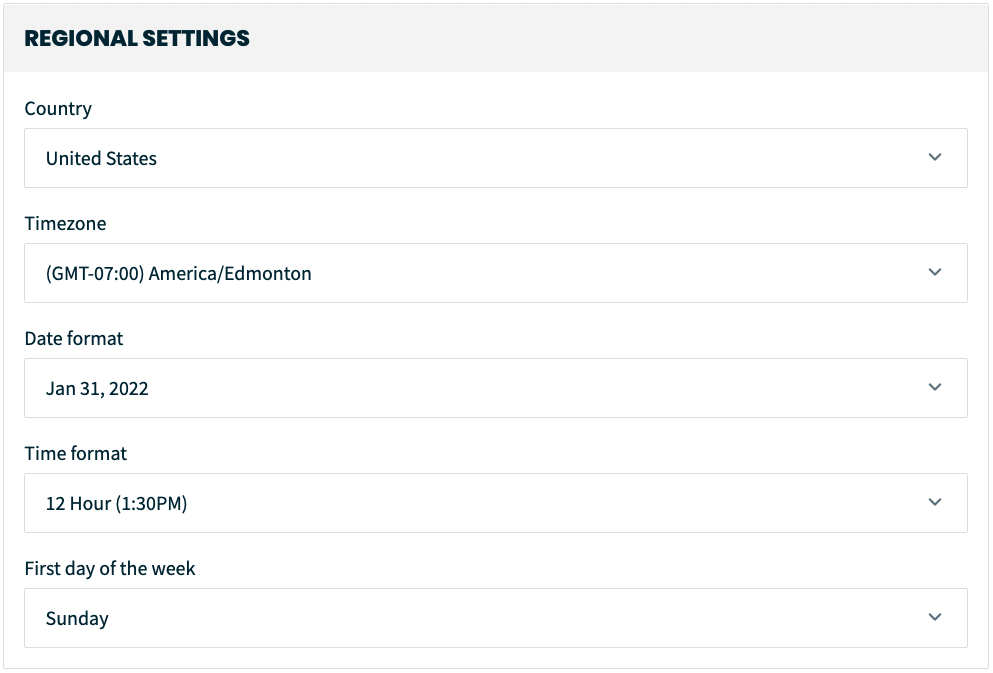 Be sure to click Update Settings at the bottom right of the screen to save your changes.