With over 20 built-in reports, you'll know exactly how your business is doing. Learn more.
This report can be found from the Reports tab under the heading for Financial Reports
The client balance summary report shows which clients have owing balances on their account, and which have credits.
At the top of the report is an overview for clients with owing balances and clients with credits.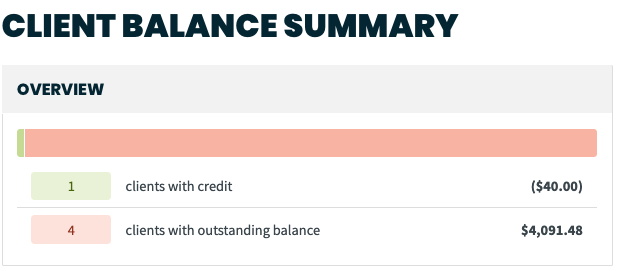 Report actions
Filter the report -To filter the report to see only outstanding balances, or just ones with credits, click on the category you want to see in the overview. The report below will then filter to view only these clients.
Export Report - Click on Receive Excel Copy, to be emailed a copy of the report to the email you are logged in with to Jobber.
Add/ Remove Columns - Click on Columns, on the right, to add or remove certain columns from the report.
Sort the Report - To sort the report, click on the header of any column that shows the up and down arrows. For example, if you click on 'Name', the report will sort alphabetically by the client's name.
View the Client's Profile - To view a certain client's profile in the report, click the 'Open' button on the right. This will open the client's profile in a new tab.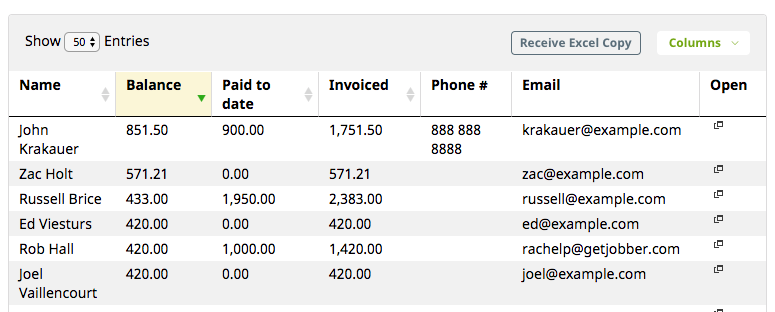 What if my client's balance does not reflect the same amount for invoices marked as paid?
What has most likely happened, is an invoice as marked as paid, but a payment was not recorded. This is possible to do if you mark an invoice as paid and 'Skip recording the payment', 'X' out of the payment screen, or navigate away from the page before recording the payment.
This will result in a difference between the balance owing in the Billing History Box, and the invoices that have been marked Paid.
To fix this, find the invoice that has been marked as paid but has no payment recorded on it, then on this invoice click Actions > Re-open, then click Mark Paid again. A payment record box will pop up, where you can record the payment. The invoice will then be marked paid, and a payment will be recorded for it in the client's balance.