Overview
Track time automatically with location timers in the Jobber App.
Location timers in the Jobber App track time automatically when arriving and departing a client's property for a visit. Since the timers are started and stopped automatically you'll never forget to clock in or out or have to deal with the manual work of tracking your own time. Location timers in the Jobber App use geofences so when you enter or leave a geofenced area (your client's property) your time sheets will be updated automatically.
Note: Location timers are currently available as a Jobber Lab. To join the location timers lab, select the Gear Icon > Jobber Labs. From the Location Timers for iPhone lab, select Turn On.

Permissions
In order to use location timers in the Jobber App, team members need certain user permissions in Jobber and enabled on their device.
Permissions in Jobber
To edit user permissions, start in Jobber Online and navigate to the Gear Icon > Manage Team. Then click on a team member to edit their user permissions.
Team members will need the following permissions to use location timers:
Schedule permission turned ON and at minimum the ability to "view and complete their own schedule"
Time tracking and timesheets turned ON and at minimum the ability to "view and record their own"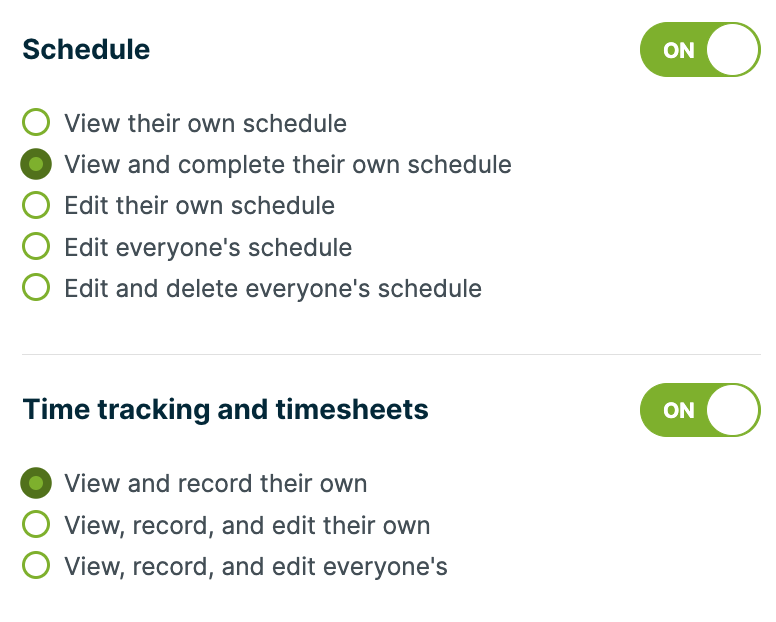 Device permissions
In order to use the location timers, you will need to give the Jobber App permission to access your location so Jobber can track when you've arrived and departed your visit.
From the Jobber App, navigate to Settings > Preferences and toggle Location timers to ON.
Note: The preferences page will be hidden in the app if you do not have the correct user permissions to use location timers.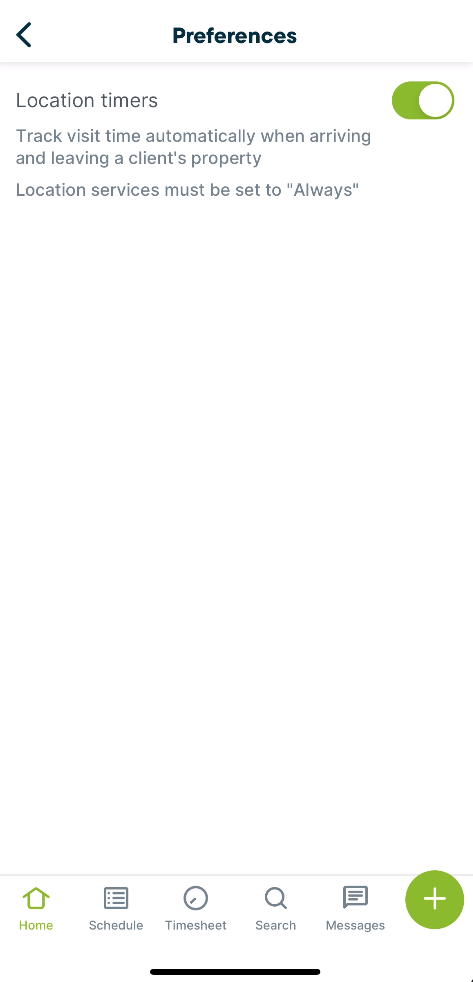 Next, you will need to give the Jobber App permission to access your device's location when not using the Jobber App. This enables your timers to start automatically once you've entered the geofence for your visit, even if you are using another app at the time.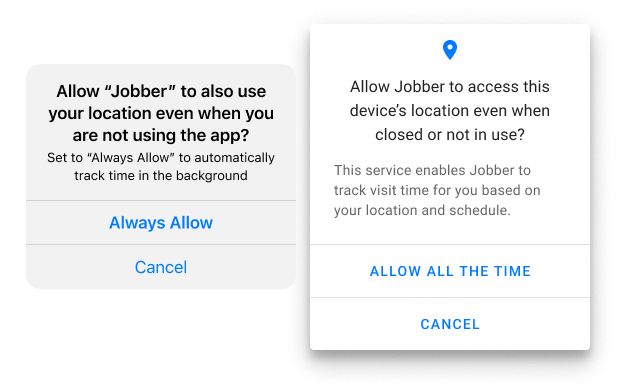 iPhones and iPads
For iOS devices, select Always allow when prompted to allow the Jobber App to use your location even when you're not using the app.
Androids
For Android devices to allow the Jobber App to access the device's location when the app is closed or not in use, select Allow all the time.
Android users will also be asked to give the Jobber App access to the device's physical activity settings, select Allow from the prompt.
Since the Jobber App needs to be backgrounded to track time, Android users will need to navigate to their device settings and set the batter to Unrestricted. This disables battery optimization for the Jobber App to make sure the Jobber App stays running in the background.
With both iOS and Android devices, since you have selected that you always want to share your location you will see prompts from your device in the future to make sure you still want to share you location.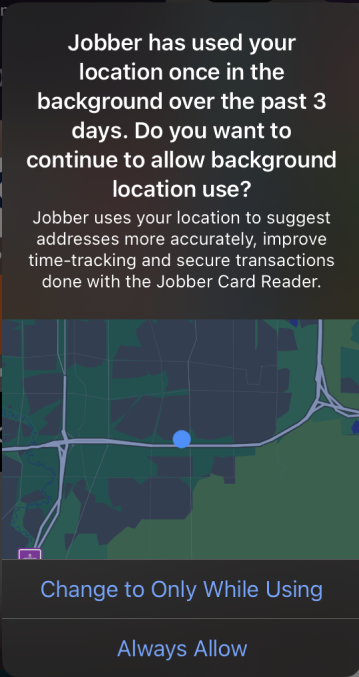 How do location timers track team members?
Location timers are a way to keep your timesheets up-to-date without the manual work of recording your time, which requires access to your device's location services. Location timers are not meant as an employee tracking service so your live location is not shared with other team members or the account owner however GPS waypoints will be logged (on select plans) when certain actions are taken.
Actions that trigger a GPS waypoint are:
Clocking in/out of the general timer
Starting/stopping a timer on a visit
Adding a note or attachment (on requests, quotes, jobs, or invoices)
Marking a visit complete
Marking an on-site assessment complete
Marking a task complete
The location timers in the Jobber App are triggered within 200 meters (or 656 feet) of the geofence for your visit. It can take up to three minutes upon leaving the geofence for the time entry to update.

If you are in a location where you have multiple visits, you will be prompted to start your timer manually so that time is logged for the correct visit.
Note: Time tracking is only available on visits, assessments do not support time tracking.
Notifications
When the Jobber App is backgrounded, a push notification will be sent to your device as you enter the geofence for your visit to let you know a timer has been started automatically. The notification includes the property address for the visit.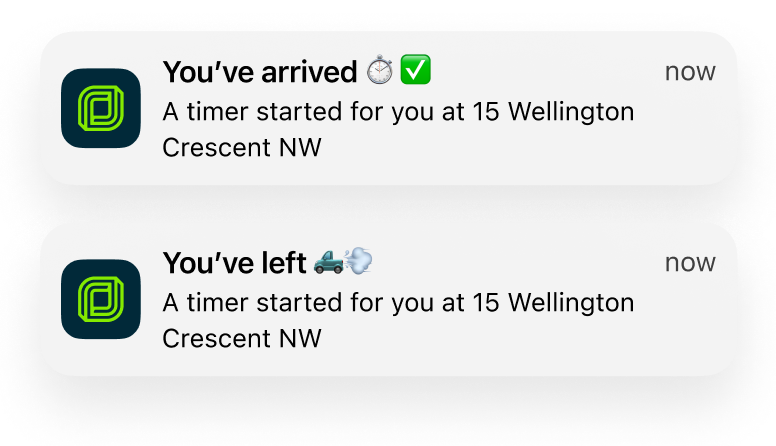 When you enter or exit the geofence with the Jobber App open, you will see an in-app message that your timer has started automatically.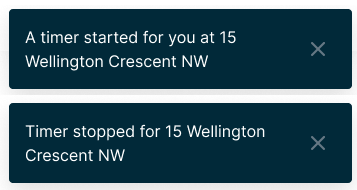 Timesheets
Location timers have the same relationship to the general timer that manually started timers do. If you started the general timer before arriving at your client's property, the general timer will be stopped and the visit timer will start automatically. When you leave the property, the location timer will be stopped and the general timer will resume.
To view your timesheets, including time entries where the timer was automatically started, select Timesheets from the bottom menu in the Jobber App.

Learn more about
timers and timesheets in the Jobber App
Help shape the feature by providing feedback
We'd love to hear how we can improve location timers. Please reach out if you have questions or feedback:
Fill out a feedback form (you must be logged into your Jobber account to access the form)
Email labs@getjobber.com to share your feedback or to set up a feedback session with our team
Please encourage your team members who work in the field to give feedback as well. Using the location timers a few times will trigger a quick survey in the app. We're excited to hear how it goes!