Overview
Client hub is your customer's online portal where they can request work, approve quotes, review scheduled jobs, make payments, and refer their friends. Asking your clients to refer a friend to your business is an easy way to make sure you're never missing a referral opportunity since clients will be prompted automatically in client hub when paying an invoice.

Settings
Navigate to the Gear Icon > Settings > Client hub.
From the Referrals settings section of your client hub settings, there is an option to show a prompt for your client to refer a friend which adds a banner message on invoices in client hub as well as adds a Refer a Friend tab to the side navigation. Clicking Refer a Friend from either prompt opens a pop-up with options for your clients to send others in their network a custom link to your request form.
The setting for Clients can refer a friend is defaulted to ON which is what adds the banner message to invoices in client hub.
Note: To make sure that anyone referred to your business can view your request form, double-check that your request form is set up to be shared. From Settings > Requests, toggle Share Request Form to ON.

To customize the banner message, from your Referrals Settings click Edit. This pop-up is where you can customize both the banner message as well as the message the default message that your clients can send to their friends along with your request form link.
Note: Clients can still customize the default message before sending.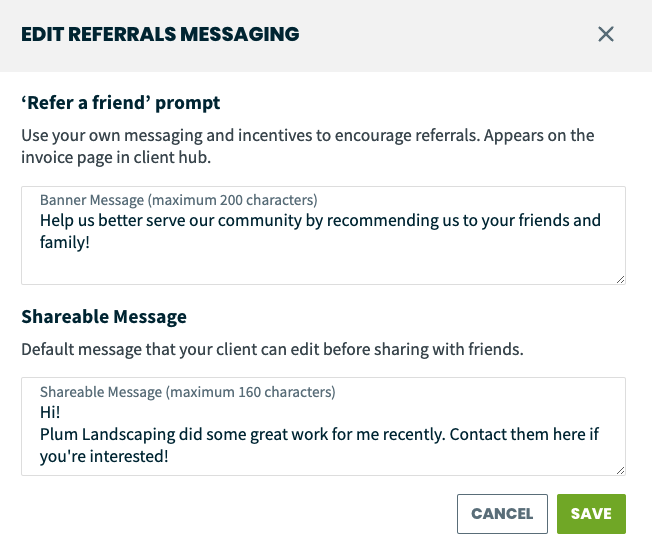 When a new request comes in from a client who was referred by a friend, you'll see a Referral field on the request that links to the client who referred them. If you want to thank or reward your clients who refer new business to you, this field is a good way to track which clients are making referrals.
What do my clients see?

Clicking Refer a Friend opens the options to share the link to your request form, but the options to share the booking link vary if your client is viewing client hub from a desktop or a mobile device.
Here's how the option looks from a desktop:
And from a mobile device: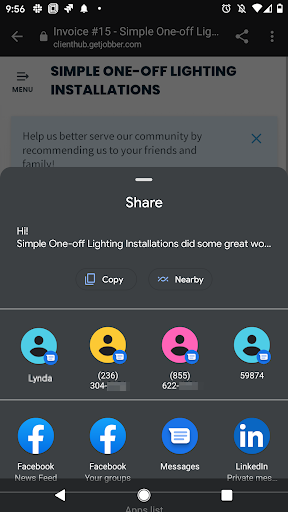 Note: These options may vary by OS.
Learn more about what your clients see in client hub.