What is two-step verification?
Two-step verification is an extra layer of security to protect your Jobber account and uses your trusted mobile phone number to protect certain actions that are associated with Jobber Payments. With two-step verification, when making important changes to your Jobber Payments settings or following an unusual login you will be required to enter a verification code that is sent to your mobile phone via text message. While two-step verification is not required on every login, having to enter a code when making sensitive changes prevents anyone else from making changes to your account even if they know your password. This adds an additional level of security to your Jobber account.
Two-step verification can only be set up by account owners.
Important
For security purposes, your verification code should never be shared with anyone else. Jobber will never ask you to share your verification code with our team.
Set up two-step verification
When accessing an action in Jobber that's protected with two-step verification, as an account owner, you will be prompted to set up two-step verification by entering your mobile phone number. If the phone number passes the validation that it's a number that can receive text messages, a text message will be sent when you click Submit.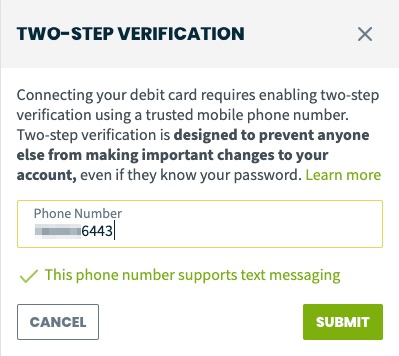 A six-digit verification code is sent to your phone number. Type each digit of the code, then click Enter Code. The Jobber Payments action you were accessing will now be unlocked for you to make changes.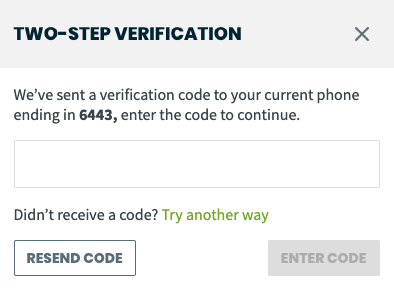 Note: Some browsers or devices such as Safari when you're using Messages will automatically fill in the code for you.
Didn't receive a code?
If you sent a code to your phone number, but no longer have access to that phone number or you aren't receiving the messages, please contact our team at issues@getjobber.com to change your phone number.
There are some reasons that you might not have received a code to your phone number, before reaching out do a quick check:
Try texting "START" to 78156.

To deliver verification texts, we work with a widely-used provider where if you have ever unsubscribed to one of their messages, you may not be receiving ours now. Texting "START" to 78156 to resumes these text messages.

Is your phone connected to data and able to receive text messages?

You will need data or the ability to receive text messages.

Is airplane mode or do no disturb mode on?

Both will need to be off for the text message with the code to come through.

Are you checking the correct phone number?

The code will only go to the number that you have set up for two-step verification.

Is your provider blocking text messages?

It might be worthwhile to reach out to your cell provider and make sure you have the ability to receive these automated messages.
Changing your phone number
To change the phone number associated with two-step verification, go to the Gear Icon > Manage Team > Account Owner. In the account owner's personal information, their phone number will appear locked in with a button for Change. Clicking Change prompts you to enter the code which is sent to the current number listed for the account owner. Once the code has been entered, the account owner's phone number will be unlocked so that a new one can be entered. Going forward that new phone number will be the one used for two-step verification with the last four digits showing in the account owner's personal information.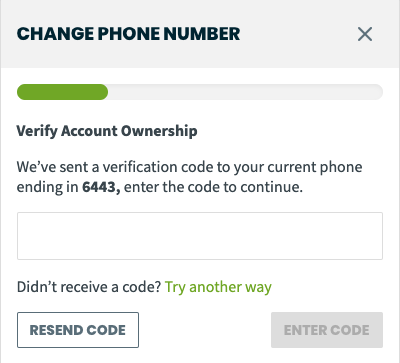 If you need to change your phone number that is set up for two-step verification and no longer have access to it, please reach out to our team at issues@getjobber.com and they will work with you to get the number updated.
Unusual login
If we notice an unusual login on your Jobber account, we will prompt you to go through the two-step verification flow on your next login. An unusual login can be flagged when there is a sign in from a new location or device. Sometimes everyday things look unusual or out of the ordinary to us and you will might receive a text with a verification code. For example if you log into your Jobber account while on a trip or vacation away from your home, using a VPN, setting up a new device, or sharing a login with someone else, etc.
Note: To keep your account secure, we don't suggest that users share Jobber accounts or details like their password.