Overview
Instantly communicate with your clients and manage your conversations in a single place. Available on the Apple App Store and Google Play Store.
Two-way text messaging is available on select plans in the United States, Canada, and United Kingdom. Two-way text messaging is not available while in trial.
Two-way text messaging in the Jobber App allows you to start and carry on a conversation with a client while out in the field directly through the Jobber App. On Jobber subscriptions where two-way text messaging is available, there is no additional cost to you associated with the messages you send through Jobber. Once the conversation starts you can have unlimited back and forth with that client. This article covers how to use two-way text messaging while using the Jobber App, check out Two-Way Text Messaging to learn more about how to use text message while in the office or using a browser instead of the app.
Two-way text messaging is available to administrators and users who have the two-way text message permission enabled (must be turned on from jobber.com, not the app). This permission can be updated by going to the Gear Icon > Manage Team > User and updating their custom permissions. Having this permission enabled for two-way text messaging gives users access to all text messages sent via Jobber and adds the Messages tab in the app. Each message sent through the message center will display the name of the user who sent it. Automated messages show as sent by "Jobber".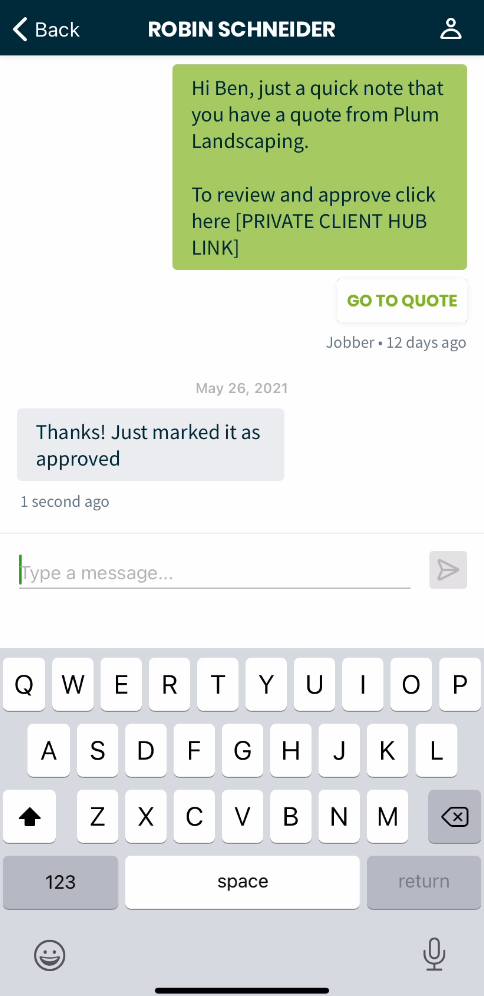 Note: For your client's privacy, in the message center we hide private client hub links however when your client views the text message on their device, the links will be visible and clickable.
Learn more about Two-Way Text Messaging in jobber.com.
Select a dedicated phone number
In order to see the messages tab in the app and be able to text back and forth with your clients, you must set up a dedicated phone number first. Your dedicated phone number is the phone number that all your text messages will come from, whether sent automatically or otherwise! A dedicated phone number must be set up from jobber.com.
Learn how to select a Dedicated Phone Number.
Messaging in the app
Once you have selected a dedicated phone number, you will see a tab for Messages along the menu bar in the app.
Tapping the Messages icon opens the list of ongoing text conversations. Conversations with new messages from your clients will have a red dot next to them to indicate that you need to reply to that conversation. The messages icon will display the number of unread messages with a badge.
To find messages quickly, there is a search bar at the top of the message center. Searching client names or phone numbers, will pull up text messages that match those terms.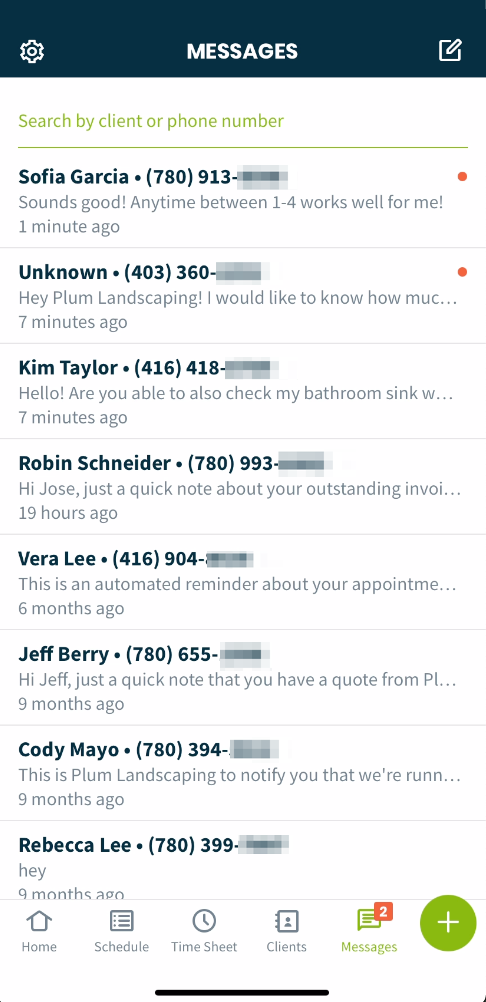 In order to carry on a conversation with a client, they must be using a phone number that can receive text messages. New text messages can be started by clicking the compose icon.
If the client you're texting is someone brand new and you don't have a message history yet, type their phone number into the search bar to start a new message with them. Click the Send to button to send a message to that number.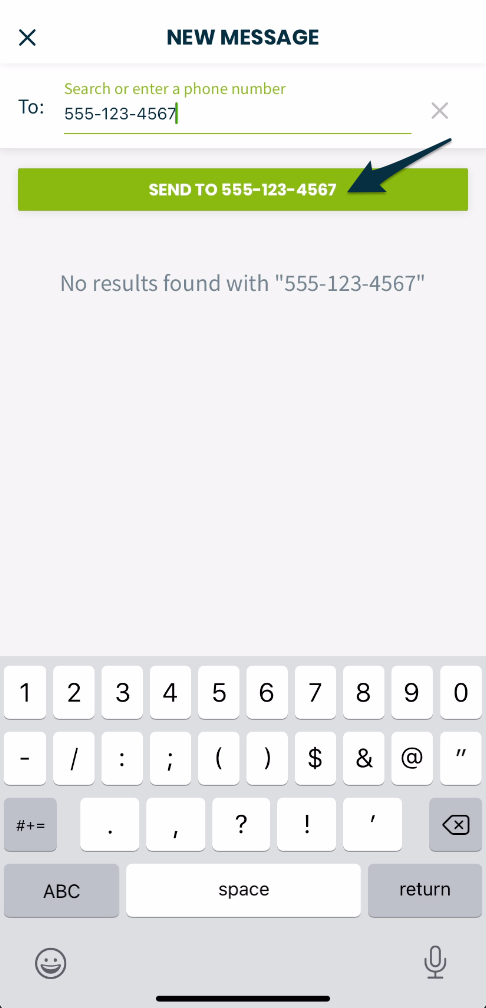 If the client you're texting is someone you've messaged before, you can search their name or number from the search bar to pull up your previous history with them. If you've texted them recently, you can also select their conversation from the message center conversation list rather than using the search.
Tap into each conversation to see the message history. If you would like to send a message back to the client, type it into the message field.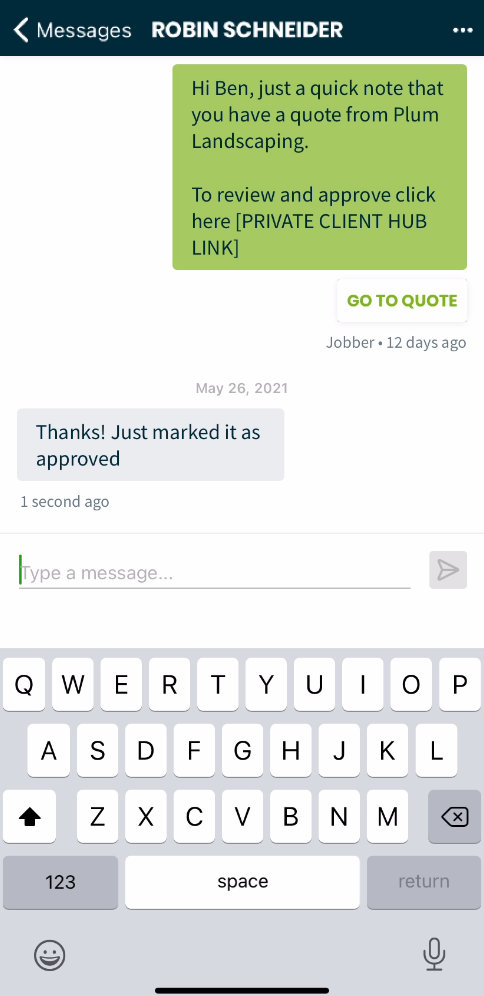 If you've sent the client a link to view an appointment, quote, or invoice there will be a button in the conversation to go to that item in the app.
In the top right corner of the conversation, there is a More Actions (...) icon.

Tap the More Actions (...) icon to view the actions you can take from this conversation. The actions are:
Mark as unread:

If there is a message that you would like to come back to later, it can be marked as unread in the message center so that it still appears as a new message.

View client: Jump to the profile of the client that this conversation is with. This is where you'll see details like their address and an overview of their work. The client's profile also has a shortcut to call this client (phone icon) if you need to get ahold of them on the phone instead of over text.
If you get a text message from someone who is not a client in your Jobber account yet, their name will appear as "Unknown". Once you add them as a client and either of you messages the other, their name will update to match the client name in Jobber.
When there are new messages, the Jobber app will show a badge that displays the number of new messages.

Note: The app badge and red dot indicating if a message has been read is something that works at the account level. That means that if a user opens a new message, that message will appear as read to all users on the account, even to users who haven't opened the message yet.
Push notifications
When a new message from a client comes in, you will get a push notification from the app letting you know. The push notification will show the client's name as well as the text they sent. If your device's notification settings are set to not show message previews, then the Jobber app will also not display a message preview.

Admin users will also have options in the app to manage their push notifications, including notifications that a client has sent a new text message. Tap the Gear Icon > Notifications to turn on or off different push notification categories. New messages from two-way text messaging are included in the Client message toggle. Learn more about push notifications.
Note: When you download the Jobber app for the first time, your device will prompt you to allow notifications the first time you navigate to the message center or schedule tab in the app. If you have previously downloaded the Jobber app and are updating to the newest version instead of downloading the app for the first time, you may need to check in your device settings that the Jobber app has push notifications enabled.