What is Mailchimp?
Find more business with ready-to-run email marketing campaigns, postcards, and more! Design and publish your ads in the same place you manage your other marketing— powered by Mailchimp.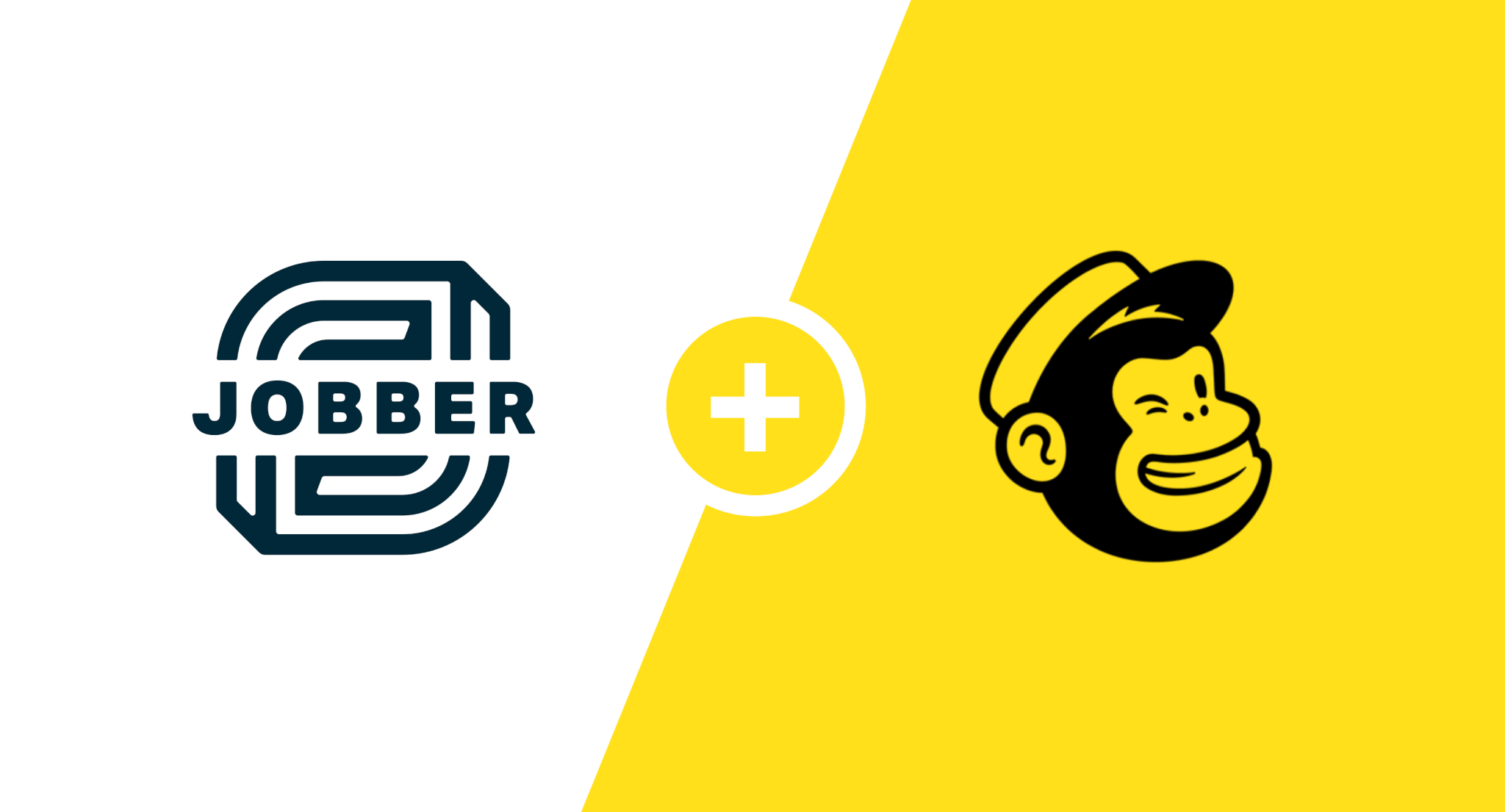 Jobber's Mailchimp integration allows you to automatically sync your entire list of clients in Jobber to your Mailchimp account, and use the best tool on the market to interact with your clients. You can use Mailchimp to email your client list, send postcards, and reach new customers through Facebook and Instagram ads.
Email and postcard marketing (powered by Mailchimp) is available on select plans. View our current pricing plans.
To check what plan you're on, navigate to the Gear Icon > Account and Billing. If you have any questions about your plan's features or pricing, our support team is here to help!
Mailchimp is a marketing platform for small businesses to automate communication with clients. Account pricing starts after you've exceeded 500 contacts (clients) and 1,000 sent emails per month with a daily limit of 500 emails. Learn more about Mailchimp's pricing options.
Emails
Design and send automated or regular emails to your contacts.
Postcards
Design and send printed postcards to reach your contacts around the world.
Ads
Target your contacts, find a new audience, or bring people back to your site with Facebook, Instagram, or Google ads. This feature will require a Facebook business page, which you can learn more about here.
Landing Pages
Create a landing page to collect new contacts, promote a product, or offer a discount.
Signup forms
Add a pop-up or embedded form to your website to collect subscribers.
How does Mailchimp work with Jobber?
Once connected, we'll immediately begin syncing all your clients with unique emails from Jobber to Mailchimp. That client list becomes an audience in Mailchimp. If you already use Mailchimp outside of Jobber and have an audience created, you can use Mailchimp's merge tool to consolidate into a single list. You can use Mailchimp's segments to define groups of your client list that you want to market to. Learn more about Mailchimp's segments. Any tags you apply to clients in Jobber can be used to create an automatic segment in Mailchimp.
Learn more about how clients from Jobber sync to Mailchimp.
Connecting Jobber to Mailchimp
Click Apps from the side navigation, then locate Mailchimp. This is where you are able to either connect an existing Mailchimp account, or sign up for an account. If you don't have an account, no problem! It only takes a few minutes to get set up. Mailchimp offers free plans for up to 500 subscribers (clients).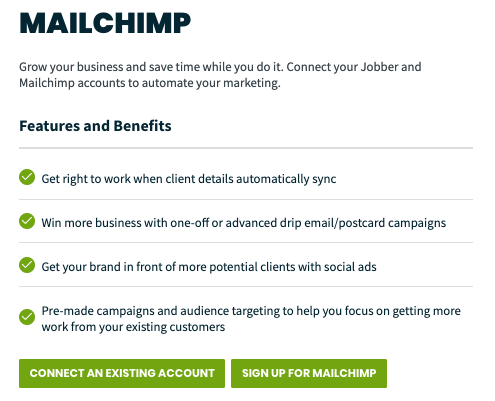 If you sign up for a Mailchimp account, an audience will already be created for you by default. On the free plan you can only have one audience so you will need to delete the default audience first, before you can setup your Jobber audience. Learn more about setting up an audience.
After the initial sync is completed you'll receive an email notification letting you know the results of your sync. Moving forward, any new client that is created in your Jobber account will automatically sync to Mailchimp.
Note: If the team member who connected Jobber and Mailchimp is deactivated in Jobber, Mailchimp will be disconnected and need to be re-connected.
How to create an email campaign
In the video below, our product coach Ronen walks you through how to create an email campaign in Mailchimp.
"It's Been a While" campaign
We've prebuilt a campaign for you that can be used to reach out to clients to remind them of the services you offer and check in and see if they need any more work done. We have a pre-built message ready, but it can be edited to make it more custom to you and your business.

This campaign targets clients who haven't had work done in the last 6 months based on their last completed visit in Jobber, however this segment can be edited to include other criteria as well.
To help you get started, Mailchimp offers Mailchimp 101 which walks you though the basics of Mailchimp.