What is the Mailchimp integration?
Find more business with ready-to-run email marketing campaigns, postcards, and more! Design and publish your ads in the same place you manage your other marketing- powered by Mailchimp.
The Mailchimp integration is available on select plans.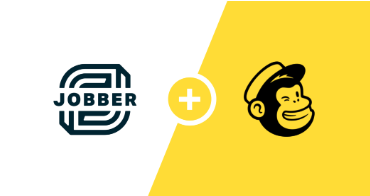 With the Mailchimp integration, your clients sync one-way from Jobber into Mailchimp as an audience. Mailchimp can be used to manage your online marketing as well as postcard marketing. You can create and send email campaigns and manage the recipients.
Learn more about what Mailchimp does and how to connect your Mailchimp account to Jobber.
Audience
If you are using a Mailchimp account on their free plan, you are allotted one audience which is created by default when you create your Mailchimp account. Since Jobber also creates an audience in Mailchimp, you will need to delete the default audience before your Jobber clients can sync into Mailchimp. In Mailchimp, navigate to your audience dashboard or use the link below to access it.
Note
Click here to access the Mailchimp audience dashboard. This is the page where audiences can viewed and deleted in Mailchimp.
To delete an audience in Mailchimp, start from the Audience Dashboard which can be accessed from the link above. Then in the top right of that page, click Manage Audience > View Audience. One thing to note is that if you've recently sent an email or published a webpage connected to this audience, Mailchimp will prevent you from deleting it for 7 days. This is a measure that Mailchimp uses to ensure delivery and gather data for reports.