Overview
Attract new customers when you let them book new work through your website and Facebook page and receive a notification as soon as it happens.
Online Booking is available on select plans. Learn more.
Our online booking feature allows your clients to request a quote or services through your website, social media, or through the client hub. The online booking form gives your client an option to select a date that works best for them— gathering this information upfront cuts down on back and forth.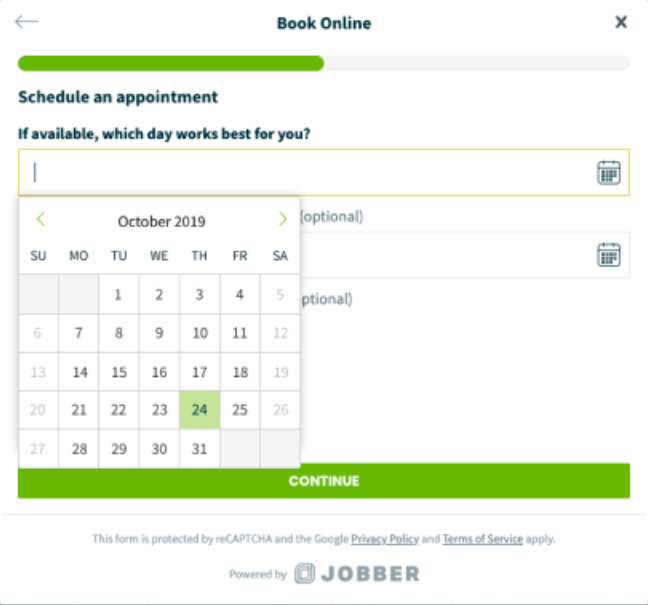 Adding your online booking form to your website or social media gives your clients a convenient way to reach you from the comfort of their home, or while out on the go.
Add a request form to your website
At the bottom of the Settings > Requests page, there is a section for Share Request Form. You can use the options provided here to give access to the request form to your company website or Facebook page. To start with, you'll want to toggle the switch to 'ON' for visible to clients and new leads.

Embed options
The embed options are the best way to integrate the request form into your website. Click View Embed Options to see the two embed styles and customize the button color.

There are two embed options for your request form: an inline form or a popup form. These are each displayed on different tabs.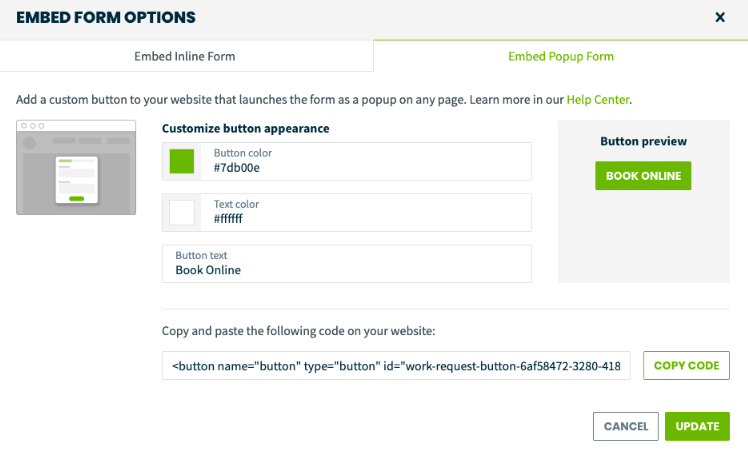 Inline Form: This will add the full form to a page on your website in the form of a widget. This is a good option if your website is set up on Wix, GoDaddySites, Website.com, hosted Wordpress and Weebly. Note: once you add this to your page, you might want to resize it so that the full form appears without the user having to scroll within the widget.
Popup Form: This will add a "Book Online" button to your website. When a user clicks on this button a pop-up will appear that will walk the client through the request form. Once they complete and submit the form, they will be back on your website page. If you're using this option, you might want to add text around the button to explain what it is. Note: Many automated web site builders control and modify what kind of code can be embedded on their sites. Even though our code is trusted and secure, they still change the code contained in the snippets we provide which can break the formatting. The dialog version is currently not compatible with automated website builders, including Wix, GoDaddySites, Website.com, hosted Wordpress and Weebly.
For both of these embed options, once you've copied the snippet, it's time to add it to your website. If you have a website administrator be sure to equip them with this information and the snippet of code to add to your website. Here are more instructions for adding custom html code to some of the popular website builders:
Each website builder has its own tools for adding buttons, you will need to reach out to your website support to find the best way to do this.
Button color options for embedded forms
For both the inline and popup form, you can customize the colors to match your website's branding as well as customizing the text on the pop-up form's button.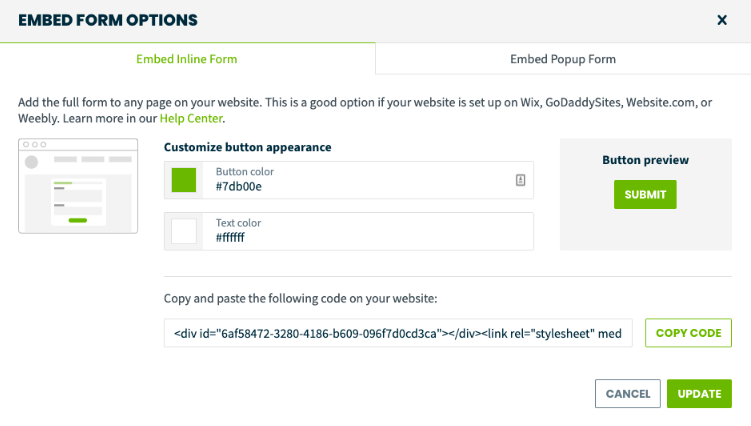 To change the color of the button or the text, click the color icon for that item. This will bring up other color options. You can also enter the Hex code for that color.
Note: that there is a 30 character limit for the button's text to maintain the button's size.
Share link on social media
To share your request form on social media, you can link to the client hub where the request form is hosted. Click View Link Options to see the shareable links.

There are two options to share your link: a link for social media and a link to add a button to Facebook.
Share Link: This option provides the URL that clients can use to submit a request.
Add a button Facebook: This option will walk you through how to add your request form to your Facebook page.
Add a request form to your Facebook page
When you create a Facebook business page (facebook.com/pages/create) you will have the option to add a button to your page which you can setup to link to your request or online booking form.
Start by clicking the button located below your cover photo for + Add a Button.

In step 1, we recommend you use the text of Book Now for your button.
In step 2, you need to chose where the button goes to. Select Link to Website, you will then be prompted to enter the URL you would like to link the button to.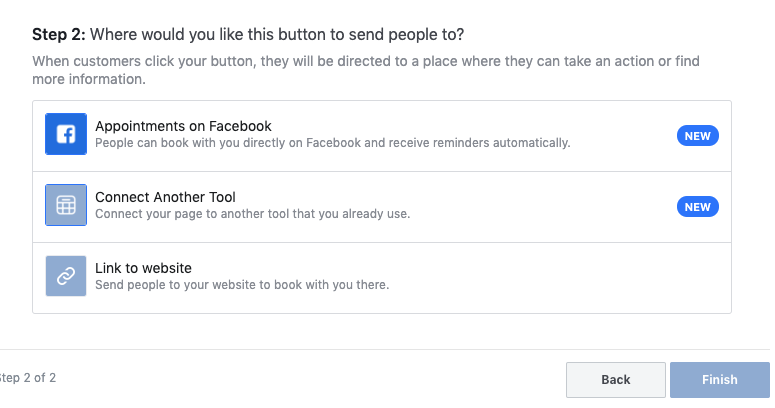 Step 3: Copy and past the URL from the Add a Button to Facebook portion of the Settings > Request Page.

Then save your changes! Your button to link to your request or online booking form is now setup.
Check out our Jobber Academy article for more tips on creating a Facebook business page.
Link to your request form on Google My Business
If you have a Google My Business account, you can set up your request form so that potential clients can request a booking with you from the appointments option in your listing.
Start by logging into your Google My Business account. From the sidebar, navigate to the section for Info.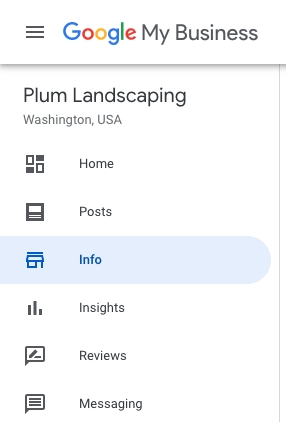 On the info page, there is a section to add an Appointment link. Click the pen to edit this section and add a URL. In this case, the URL we are going to use is the one for social media links that you can find in your Jobber account by going to the Gear Icon > Settings > Requests. Copy the social media link from Jobber and paste it into the appointment links section in Google My Business and save!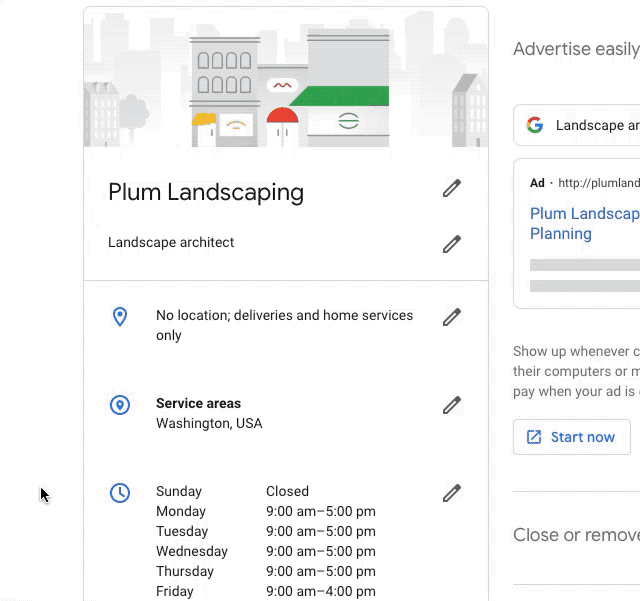 How do clients submit a request?
Once the form is set up, your clients can click on the request button now on your social media page, website, or in Client Hub. They can then fill out a form to request work by entering their contact information and service address, and filling out the different fields you've created before clicking 'Send Request'.
Fields that are not set as required will show as (Optional).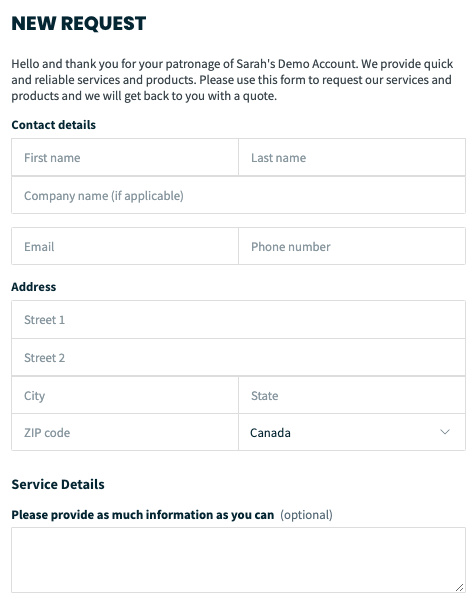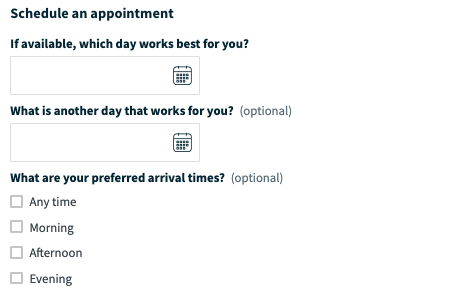 Your company name and logo in the Branding section of your account will show on the form in the top left. Your company email, website, and address from the same page will show in the footer below the form.
On the form, name and email are already set as required fields clients must fill out. They have the option to fill in their company name as well. The address that is submitted will be created as a property under the client.
What if my client submits a request and is already in my Jobber account?
Jobber will match up clients based on their email address. If the email address used on the form is the same as an email address already on a client in your account, then the request will be linked to that existing client. If an alternate email address is used, then a new client will be created.