What is Zapier?
Save time when you move info automatically between Jobber and 1,500+ web apps— powered by Zapier.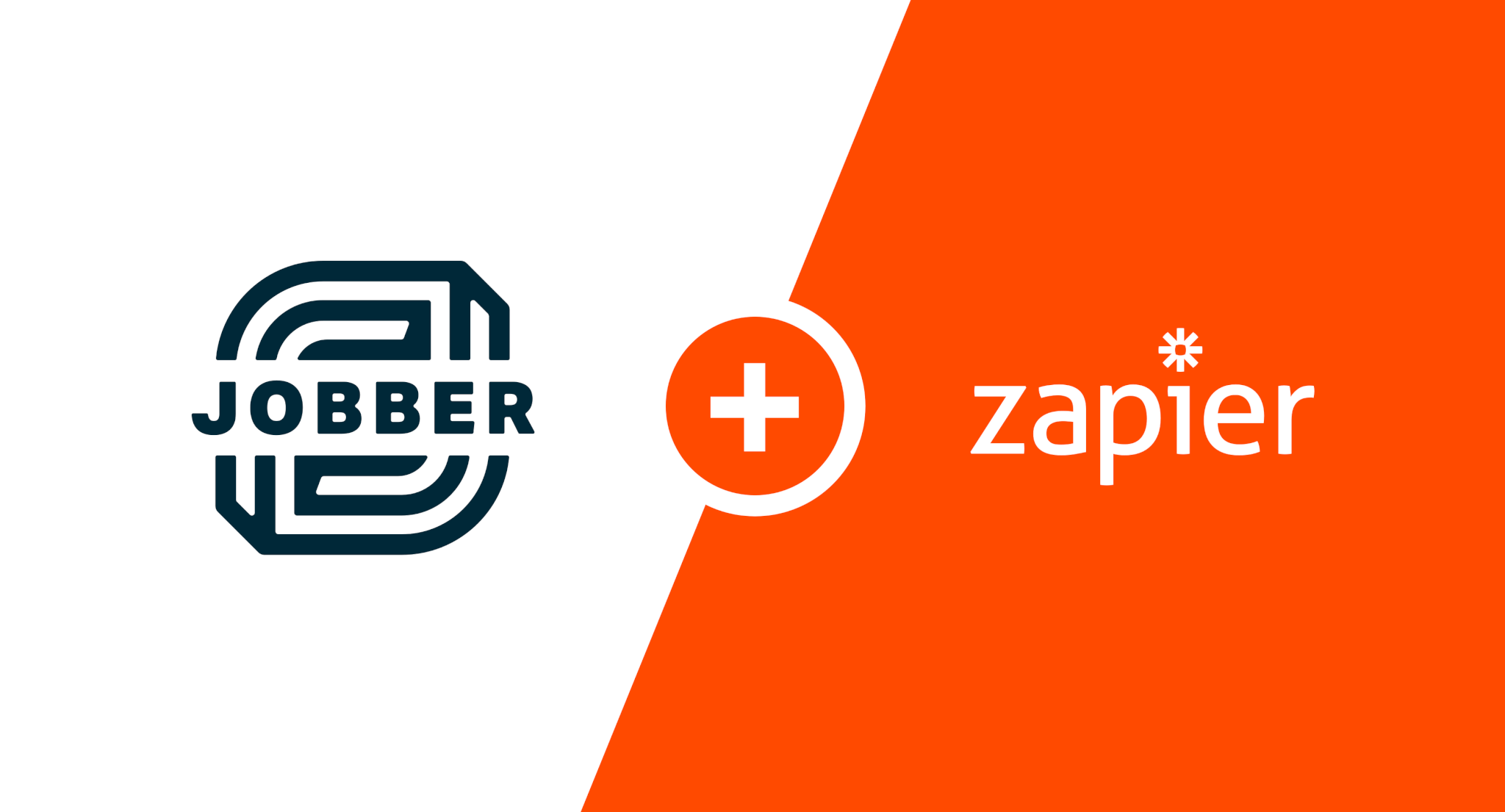 The future is now! Automate repetitive tasks by setting up triggers in one app to automatically complete actions in another. With the Zapier integration, you can connect Jobber with 1,500+ apps, for automated workflows such as:
Send a welcome email through Gmail when a new Jobber client is created
Add new clients to Jobber when you have new Mailchimp subscribers
Update Google Sheets when a new invoice is created in Jobber
Request feedback through SurveyMonkey when a job is closed
How does Zapier Work with Jobber?
Each Zap consists of a Trigger in one app that automatically creates an Action in another. To get you started, we've done some heavy lifting and created pre-made Zaps that connect Jobber with some other apps you may already be using. You can also get creative and make your own Zaps too!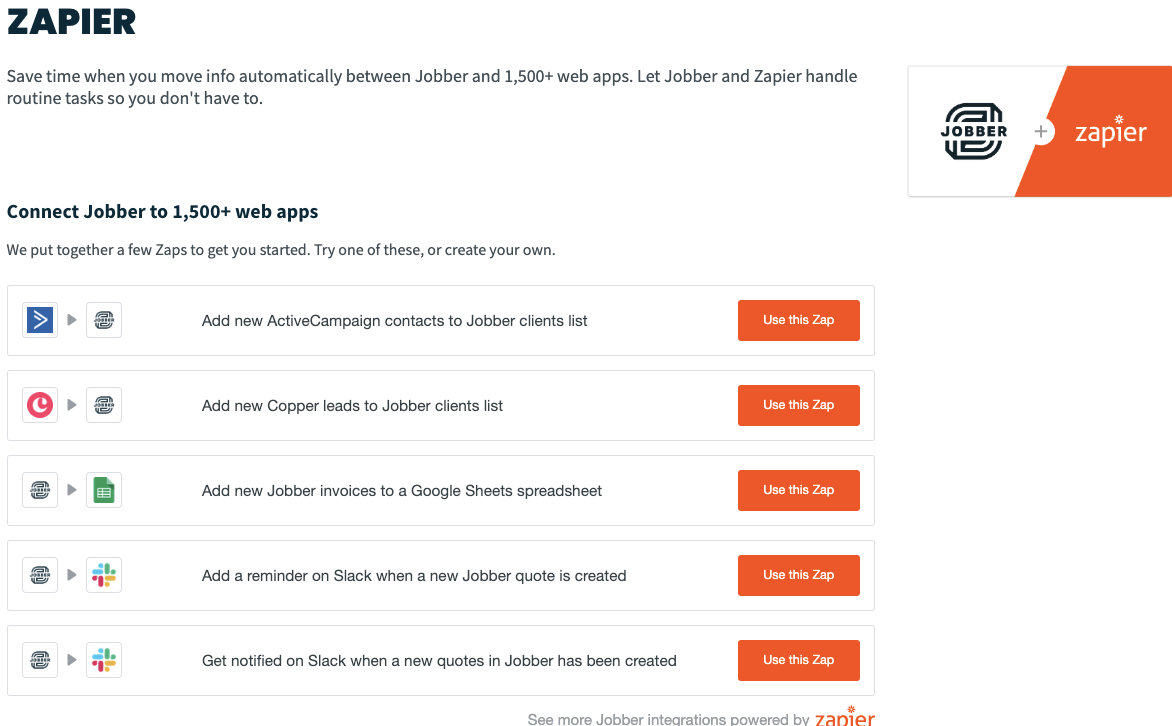 Triggers
Set up Triggers in Jobber to automate repetitive tasks elsewhere. You can automate an Action in another app whenever one of the below Triggers occurs in Jobber.
New Quote - Triggers when a quote is created
New Quote Approval - Triggers when a quote is approved
New Invoice - Triggers when an invoice is created
New Client - Triggers when a client is created
New Job Completion - Triggers when a job is closed
New Request - Triggers when a request is created
Actions
Automate the below Actions in Jobber when an event occurs in another app.
Create Client - Creates a new client in Jobber
Create Quote - Creates a new quote in Jobber for a client. This will create the quote for the client's first property.
Create Request - Creates a new request. This will create the request for the client's first property.
How do I Connect Jobber to Zapier?
Log in to your Zapier account, or create a new account.
From the Home page, Navigate to "My Apps" from the top menu bar.
Now click on "Connect new account" and search for Jobber.
Use your credentials to connect Jobber to Zapier.
Once that's done you can start creating an automation! Use a pre-made Zap or create your own with the Zap Editor. Creating a Zap requires no coding knowledge and you'll be walked step-by-step through the setup.
Need inspiration? See everything that's possible with Jobber and Zapier! Explore ideas.
There are limits on the number of Zaps you can set up based on your Zapier pricing plan. Zapier's Free plan starts with 5 Zaps, but plans range up to 125 Zaps on their Professional Plus plan.
Note: If the team member who connected Jobber and Zapier is deactivated in Jobber, Zapier will be disconnected and need to be re-connected.
How to Make a Zap
Zaps are broken down into steps. Normally, there are just two: one Trigger and one Action. You can build more complicated Zaps if you have an upgraded account with Zapier, but we'll focus on just a two step Zap here and walk you through an example of a Zap that you could create.
First, you pick what workflow you want to automate between apps. In this case, let's pretend we want to build a client spreadsheet in Google when we've sent a new quote in Jobber. So in this case, we select Jobber as the app and the Trigger we'll select is New Quote.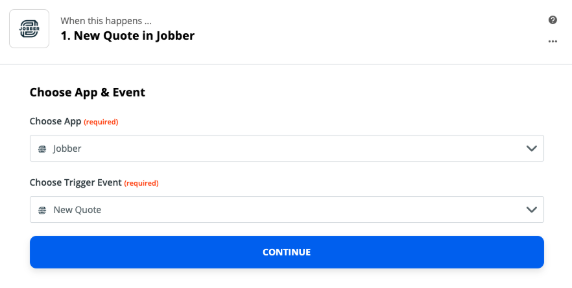 We let Zapier find some test data and once you see the green checkmark, you know you're ready for step 2.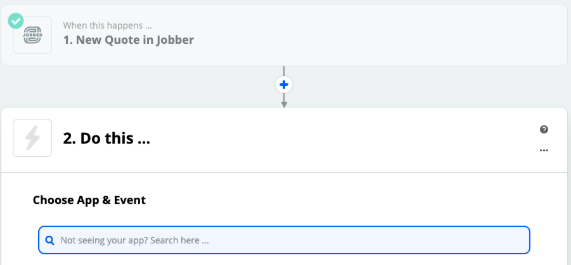 Here we're going to pick our Action. So since we want to update a spreadsheet automatically, let's choose Google Sheets and the Create Spreadsheet Row option.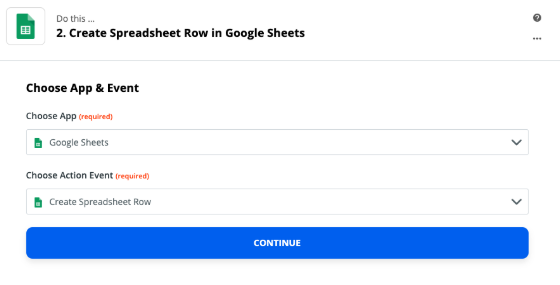 Next you will have to pick a spreadsheet you have saved in Google Sheets so that you can map your columns to the data from Jobber. In this example, our spreadsheet has information about the client's name, the quote, and some additional notes.
This is what it looks like in Google Sheets...

And this is what it looks like in Zapier...
Now, when we select a field in Zapier, we will get data from the quotes in Jobber. When we ran our 'test' earlier, Zapier will get example quote data, and now you can pass that into the spreadsheet here. As you fill out the drop downs, match the data from Jobber to the columns in your spreadsheet as you see fit. Here is a list of all the possible variables you can use to populate each heading in your spreadsheet.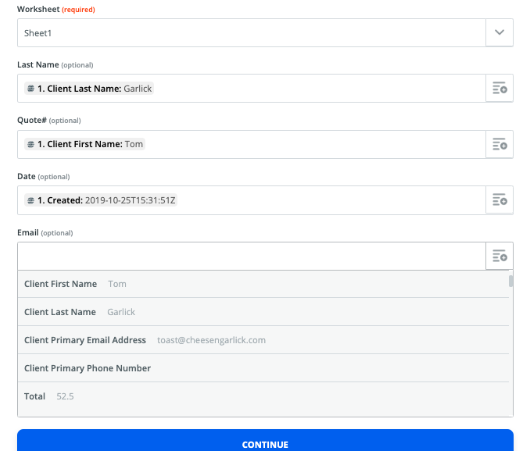 Test your Zap with Zapier to make sure it works, and you should get this message!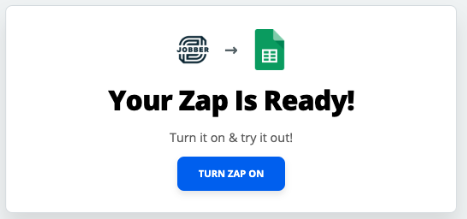 In your spreadsheet you should now have a new row, without having to have added anything manually.

So long as your Zap is turned on, all new quotes will be added to your spreadsheet automatically.
If you have any additional questions, you can reach out to contact@zapier.com or check out Zapier's article on Jobber.