Overview
There are a few places that notes can be kept in Jobber: on the client, request, quote, job, and invoice. Attachments such as as photos can be saved in a note. Notes and attachments are internal by default, but attachments can be added to your emails if you need to share that information with your client.
How to make a note
On the client's profile, on the right side of the page below the billing history box there will be a section called Internal notes and attachments. This field also appears on requests, quotes, jobs, and invoices however it will be located at the bottom of the page rather than the side.
Notes made in this field are strictly internal, so your client will not see them. This is also where you can upload photos or attachments. These notes and attachments can also be selected as client facing attachments when you email a quote or invoice to your client.
Note linking
Notes can be linked from where the are originally entered so they are visible in other places in Jobber. If a note is created on a certain level, it can be linked so it transfers downwards from there, but not back upwards:
To allow a note to transfer from any of the sections, mark the areas that you want them to transfer to: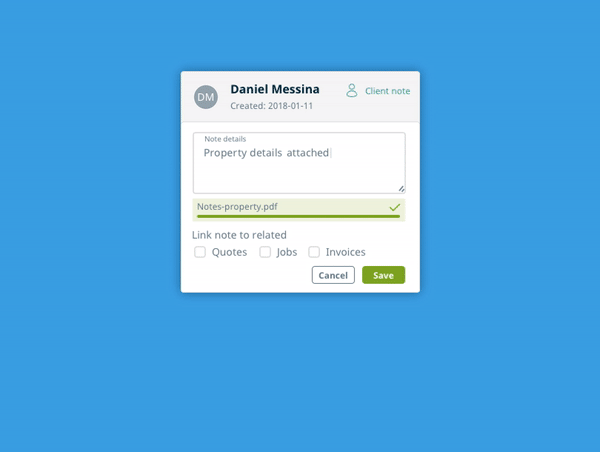 If you make changes to a note, it will change that note everywhere it is located. If a note is edited by someone other than the first person who wrote it, there will be a timestamp of when it was changed, along with editor's name.
Notes made in the Jobber App are visible on Jobber Online.
Notes and attachments upload size
You can store as many notes or attachments as you like within Jobber as long as they are each under 500MB. For example, on a client you can have many files saved as client notes. However, if you are adding an attachment to an email, the maximum upload size is 10MB total. There can be multiple attachments, but the sum of anything attached to an email must be under 10MB. When adding an attachment, you have the opportunity to include an internal note (which will then make it client-facing) or upload a file from your computer. You will see a progress bar on the attachment screen to let you know when your file sizes are approaching 10MB.