How do I access Jobber?
Jobber is a web-based software, so you are able to access it wherever you have access to the internet. You can either access Jobber through the app, or through the website.
Jobber Online
You can access the website version of Jobber on a desktop computer, phone, or tablet. The website is built to respond to the size of your phone or tablet. You can access all features in Jobber through the website. To log in to Jobber, go to https://secure.getjobber.com/login
After 12 hours of inactivity on Jobber online you will automatically be logged out and the next time you login you will need to enter your password. This helps us keep Jobber secure by making sure only folks who have passwords can access Jobber, similar to what you might find with your banking app or Gmail.
Jobber App
The Jobber App is great for users on the go - you can see your day's work on the schedule and work at completing those one-by-one. Learn more about the Jobber App.
You and your team can download the Jobber App from the App Store for Apple devices or the Google Play Store for Android devices.
How do I reset my password?
Here's a link you can use to reset your password: https://secure.getjobber.com/password_resets/new
If you run into any issues resetting your password, check out our Password Reset Troubleshooting guide.
What is the fastest way to schedule multiple jobs?
If it's the start of your season or you need to set up multiples of the same type of job but for different clients, the fastest way to enter them is to use the Create Similar Job option from the More Actions menu. This copies these details to a new job:
job title
if the job is one-off or recurring
scheduling information minus times
team assignments
billing information
line items
attached job forms

Note: The job instructions are not copied.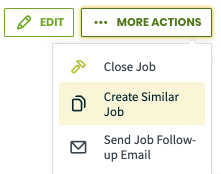 This way, you can create one job for the type of job you need to set up, then click More Actions > Create Similar Job to copy it over to any clients who need this job type. You can still edit any relevant details on each job, but save yourself the work of needing to re-enter details like line items.
If you are creating a job for the first time and want to create another similar job right away, a quick way to make multiple jobs in succession is to use the option to Save Job and Create Another. This button appears when saving a job for the first time and saves the job then takes you to another job creation screen rather than back to review the created job. The same details as using the Create Similar Job option are remembered with this button, but it saves you the step of saving the job first.

Why does my invoice show a balance if it's paid?
It sounds like you might have some invoices that have been marked as 'Paid' but don't have a payment recorded on them, reducing their balance. This can happen as there are two ways to mark an invoice as paid in Jobber, the first way is to click the Collect Payment button on an invoice. This will record a payment against the invoice total. Once an invoice has been fully paid, the status will change to Paid. This is the way we would suggest recording payments.

The other way is to click More Actions > Close Invoice, then select the option to close the invoice without a payment. However this option only changes the status of the invoice to Paid and does not record a payment against the balance. This option tends to be used by folks who are taking payments in a method outside of Jobber who need a way to show an invoice has been paid, but aren't concerned about balances.
To correct invoices that have been marked as paid but don't have a payment recorded, we first need to pull up a list of invoice that are 'paid' but still have a balance on them.
Go to Reports > Invoices Report.
Select a date range going back a few months in the Options section and click Apply Options
In the Overview section click on the Paid line.
Using the Columns dropdown we want to make sure we have the client name, invoice number, total, balance and open options ticked.
On the report itself click the Balance header twice. We now have the invoices with outstanding balances at the top of the report.

Click on the first line 'open' icon (two small squares). This will open the invoice in a new tab.

Go to that tab, click Actions > Re-open Invoice > Collect Payment and record the payment and the details. This will mark the invoice as paid and clear the balance for that invoice.

Close the tab, go back to the report and click the 'open' icon on the next line, repeat from step 7 for the whole list.
My client shows an account balance in their billing history box, but they are fully paid. What's going on?
If you know a client does not owe anything, but their account balance in their billing history box is showing a balance you might want to check the invoice section of their overview on the client page. For each of their paid invoices, there should be a $0.00 balance. If there is an invoice that is paid that has a balance other than $0.00 it might indicate that there is a payment that isn't associated with an invoice, or the invoice might have been over or underpaid.

If you are still having an issue figuring out the account balance, reach out to our Success Team. The Success Team will be able to help look into the balance issue.
How do I hide an account balance on an invoice?
You can find that setting by going to the Gear Icon > Settings > Branding. On this page there is an option for "open PDF configuration". This will open a pop-up that has a tab on the top for "Invoices" with a checkbox for "Show Account Balance". You will want this checkbox to be deselected. When you save your changes, these changes will take effect for all your invoices going forward. It won't retroactively update your invoices. On individual invoices, you can also hide the account balance. You can do this by going to the invoice and clicking Edit. In the bottom left corner of the invoice, there is an option for Client View below the client message. You will want to click Change to view more options.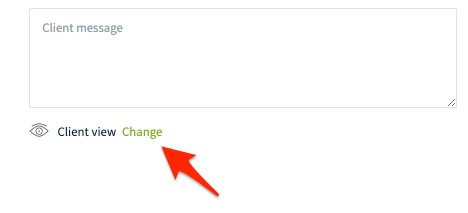 From these options, you can deselect the checkbox for Account Balance. When you save the invoice, this will remove the account balance from being visible to your client on this invoice.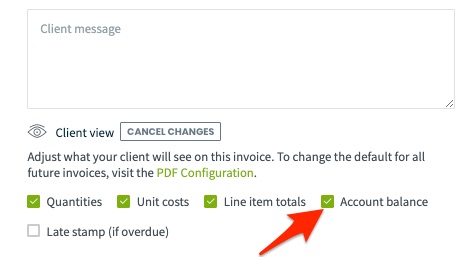 How do I submit a feature request?
If you have an idea for a feature or some feedback you can reach out to our Success Team.
Our Success Team logs every interaction whether it comes in by chat, phone, or email. All these interactions get tagged and fed into a channel where our product teams can review this feedback by topic. We track feedback based on feature, sentiment, and whether it's general feedback, a question, confusion, a bad user experience, or a discoverability issue.
We monitor this feedback as it comes in and our product managers review it weekly. This feedback is used to guide our future development!
Why does this user's email address say it's already taken?
This email address is already associated with another account. Since your email address is your unique login for Jobber, email addresses can only be used once across Jobber. If you are seeing this error message, it might be that a trial was started (likely accidentally) with this email address. Please reach out to our Success Team, they can walk you through the email deactivation process. Once this process is completed, the email address will be freed up and you will be able to use it again.
Does Jobber integrate with Xero?
We're no longer able to integrate with Xero. For accounting integrations we support QuickBooks Online.
Is Jobber GDPR compliant?
With the introduction of General Data Protection Regulation or GDPR our teams have been working to update our Privacy Policy and Terms of Service to help outline how we are GDPR compliant.
You can find all the information about Data Controllers and Data Processors for your Jobber account within our Privacy Policy https://getjobber.com/privacy-policy/
We also have some further information in our Terms of Service https://getjobber.com/terms-of-service/
I'd like to wipe my account
Please reach out to our Success Team if you would like to wipe your account. We can assist with wiping the entire account or all of a certain kind of item, such as invoices. We just need some specifics and for an admin user to fill out a form first.
Where can I find pricing information or what plan I'm on?
To find out what subscription plan you're on, click the Gear Icon > Account and Billing. The top of this page will show account details such as your current plan. If you'd like to change your plan click the button for Change Plan and you will be able to preview other available plans and what features they offer.

To see all our available subscription plans, check out our pricing page.