Overview
Do you have a new credit card? To add or change your billing information for your Jobber account, click the Gear Icon > Account and Billing.
Update your payment details
On the right in the section for Billing Details, click Edit > Payment Details to add or edit your billing information, including the billing address and email address used for your Jobber subscription.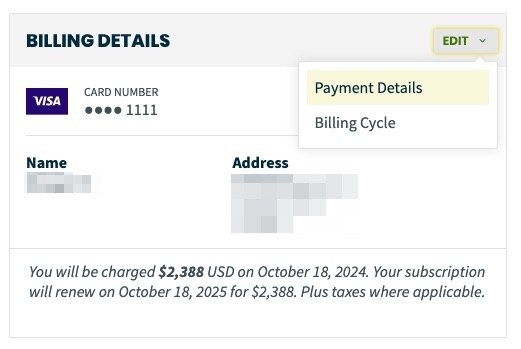 To edit the information, click Save Payment Details.

If you have an outstanding payment, as soon as you update your billing information the payment will be run again using the updated billing info.
Note: If you no longer want to be billed for Jobber, you will need to cancel your account.
Update your billing cycle
From the billing history section, click Edit > Billing Cycle. You can move your account from monthly billing to annual billing. When you pay annually, you also get a discount since you're paying upfront.
Choose the payment option for one year, and click Update Subscription. When you update, you will receive a credit for the remainder of your monthly billing cycle towards your new annual subscription which starts today.

If you want to change from annual billing to monthly billing, you will need to reach out to our Success Team to make this change. You can start a live chat with the Success Team by clicking the green chat bubble in the bottom right corner of this page.
Change your plan
At the top of the Account and Billing page is your account overview. The overview displays when you first started your Jobber account, your current plan, and your account status.

Under the heading for Current plan, click the button for Change Plan.

The next screen will show you an overview of the plans that you can upgrade to. To select that plan, click the button for Choose Plan.
You will be moved onto that plan right away with anything remaining from your prior plan prorated towards your new plan.
View your past payments and subscription renewal date
You can also view your past subscription payments, in the Payment History section. Here you will see PDFs of your past invoices from your Jobber subscription. The date of your next payment shows below your credit card details.