What is client archiving?
Do you have clients in your account who you don't consider to be a client any more? Maybe it's been a while since their last service, or maybe they never moved forward with that quote you sent them. Archiving that client is a way to move them out of your client list in Jobber, but still keeps a record of them so your can look back and review the quote, job, and billing history.
How to archive a client
From the client's profile, click More Actions > Archive Client. This will change the status of the client to Archived.
Note: Only admin users have the option to archive a client.
If the client has no ongoing work, the status of the client will change to archived. However, if they have anything that is still considered active work, it will need to be closed first.
This means that:
Requests and Quotes will need to be archived or converted.
Jobs will need to be marked closed.
Invoices will need to be marked paid or as bad debt.
Once the client has no more active work, you will be able to go back to the client's profile and click More Actions > Archive Client. The client will then appear with the Archived label.

When a client is in archived status, you can Unarchive them from the button located in the top right corner of the client profile. While a client is archived, if you use the More Actions button to create any more work for this client, they will automatically be unarchived.

When the client is unarchived, they will lose the Archived label.

Where can I see archived clients?
From the clients tab on the side navigation, you can view your client list. There are filter options on this page where you can select to view just the archived clients. There are also options to view active clients, leads, active and leads, or all results.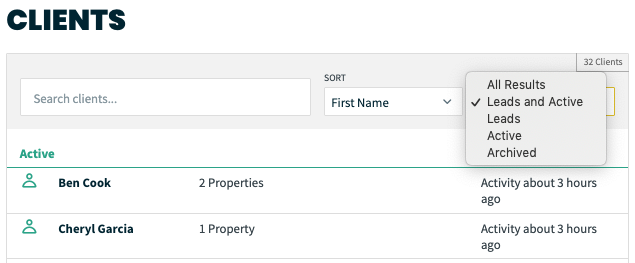 Note: Archived clients will still appear in reports.
You will also be able to see in the activity feed when clients are archived or unarchived. This includes if an archived client is automatically unarchived by submitting a request.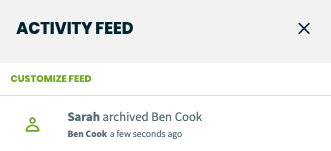 What will my archived client see?
If a client has been archived, they will still have access to the client hub so they will be able to see their past quotes, invoices, and appointment history the same as they did before they were archived. They will not see any messaging that shows they are in an archived status in Jobber.
Clients will still be able to submit a request for more work. If they submit a request, the client will be automatically unarchived and you will see the pending request from the requests page.
How can I archive many clients at once?
If you have many clients that you'd like to archive and want to save some time rather than editing each client one-by-one, you can archive them by exporting your clients and editing the column in the exported spreadsheet for Archived and then re-importing it. In the spreadsheet, an active client will say FALSE in the archived column. To archive them, change this to say TRUE.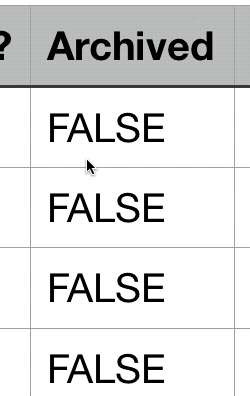 Once all the clients you'd like to archive have been edited in the spreadsheet, you can go ahead and import it. In the import process you will also have the opportunity to look over your clients and if there's anyone else that you'd like to archive, you can still check the box to archive them before the import happens.
Note: If you have any clients that have active work, you will not be able to archive them using this process. If they are included in the import, will see this banner letting you know which clients still have active work. To archive them, you will still need to go into those active items and decide what to do with them. Once that's done, you can either archive the client manually or try the import process again.

Archived clients and QuickBooks
Clients in archived status will still sync to QuickBooks as if they were active clients. That means any invoices or payments that are pending sync will still sync to QuickBooks even if the client is archived before the sync is run.