What is the activity feed?
Keep a pulse on the everyday activities happening in your business and stay on top of who is doing what, when, and where.
This feature is available on select plans.
From the activity feed view what is happening in your Jobber account as it happens. With updates regarding quotes, visits, invoices, jobs, payments, and notes you can see what your team is up to while they are out in the field. No more wondering if a note was left!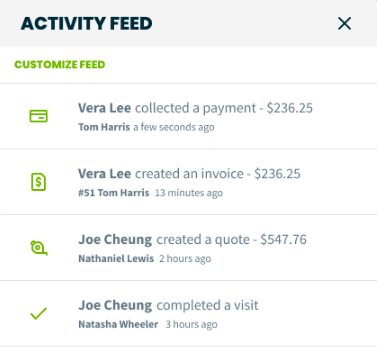 Note: Only admins can view the activity feed.
Bell Icon
You can find the activity feed option in the top right of your account displayed as a bell. When there is a new notification, it will be highlighted in red.

Clicking on the Bell Icon will open a sidebar where you can see the feed of updates.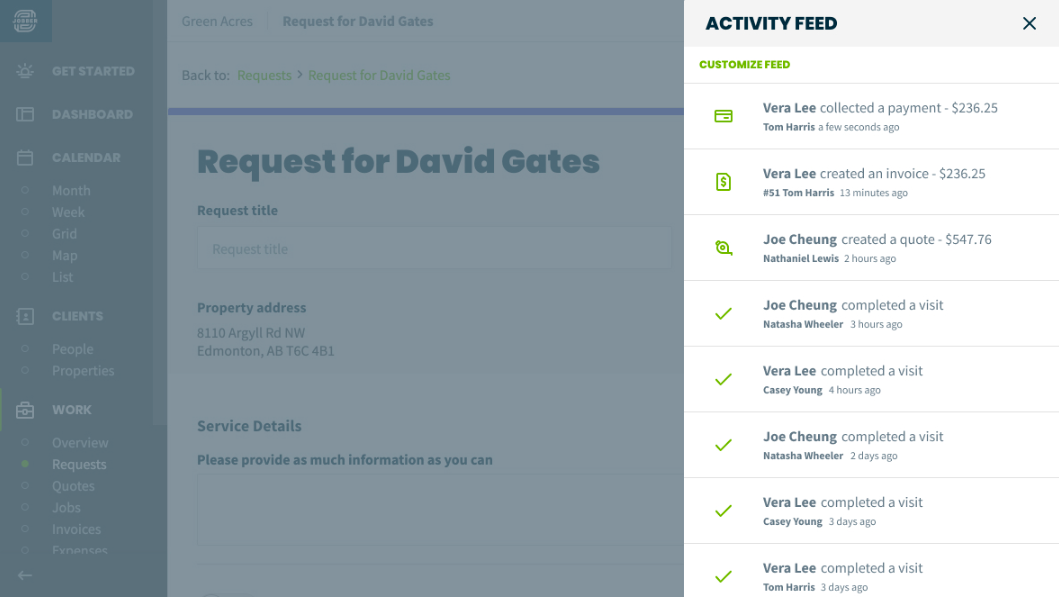 Notifications
Notifications are triggered by the following actions:
Users: Users clocking in and out.
Clients: When clients are created, deleted, archived, and unarchived as well as when CSV imports are started and completed.
Requests: When requests are created, converted, and deleted.
Quotes: When quotes are created, sent, changes are requested, converted, and deleted.
Jobs: When jobs are created and deleted as well as when visits are completed.
Invoices: When invoices are created, sent, and deleted.
Payments: When payments are created.
Notes: When notes are created and deleted.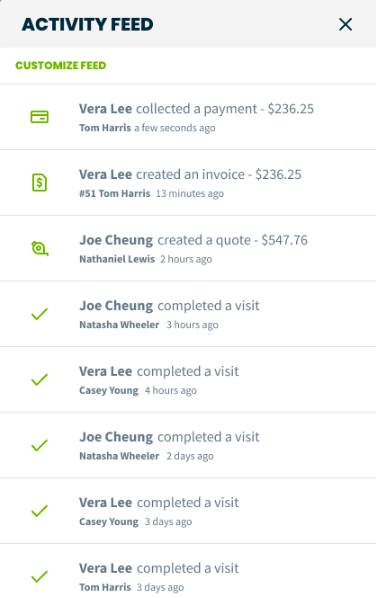 Customize Feed
To select which items are shown in the activity feed, click the Bell Icon >Customize Feed.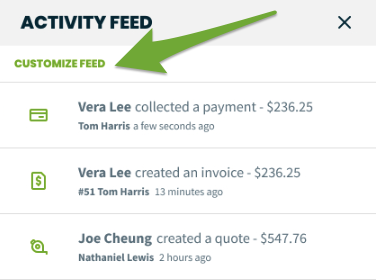 From the Customize Feed page, you will be able to toggle On or Off which items you would like to view in the feed.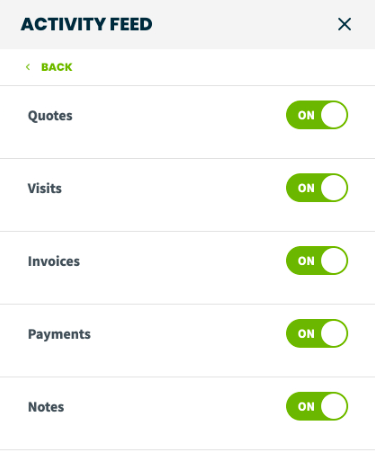 Since 100 notifications show at one time, when you toggle an item Off, more of the items that are toggled On will appear to show you a total of 100 notifications.
The activity feed will show the 100 most recent notifications. The notification preferences are remembered for each admin user. This means that different admins can have different preferences for the kinds of notifications they see by default when they open the activity feed.