What is Hatch?
Hatch combines two-way text, email, and phone with automation in one collaborative workspace to help you increase close rates, shorten sales cycles, and boost 5-star reviews.
This integration is available on all plans.
This integration is only available in the United States and Canada.
How do I connect my Jobber and Hatch accounts?
To connect your Jobber account with your existing Hatch account, in Jobber go to the Gear Icon > App Marketplace and click on the card for Hatch.
You will be prompted to set up the authorization. Click Authorize Now. You will then see this screen and you will need to click Accept to allow Hatch to access data within Jobber.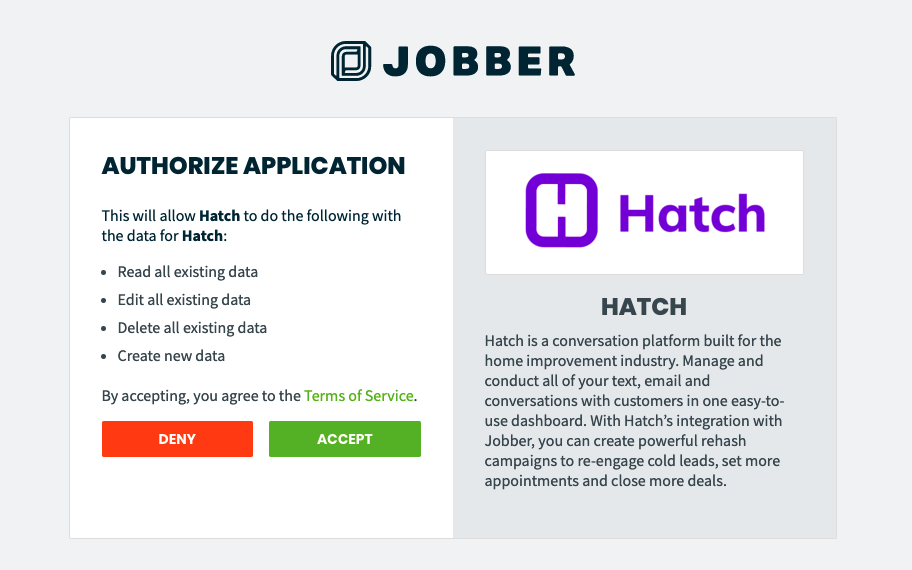 You will be given an authorization code from Hatch. Click Copy to Clipboard to copy the code. You will then need to send this code to your Customer Success Manager at Hatch to finish setting up the integration.

How does the integration work?
Your clients from Jobber will sync into Hatch where you can communicate with them from Hatch's board. When the Hatch integration is setup, all clients that were in your Jobber account the day prior will sync over.
From the board in Hatch, you will be able to move your clients through various stages of your sales process by dragging and dropping into the various columns.

Clicking into each contact will give you options to text or email that client.

Any communication sent from the board in Hatch will sync into Jobber showing that it came from Hatch. Communications that are sent from you to the client will be labelled as outbound messages and you will see if it was a SMS or an email message.

If the customer were to reply, you will also see their reply in Jobber as an inbound message.


By default these notes will be linked to requests, quotes, jobs, and invoices that are created for this client. If this note isn't relevant to future work for the client, the note can be manually edited and unlinked from future items.
From the activity feed, you will be able to see when a new note is created through the integration.
Note: The activity feed and the notes will show all notes that are created through the integration as from the user who set up the integration between Jobber and Hatch for both inbound and outbound messages. This is because they are the person who authorized Hatch to access Jobber's data. Keep in mind that inbound messages will be from the client and that outbound messages might be from a different user than the one who set up the integration.
How clients sync between Jobber and Hatch
Hatch and Jobber will sync every night at 3 AM EST. Any clients that were updated or created within the previous day in Jobber will be pulled into Hatch.
At any time, you can use the Sync Button on the Contacts page in Hatch to make sure you are up to date. In the top right of this page you will see when the last sync occurred. Clicking the button with the two curved arrows will sync clients over from Jobber.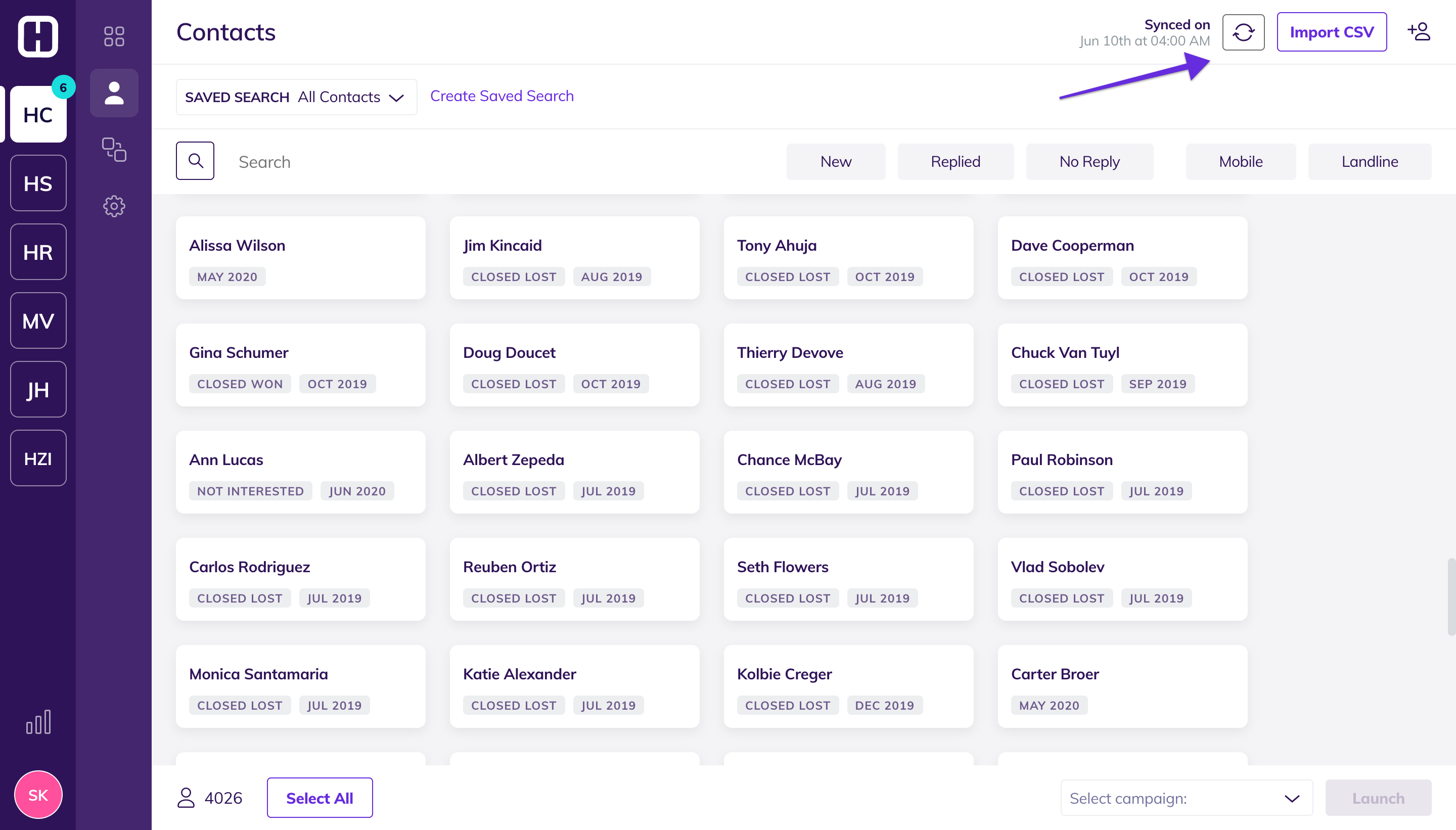 If you click on a contact from this page, you will see your communication history with them. Along the sidebar there are details about this contact, some of which syncs from Jobber.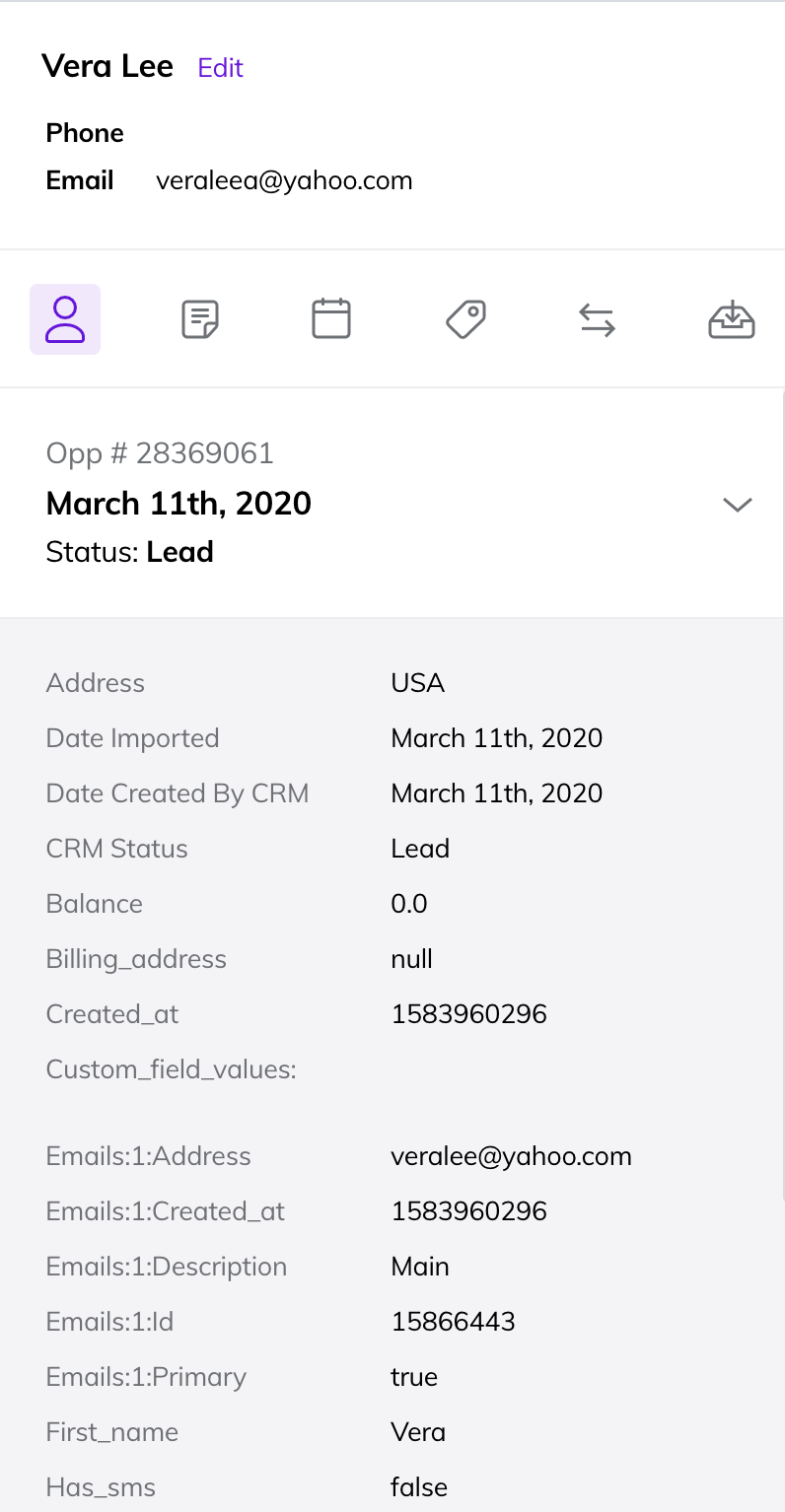 These fields are:
Address

Date imported

Date created by CRM

CRM status (indicates whether they are a lead or active client in Jobber)

Source (will indicate if this contact came from the Jobber integration)

Balance

Billing address
Client custom fields
Email address
Name
Phone number
Tags
Information added in Hatch does not sync back into Jobber. Any changes made to the contact must be made to the client in Jobber.
Note: If multiple clients have the same email address in your Jobber account, they will sync over to Hatch as multiple opportunities that share the same conversation record.
How do I disconnect the integration between Jobber and Hatch?
If you would like to disconnect the integration between Jobber and Hatch, please reach out to the Hatch support team.
For support with the Hatch integration, please reach out to the Hatch support team directly.