Overview
Secure the job upfront by collecting a deposit with a debit or credit card.
When a quote has a required deposit you can give your client an online payment option with Jobber Payments. There are three places where a quote deposit can be collected:
Client hub: This is a self-serve payment option for your clients where they can pay their quote deposit through our secure portal.
Jobber.com: If you already have a client's card saved or have their payment details handy, this option allows you to charge the saved card or enter their details to charge the card instantly.
Jobber App: Are you out in the field and the client wants to pay while you're on-site? Enter their card details on the spot, or use the card reader to save on entry time.
Client hub
When a quote is emailed or texted to a client they'll be able to click View Quote to access that quote in client hub.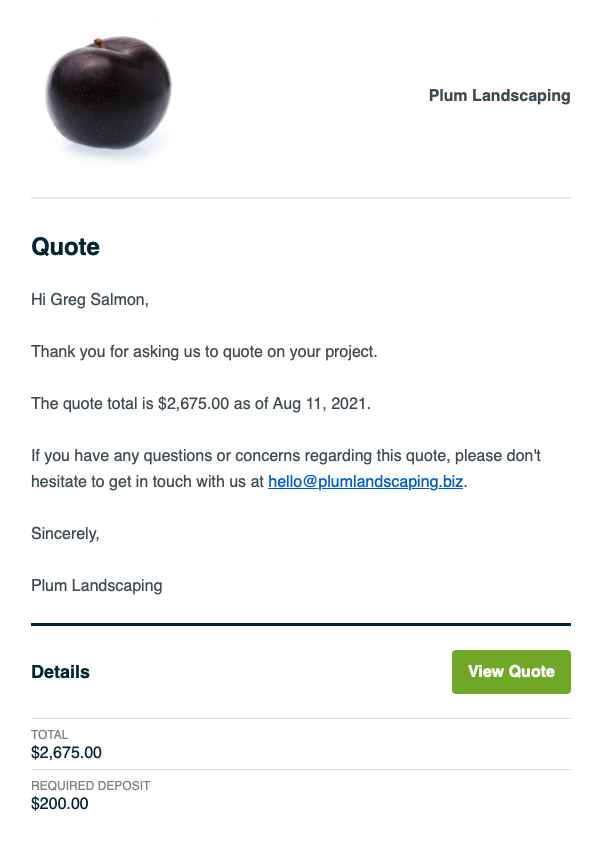 Once in client hub, they will need to select Approve & Pay Deposit to make that payment. Alternatively, they can also click Request Changes to enter their feedback if there is anything missing from this quote.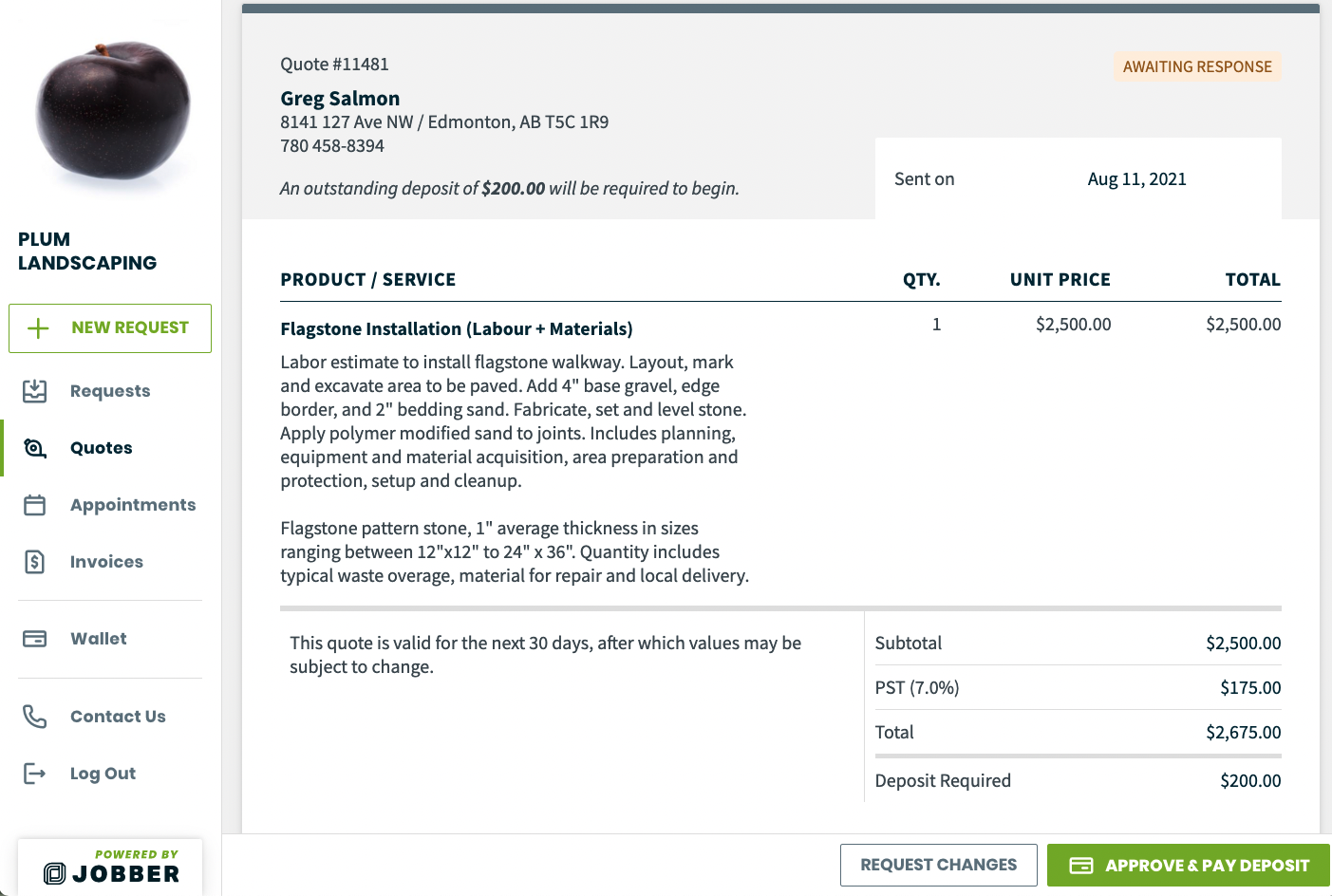 After clicking Approve & Pay Deposit, they will be prompted to sign and enter their credit card information. They can opt to save their credit card for future use by checking the box for Keep this card on file.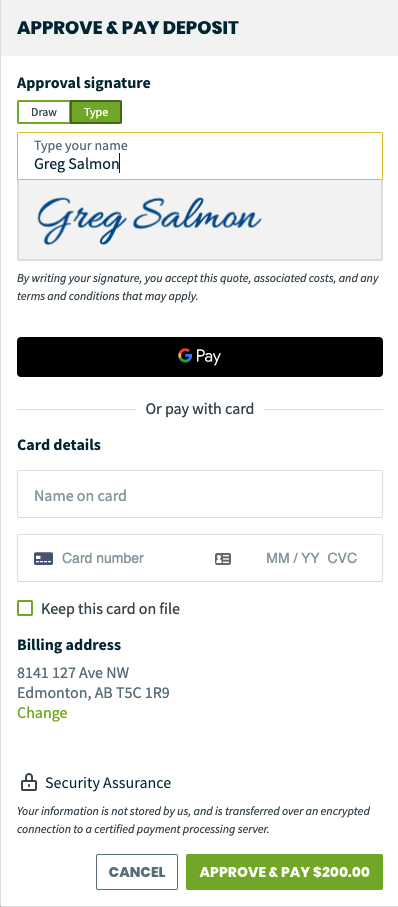 The system will then process the card and the client will receive a notification that the transaction was successful. If you view the client page in your account you will see this deposit recorded in the billing history box. If the client allowed the card to be securely stored for future use you will also see that information below the billing history box.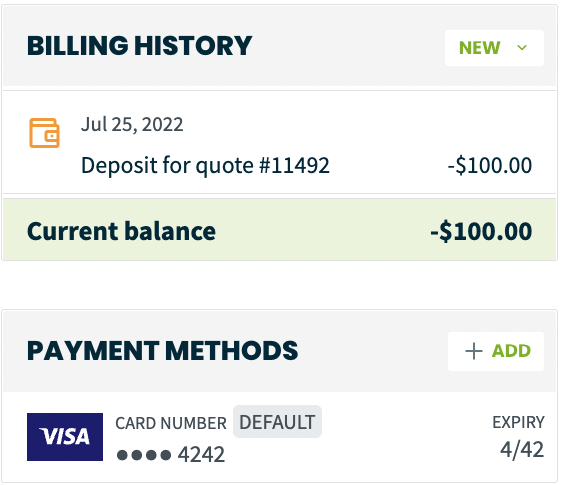 If notifications are enabled for Jobber Payment receipts, administrators will be emailed a notification that the client paid.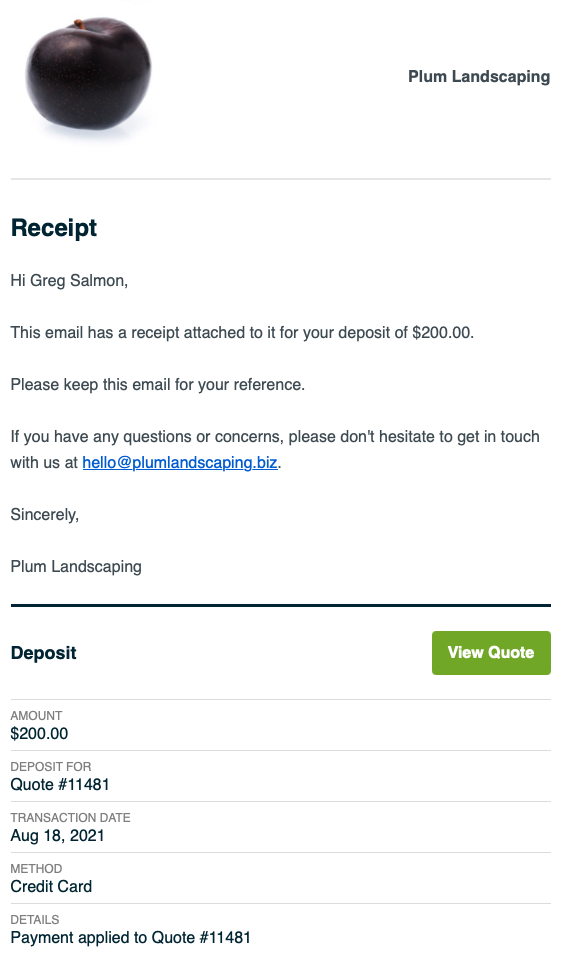 Jobber.com
When accessing jobber.com, click Collect Deposit located in the top right of the quote.

If the client has a credit card stored with you it will appear as the default payment method but you can choose to Use another payment method to charge a different credit card or choose an alternate method of payment if the client is not paying via credit card.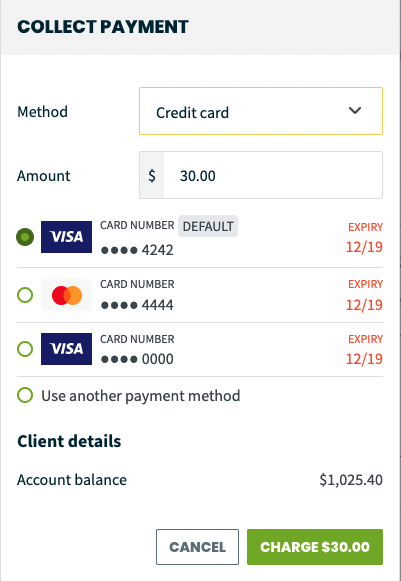 Jobber App
If you are on-site at a client's property and they want to pay their deposit there and then, it can be processed in the app from the quote.
To collect a deposit, first the quote will need to be removed from "Draft" status. Tap Review and Send to send the client a copy of the quote they are agreeing to. This will change the status of the quote to "Awaiting Payment".
Tap click Collect Deposit to enter their card details.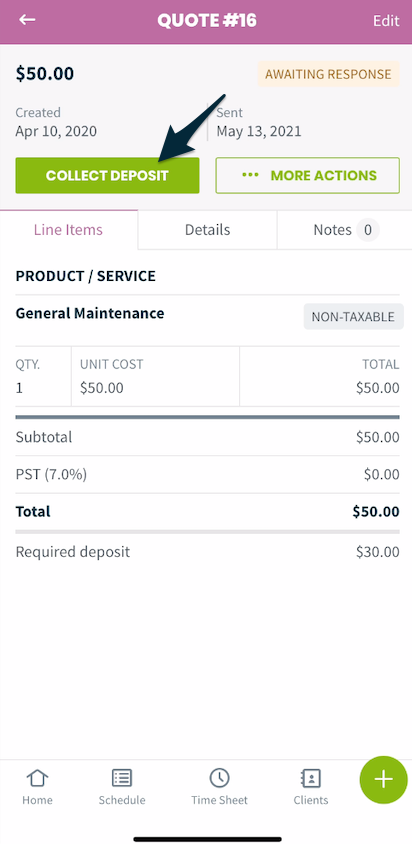 To charge their credit or debit card through Jobber Payments, select Credit Card - Fill out Form from the payment method dropdown. Double-check that the amount you're charging is correct. By default, the full invoice or quote deposit balance will be in the Amount field, but you may edit it if you wish to collect a partial payment.
If the client has a saved credit card, you will see that card as an option to charge in the app. To charge the card, select the button next to the card details and tap Charge.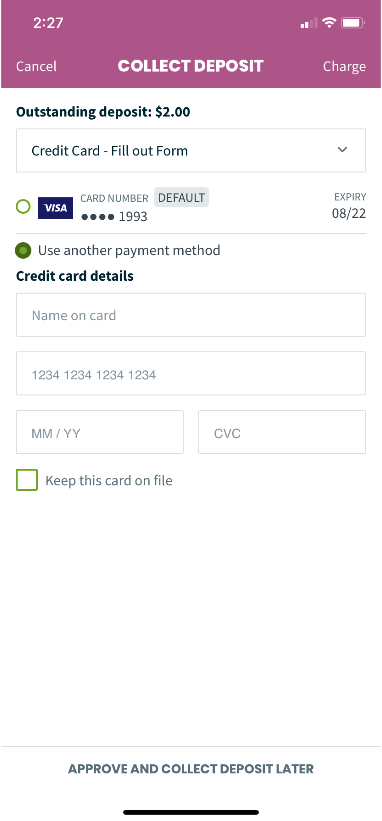 If you have a card reader, that can also be used to collect a deposit in person. From the Collect Deposit screen, select Credit Card - Pay with Reader from the payment method dropdown. Then swipe, tap, or insert the card to collect payment.
Mandatory card on file for quote deposits
When a client pays their quote deposit via Jobber Payments their card can be saved automatically with a particular Jobber Payments setting. Having their card saved upfront when paying a deposit means that when the quote is converted to a job that automatic payments can be enabled right away or that the card can be charged for future invoices.
From jobber.com, click the Gear Icon > Settings > Jobber Payments. From the list of settings, toggle Mandatory card on file for quote deposits to ON.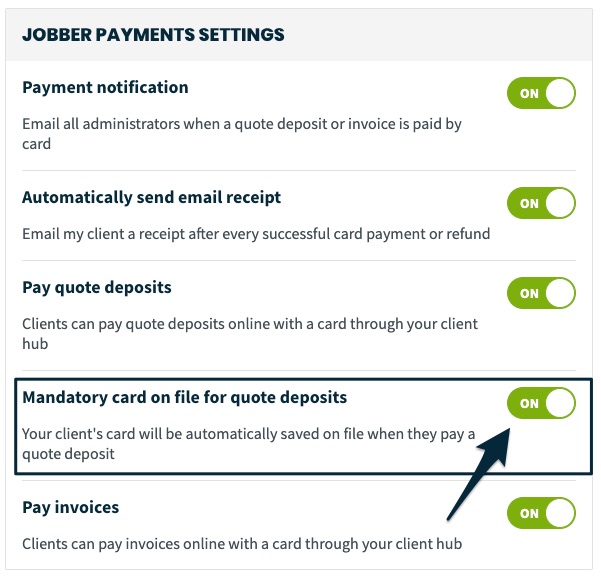 With this setting enabled when your client makes a payment their card will automatically be saved and will appear as a stored payment method on the client's profile. When this is enabled, Apple Pay or Google Pay do not appear as a payment option for the deposit since those options don't save the card in Jobber.
When the client enters their card details, they will not see the checkbox option to keep the card on file. Instead, there is text that reads:
By paying this deposit you agree to have your card securely saved on file for future use by [Company Name].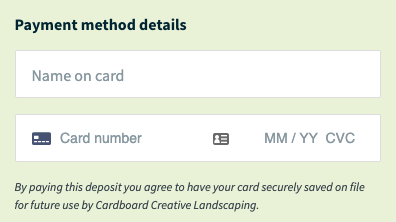 Note: If you do enable this setting, consider giving your client a heads up that their card will be saved for future charges. Letting them know in advance about upcoming or recurring charges can help cut down on the possibility of a dispute.